Craig Shakespeare's very surname lends itself to all manner of lines, clichés and jokes but the bottom line is that he has restored a seriousness to Leicester City, and surely got himself a job that looks so much easier.
How can it not be when the champions look so fully charged again. This 3-1 home win over Hull City was a hugely significant result for the relegation battle, especially with how bad a day it was for Marco Silva's side given this scoreline and what was happening elsewhere, but also so symbolic for Leicester in the grander scheme of things - especially since it no longer looks like they will be in that relegation battle.
That was to thanks to the fact that Riyad Mahrez got his first goal from open play this season to win it, and thereby ensure that this was also the first time this season the champions came from behind to win a game.
They didn't collapse, and instead look like they're building again. Whatever you say about whether this is just a regression to the mean, or the players were subconsciously playing beneath themselves under the sacked Claudio Ranieri, the reality is that everything about Leicester was so much sturdier. They were more solid in defence, more searing in attack. At one point in the first half, the recently clumsy Wes Morgan took down a ball in a manner reminiscent of Dimitar Berbatov. That was how bad a day this for Hull, to complete a very good week for Leicester.
Shakespeare's team instantly started with the intensity shown in Monday's 3-1 win over Liverpool, but also a bit more intricacy to their play. With Shinji Okasaki restored to the side to basically set the pace for the champions' pressing, Vardy was left to charge down the channels. It was the source of so much they did well, and ensured that both Andrea Ranocchia and Ahmed Elmohomady endured what were probably their worst afternoons since Marco Silva joined the club.
In truth, his Hull were surprisingly more loose than normal, as if they didn't quite expect this extent of siege from Leicester. It meant there was even more space for Vardy to wreak havoc in, and there was due warning of that after just five minutes. The 2015-16 FWA player of the year streaked down the left and fizzed the ball across the box for Andrew Robertson to just about turn it wide and,  moments later, did exactly the same only for Harry Maguire to supremely get across and block what would have been a certain goal for Marc Albrighton.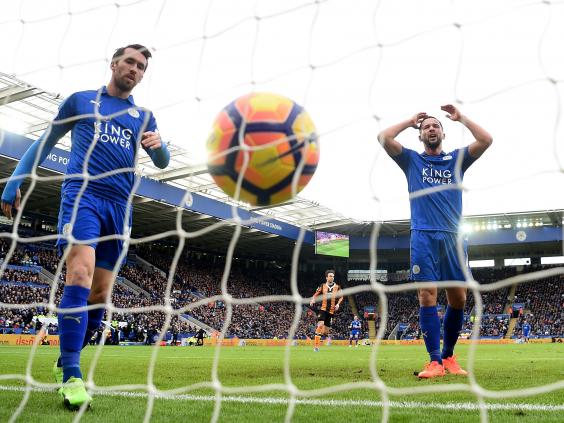 It was no surprise that Leicester's opening goal came from there but, given how they had started, it was some surprise that goal was an equaliser. As loose as Hull had been, they were impressively sharp and alert when the otherwise impressive Wilfred Ndidi played an awful pass back towards his own half. Alfred N'Diaye leapt on it, charging down the field to feed Kamil Grosicki. He fired the ball across goal and, although Kasper Schmeichel diverted it, it was only to feet of Sam Clucas who stabbed the ball in.
That was his first goal in the Premier League but wasn't to be the only first in the game. It certainly felt like the first time in a long time that Leicester didn't collapse on going behind. That was probably the most significant aspect of this match beyond the final result.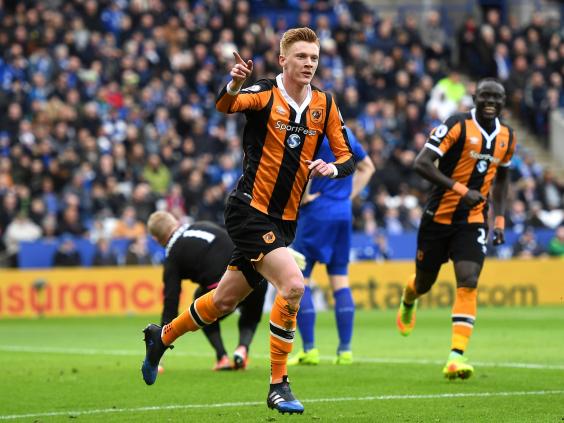 Sure, while there was a lull after the goal, Leicester generally kept doing what they were doing. They persisted with the gameplan in a way they just hadn't been in the last few months of Ranieri. So, with the Italian having left… they continued down the left. Christian Fuchs powered down the flank to play in Vardy, the striker returned it, and the full-back drove the ball through Eldin Jakupovic's grasp.
From there, Leicester were completely on top, and getting closer to a complete turn-round. Mahrez had been getting more and more into the game and, just after half-time, took the ball down beautifully only to then try and backheel that wasted the attack.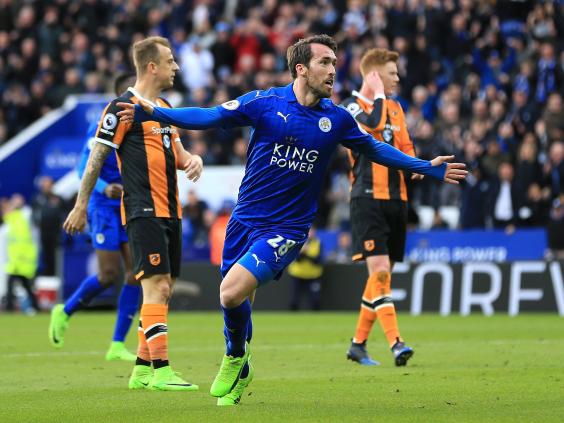 If that felt like a moment of progress had gone to his head, it was really only Mahrez getting his feel for the game back - and his mojo back. On the hour, the winger ran towards the edge of the box, but tracked by Robertson. It didn't make a difference.
Mahrez turned one way, then the other, then back the other to then fire the ball in.
He was back, and Leicester were back to normal.
That was perfectly symbolised by the clinching goal: a set-piece, that involved a bit of a break. Albrighton curled in an 89th-minute corner and, although Ndidi got a touch, it was Tom Huddlestone that turned it in. Leicester have turned things around.
Reuse content