Rodgers has found a new attacking formula 
One of Brendan Rodgers' greatest strengths as a manager is his tactical flexibility, his ability to change formations and approaches to solve problems on the pitch. Liverpool's long run of success this season came when they were outmanoeuvring their opponents with an unusual 3-4-2-1 system, but the evidence of the last few weeks has suggested that particular plan has run out of steam.
Looking for a new solution, and with no Martin Skrtel, Rodgers switched to a reconfigured 4-3-3, with Philippe Coutinho dropping deep as a false nine while Raheem Sterling and Jordon Ibe provided the pace and incision either side of him.
The system posed questions of Newcastle in the first half which they could not answer and Liverpool, having rediscovered their attacking style and intensity, could and should have killed the game early on.
Liverpool 2 Newcastle 0 player ratings
Liverpool 2 Newcastle 0 player ratings
1/24 LIVERPOOL: Simon Mignolet

Pulled off an outstanding save to deny Perez an equaliser for Newcastle in the first half. 7

GETTY IMAGES

2/24 Glen Johnson

Handled Cabella with very little effort. More importantly for his side, however, he linked up with Henderson particularly well while going forward to assist in midfield. 6

Getty Images

3/24 Emre Can

Partnered Lovren very well but there's still a feeling that he'd be better suited to a central midfield position. Either way, he held a strong line with the rest of his defence and rarely looked like being beaten on the counter. 6

Getty Images

4/24 Dejan Lovren

Very nearly gave away a penalty when it looked as though he had hacked down Perez as the striker ran into the Liverpool area. His performance did pick up in the second half especially when it came to defending set pieces. 6

GETTY IMAGES

5/24 Alberto Moreno

Positionally he was well disciplined. Used to pushing up when played as a wing back, he understood his job against Newcastle, which was to stay rooted as a conventional left-back. 7

Getty

6/24 Lucas Leiva

In the middle of Liverpool's midfield. Kept the ball close and orchestrated a number of attacks. Thankfully he wasn't hurt when Sissoko went in on him late in the last ten minutes. 8

Getty Images

7/24 Jordan Henderson

Assisted Sterling's opener for Liverpool and delivered dangerous set pieces that Newcastle found difficult to defend. Drove forward with ease but also defended effectively as well. 7

GETTY IMAGES

8/24 Joe Allen

Scored his first Premier League at Anfield when he took advantage of a loose ball in the Newcastle penalty area. On the left of the three-man central midfield it was his job to feed Sterling while preventing Obertan from cutting inside. He did both very well. 8

Getty Images

9/24 Jordon Ibe

Repaced by Borini with 30 minutes remaining. What an exciting player he looks. Very bright when driving forward. He uses his pace to great effect but doesn't forget about the craftsmanship a winger should have. 7

Getty Images

10/24 Philippe Coutinho

Nimble and creative yet again. Probably Liverpool's most consistent player this season. Always seeking to unlock defences. 8

Getty Images

11/24 Raheem Sterling

A bit of a mixture. Took his goal beautifully but squandered in many cases what was the easier chance. Caused Newcastle's defence problems with his close control and skill. 7

Getty Images

12/24 From the bench: Fabio Borini

Replaced Ibe but failed to do the same job as him. Went forward with intent but his final product was lacking the sufficient quality it needed to either trouble Krul or set up one of his teammates. 6

Getty Images

13/24 NEWCASTLE: Tim Krul

Made a crucial save to deny Lucas Leiva in the first half. Not much he could have done to stop Sterling's effort finding its way into the back of his net. Beaten well by Allen, too. 6

GETTY IMAGES

14/24 Ryan Taylor

Horrendous performance by the right-back. Beaten far too easily by Sterling before the forward took the lead for Liverpool. Completely missed Henderson's cross and thankfully for the defender Sterling couldn't finish for a second time. 4

Getty Images

15/24 Daryl Janmaat

Looked assured at centre back but found himself covering for Taylor too often as the right-back pushed forward. That left Janmaat exposed. 6

Getty Images

16/24 Mike Williamson

Occasionally rash. For example, he could have been a little calmer when Liverpool countered quickly rather than choosing to launch the ball away at any given opportunity. Could be argued that he should of got closer to Allen when the midfielder scored Liverpool's second goal. 5

Getty Images

17/24 Vernon Anita

Slotted in at left-back at endured a tough game as Ibe sought to demonstrate to everyone that his pace makes him a real threat. 6

Getty

18/24 Jack Colback

Alongside Abeid in the two holding midfield roles. His approach to dealing with Sterling was to get in quick and hard. It did work fairly well until Liverpool upped the tempo which drew fouls. 6

GETTY IMAGES

19/24 Mehdi Abeid

Pushed forward a little more in the second half as Newcastle started to chase the game with more urgency. He let himself down by standing off players such as Henderson too often rather than closing down and reducing the options. 6

Getty Images

20/24 Moussa Sissoko

Used his strength well in the battles with Lucas Leiva in particular. Didn't always dispatch the ball quick enough when going forward, though. That contributed to many of Newcastle's attacks breaking down. Sent off for a second bookable offence when he trod on Lucas Leiva's leg. 6

21/24 Gabriel Obertan

Should really be played up front with Perez but instead was played on the right as part of a three-man attacking midfield. He possesses pace but it's his height and strength that are key to his game. Out wide he struggled to demonstrate that. Replaced by Gutierrez. 6

Getty Images

22/24 Remy Cabella

Usually so nimble and creative, but out on the left his influence on the game was severely reduced. Too many overhit passes, too. 5

Getty Images

23/24 Ayoze Perez

A real nuisance but such an exciting player to watch. His header in the second half forced a fantastic save from Mignolet. Definitely someone Newcastle should build a team around in the summer. 7

Getty

24/24 From the bench: Jonas Gutierrez

Made his 200th appearance for Newcastle when he came on to replace Obertan. Made little impact on proceedings. 6

Getty Images
Sterling knows his worth but doesn't always show it
If Raheem Sterling was hoping to prove to Liverpool that he is worth more than the £100,000-per-week contract he has been offered so far, this was a good start. One of the criticisms of Raheem Sterling has been of his finishing. Paul Scholes wrote in these pages that he scuffs or bobbles his attempts on goal, rather than striking them cleanly. But Sterling, cutting in from the left wing, took the first goal brilliantly. He skipped his way through two challenges before clipping the ball perfectly beyond Tim Krul into the far top corner of the net.
But then, in the second half, with an almost open goal, he skewed the ball wide, and again with six minutes left. He is a fantastic player but, combined with last night's other news, Liverpool's reluctance to meet Sterling's self-valuation is understandable.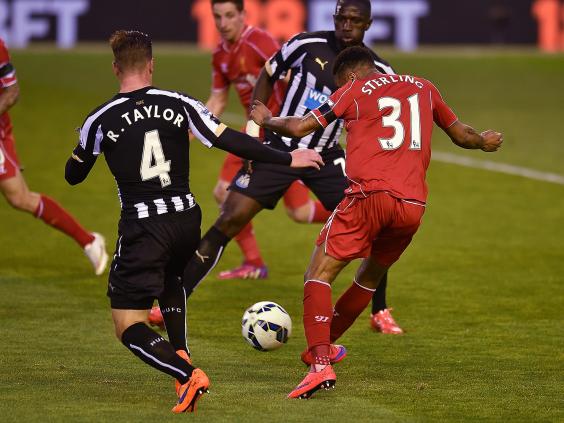 Perez poses enough danger to give Newcastle hope...
Amid all the misery and mistakes at Newcastle United recently, last night there was hope – of sorts – in the form of Ayoze Perez. The Spanish striker has had his moments this season and last night he produced his best performance in months.
Leading the line on an evening when he might have been expected barely to get a touch, instead he caused problems with his movement, giving Dejan Lovren an evening so difficult that it was immediately clear why this season has gone so badly for the big Croat.
Perez should certainly have had a penalty when he was cut down by Lovren, while he also tested Krul with a far-post header while always keeping Liverpool on their toes with his movement. The problem, though, for Newcastle, is whether they are good enough to keep him.
...but a failure to defend could lead to an ugly end
This was not the worst Newcastle United display under John Carver. They were within one goal of Liverpool for the first 70 minutes and, thanks to Perez, they retained a threat at the other end. It was never implausible that they might get something. But they never once did the first requirement of a team in their position which is to make life difficult for the opposition.
They defended poorly and haphazardly and only some generously poor finishing from the hosts stopped them from running away with this game. There was a lack of the bravery, spirit and discipline required for good defensive football. If they had more points on the board, or more goals in their side, it might be no problem. But Newcastle's inability to master the ugly side of the game might yet be the end of them.
Liverpool need Skrtel to shore up central defence
This win drags Liverpool within four points of Manchester City and, with the team who beat them to last year's title in free fall, it slightly widens their slim chances of reaching next season's Champions League. That would be an impressive achievement but, as with the possibility of their winning the FA Cup, it can only come about if they find the right combination at centre-back.
Last night Rodgers used Dejan Lovren and Emre Can together in a back four. Lovren was disastrous and Can had to play through a slight ankle injury. With the club confirming, though, that Mamadou Sakho will be out for a month they will need the returning Martin Skrtel to restore some order against a rampant Christian Benteke for Aston Villa.
Reuse content