For Liverpool it felt like an overture of all that was best about the glory days. The Kop sang "Liverpool are magic, Everton are tragic" – the lyric Emlyn Hughes belted out from the St George's Hall steps when they brought the European Cup home from Rome in 1977, and the scoreline belonged to that gilded era, too. Not since Ian Rush wreaked havoc at Goodison in November 1982 have Liverpool won a derby by such a margin.
For Everton, it was a chilling reality check; a scoreline which punctures the soaring self-belief which last autumn's win at Old Trafford sent through their ranks and one from which, for all the optimism their manager Roberto Martinez radiates, you wonder whether they really can maintain a tilt at Champions League football.
The concern runs deeper than the loss of Romelu Lukaku, their prime goalscoring threat, who was stretchered from the field with ligament damage and of whose ankle manager Roberto Martinez said: "It's in a cast. It doesn't look too good." It touches on the thinness of the squad, the vast gulf in wealth and resource between these teams, the question of whether they can match creation with enough attrition. And of whether Martinez's supreme feats of motivation really can allow his team to surpass Liverpool, a side whose wage bill is twice their own and looked like it.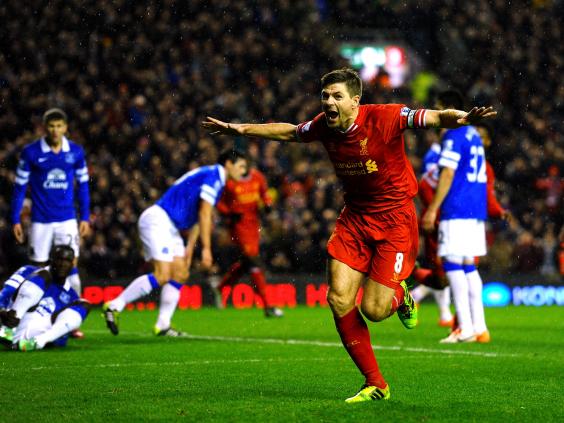 Martinez said after his first major setback as Everton manager that his side had been naive - "desperate to come here and be ourselves" and had - in so many words - lost concentration and shape by attacking without caution. He also spoke of players - Steven Pienaar, Antolin Alcaraz and Ross Barkley - lacking "intensity" because they were thrown in to the side, having not played recently. But Martinez played them because he had so very few alternatives. The risks on fitness that he promised he would not consider, 24 hours before the game, revealed how desperately significant a first win here in 15 years was. Barkley has barely trained, these past three week. Martinez gambled and lost.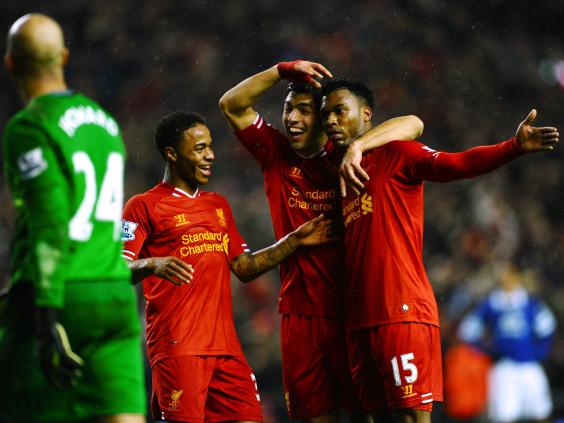 Liverpool possessed the depth to take risks in a far more calculated way. An attacking side containing Daniel Sturridge and Luis Suarez revealed, by force of comparison, the reality of Everton begging and borrowing goalscorers.  But the visiting team also encountered a Liverpool capable of shutting them down. Martinez's side had torn some holes in them at Goodison Park in November yet one of the images of this night was Steven Gerrard, the new Anfield regista, pouring himself into two big first half challenges to shut down Barkley. The defence had looked Liverpool's weak suit, too, but Everton never got close enough to exploit it: five shots on goal all night.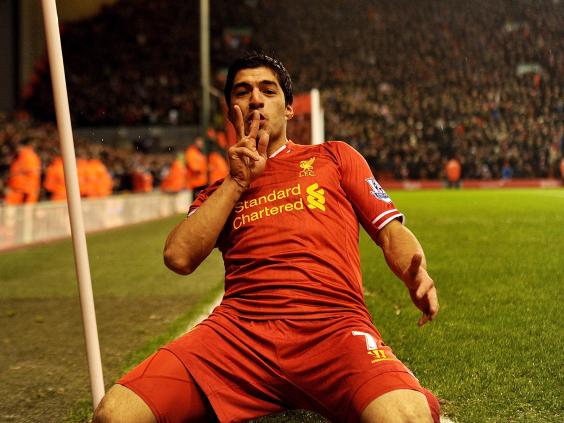 There was a Wigan Athletic quality to Martinez's rearguard during the 15-minute period either side of the break during which the game was killed. Alcaraz, ponderous as he filled Sylvain Distin's shoes, created an opportunity beyond any of Liverpool's expectations and Jagielka cut a desperately uneasy figure, trying to hold the defensive line as 18-year-old John Stones struggled to get back from his high, advanced positions.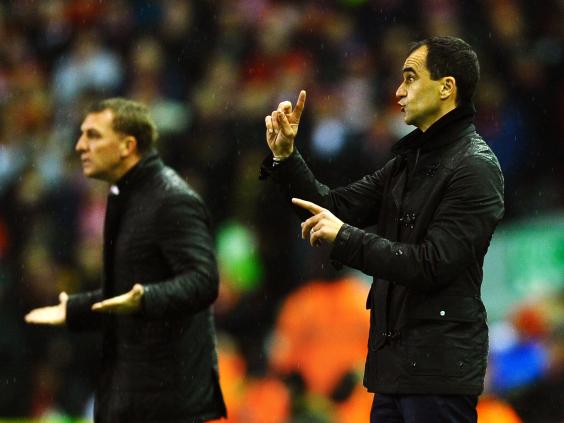 There was an inevitability about Gerrard rising to deposit Luis Suarez's corner on the half hour, by which time Jordan Henderson and Raheem Sterling had threatened from long and close range respectively - Sterling guilty of profligacy with his tame left foot shot from close range. But the two-minute spell in which Liverpool scored twice more exposed Everton with embarrassing simplicity. Sterling stole possession on the right to instigate the first of the two blows in that period, finding Philippe Coutinho whose clipped ball behind the unresponsive figure of Alcaraz sent Sturridge in to score comfortably, left footed. The third was even more elementary - Toure clipping a ball up and over the Everton defence to Sturridge, who levered it over the advancing Howard.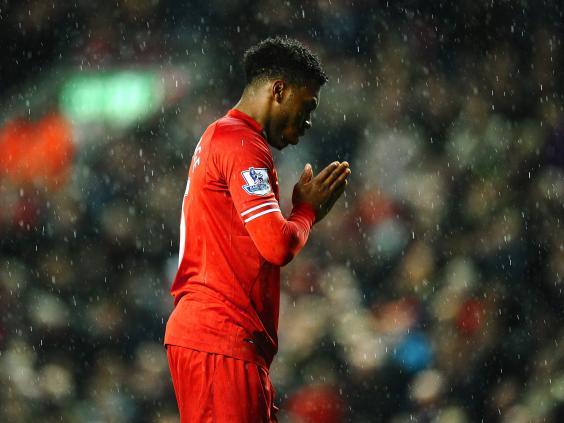 Martinez tried to make a change, removing Pienaar for Leon Osman, who immediately brought a sharp, awkward save out of Simon Mignolet, but Everton's knowledge of only one type of football continued to punish them.
Their night seemed to be encapsulated by the loss of Lukaku, who was taken off in the aftermath of Liverpool's first goal after Gareth Barry caught him in the mêlée. He was being assessed for ligament damage last night.
They elected to maintain their ambition rather than relent – and fell to a fourth goal on the counter-attack when Jagielka slipped, allowing Suarez to race past him and charge from the halfway line to slide the ball past Howard.
Sterling's run into the area secured Liverpool a penalty when Howard clipped him, though Sturridge's miss from the spot –sacrificing a hat-trick –prevented an embarrassment descending into annihilation.
They were still fighting for pride as the game entered its last 15 minutes – substitute Steven Naismith was a foot away from getting a touch on a low Barkley cross – but it was over. For Everton, a first step back in the Martinez era. For Liverpool, a big step ahead.
In Pictures: Tuesday night's Premier League action
In Pictures: Tuesday night's Premier League action
1/12 Tuesday night's Premier League action

Steven Gerrard celebrates scoring the opening goal for Liverpool (Getty)

GETTY IMAGES

2/12 Tuesday night's Premier League action

Brendan Rodgers and Roberto Martinez make gestures to their players during the 222nd Merseyside derby (Getty)

GETTY IMAGES

3/12 Tuesday night's Premier League action

Daniel Sturridge celebrates his second goal against Everton (Getty)

GETTY IMAGES

4/12 Tuesday night's Premier League action

Santi Cazorla of Arsenal celebrates scoring their second goal with Olivier Giroud (Getty)

GETTY IMAGES

5/12 Tuesday night's Premier League action

Adam Lallana of Southampton celebrates scoring their second goal against Arsenal (Getty)

GETTY IMAGES

6/12 Tuesday night's Premier League action

Arsenal's Nacho Monreal holds his head after missing a chance that had Southampton's keeper Artur Boruc performing acrobatics (Getty)

Getty Images

7/12 Tuesday night's Premier League action

Referee Lee Mason shows the red card to Arsenal's French midfielder Mathieu Flamini (Getty)

GETTY IMAGES

8/12 Tuesday night's Premier League action

Robin van Persie wheels away after scoring against Cardiff City (Getty)

GETTY IMAGES

9/12 Tuesday night's Premier League action

Juan Mata made an impressive debut for Manchester United (Getty)

Getty Images

10/12 Tuesday night's Premier League action

Jason Puncheon of Crystal Palace celebrates his goal against Hull City (Getty)

GETTY IMAGES

11/12 Tuesday night's Premier League action

Chico Flores of Swansea City celebrates scoring his side's second goal (Getty)

Getty Images

12/12 Tuesday night's Premier League action

Loic Remy of Newcastle United and Bradley Johnson of Norwich City come to blows during the goalless draw at Carrow Road (Getty)

GETTY IMAGES
Related articles...