A well-executed gesture, or just a case of bad timing?
After the painful 5-1 thrashing Arsenal suffered at the hands of Liverpool at Anfield on Saturday, their bemused goalkeeper Wojciech Szcesny posted a screen-shot from the popular smartphone game Flappy Bird complete with the caption 'Game Over', but was he really talking about the Gunners' title aspirations?
Clearly aggrieved after conceding five to their fellow title hopefuls Liverpool, at 6pm yesterday, after Chelsea leapfrogged the Gunners to the top of the Premier League by a point, the Polish goalkeeper posted his score of the addictive game on his official Facebook page. The post has generated over 30,000 'likes' from his followers.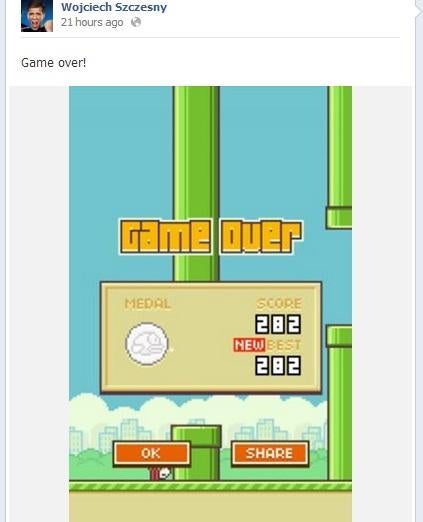 But the 23-year-old did not stop there...two hours later he described the Gunners performance as "F*****g embarrassing" and apologised to the Arsenal supporters for the team's performance.
"That was f****ing embarrassing," he wrote. "Apologies to anyone who sat through 90mins of that game."