It was 40 years ago this month that Bob Paisley appeared with his Liverpool players at the historic St George's Plateau in the city to parade the European Cup they'd just won in Rome. Any other football manager would have heard his name being sung but the strains of 'Shankly' filled the air on that sunlit Spring evening.
As so often during Paisley's nine years as manager, his charismatic predecessor was embedded with the team, immaculate in suit and red tie and so heady in the euphoria of the moment that he instinctively stepped forward to take a microphone and respond to the adulation.  
An extraordinary part of this little-known vignette was the presence of mind shown by the young coach Roy Evans who'd taken a drink or two and so had the Dutch courage to stop Shankly. 'Boss,' Evans said. 'It's Bob's turn first.' The even more extraordinary part was Paisley's willingness to allow the man who overshadowed him to have his voice. Paisley spoke only briefly before handing over the microphone to the 'Boss.'
The episode, remembered so vividly by Evans, speaks to the quality which made Paisley such a winner – the utter lack of ego he displayed in the loud, alpha male world of football managers, where the cult of personality was taking hold. Paisley was not one of life's great communicators, unlike his predecessor Shankly, his contemporary Brian Clough and the emerging Alex Ferguson. He spoke less, listened more. He understood the value of quietness as much as any manager.
There has been an attempt in the past few years to appreciate the value of the still, small voice in management. Susan Cain's groundbreaking book Quiet shines a light on the group who 'listen more than they talk, think before they speak' and Paisley proves the point in sport. He gave players and coaches a voice in the Anfield collective he ran from 1974 to 1983 and – the really complicated part – decided which views were wise and which not.
Sometimes he went with others' judgement despite reservations. Paisley asked Evans, the reserve team coach, which of the young midfielders Sammy Lee or Kevin Kewley he should put on the Liverpool bench for the home game against Middlesbrough on 2 January, 1978. 
Liverpool's greatest comebacks
Liverpool's greatest comebacks
1/6 Liverpool 3 Everton 1, FA Cup final, 10 May 1986

Not everyone's automatic choice, given the relatively comfortable scoreline, but when a Gary Lineker goal put Liverpool on the back foot in a Wembley final against their city rivals, a response was needed. It came after half-time through Ian Rush, before Craig Johnston gave the red half of Merseyside the lead. Rush rounded things off seven minutes from time.

Getty

2/6 Liverpool 3 West Ham United 3 (Liverpool win 3-1 on penalties), FA Cup final, May 13 2006

They said that, just as 1953 was 'The Matthews Final', 2006 would be 'The Gerrard Final'. It has not quite turned out that way but that should not detract from the then-Liverpool captain's performance, particularly that superb last-minute equaliser – probably, on balance, the best goal of his Anfield career.

Getty

3/6 Liverpool 3 St Etienne 1, European Cup, 16 March 1977

Needing one against the French champions more to take the tie on aggregate and avoid elimination at the quarter-final stage on away goals, perennial substitute David Fairclough scored the most important goal of his career. Folklore says the noise from Anfield could be heard from three miles away when 'Super Sub' sent Bob Paisley's team on their way to a first European Cup.

Getty

4/6 Liverpool 4 Newcastle United 3, Premier League, 3 April 1996

Thanks to 'Collymore closing in…' and Sky Sports penchant for self-promotion, this game has become the default answer when people ask for the best there's ever been since the Premier League's inception. Has there been better since? Maybe, but Martin Tyler's famous line and that image of Kevin Keegan draping himself over an advertising hoarding like a wet bedsheet on a washing line have rightly become iconic.

Getty

5/6 Liverpool 3 Olympiakos 1, Champions League, 8 December 2004

Rivaldo's splendid free-kick just before half-time left Rafael Benitez's men needing three goals to qualify from the group stage. Two came from unlikely sources – Neil Mellor and Florent Sinama-Pongolle – before the outstanding individual moment of Steven Gerrard's career made Anfield (and Andy Gray) erupt. Limbs all over the shop.

Getty

6/6 Liverpool 3 Milan 3 (Liverpool win 3-2 on penalties), Champions League final, 25 May 2005

The greatest night in the club's storied history. Benitez's squad could not hold a candle to their 1970s and '80s equivalents but led by Steven Gerrard, inspired by Jamie Carragher, held together by Sami Hyypia, strung together by Xabi Alonso and, ultimately, saved by Jerzy Dudek, they emerged victorious from an incredible final. 3-0 at half-time, 3-3 by full-time and you know the rest.

Getty
Evans suggested Kewley. 'Are you sure?' asked Paisley, unconvinced. Kewley, not Lee, arrived from the bench the following night. It was the only game he played for Liverpool. Lee went on to appear for the club nearly 300 times. 
"I'm a 25-year-old guy and he is asking my opinion," Evans recalls. "He is saying, 'You might not get it right but you might get one little thing we don't.' They gave you your voice, your confidence, and that's the only way you could learn, really. It showed he wanted the people below him to have a voice and to speak."
There was nothing cosy about this collegiate mentality. The misconception about Paisley being one of the nice guys derived from his comic quality. He was easily imitated because of the slight limp he carried, a consequence of an old injury to his left ankle, which he would bandage up in a figure of eight before leaving the family home for Anfield. He sometimes wore slippers around the club, because of it.
They gave you your voice, your confidence, and that's the only way you could learn, really.
But when it came to selecting 11 players each week, he was unflinchingly and unremittingly hard. He shared the obsession Ferguson would come to have with players passing sell-by dates –'melting', to borrow from the football business vernacular – and was not averse to selling a player in his 20s. Knowing his own weakness in the field of communication, he would often neglect to tell players they were out of the team.
Paisley's nickname was 'the Rat' and though that had initially been in recognition of his role serving with Montgomery's Desert Rats, many of the players had a more literal and unheroic application of the term. In the early stages of research for my biography of Paisley, which is published on Thursday, word came back from those who know Liverpool inside out that some people didn't care much for Bob Paisley. Not all would want to talk. Those were prescient words.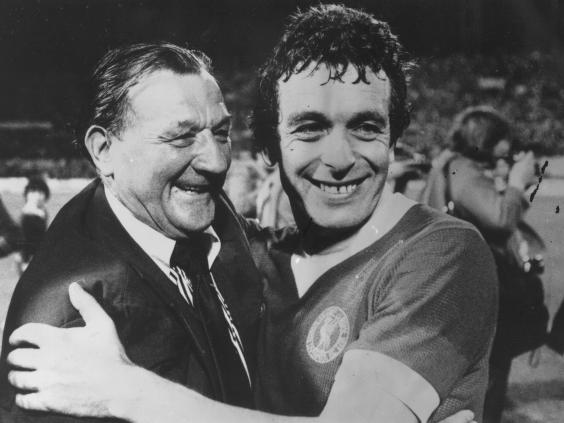 With his ratio of 1.5 trophies per season, he was the greatest British football manager of all, eclipsing Ferguson's 1.03 and Clough's 0.61 and though his meandering, sometimes indecipherable talk would doubtless not cut it in 21st century Premier League, some of his quietness would do a power of good. Paisley delegated up, as well as down, so had no compunction about his chief executive, Peter Robinson, or general manager, Tom Saunders, contributing to the transfer market decisions. There were no internal transfer market struggles, yet the club did not buy a single dud. That's what football management looks like with the ego taken out.
Quiet Genius: Bob Paisley, British Football's Greatest Manager, by Ian Herbert, is published on Thursday by Bloomsbury. Available on Amazon, priced £13.60.
Reuse content