Liverpool's James Milner has admitted that the side's performances against weaker clubs have been inadequate and suggested it has cost the club a shot at the title this season.
The captain revealed that he deliberately stood in front of the penalty spot in front of the Kop end at Anfield on Sunday because he saw Southampton goalkeeper Fraser Forster "trying to scuff up the spot" before the kick that he missed.
But Milner put the troublesome fight for a top four place, which will go to the wire, down to the persistent failure to see off defence-minded teams like Southampton, who left Liverpool with a point on Sunday.
Liverpool have mustered only seven points from their seven games against teams positioned 9th to 12th in the Premier League and have not won at home since the Merseyside derby on April 1.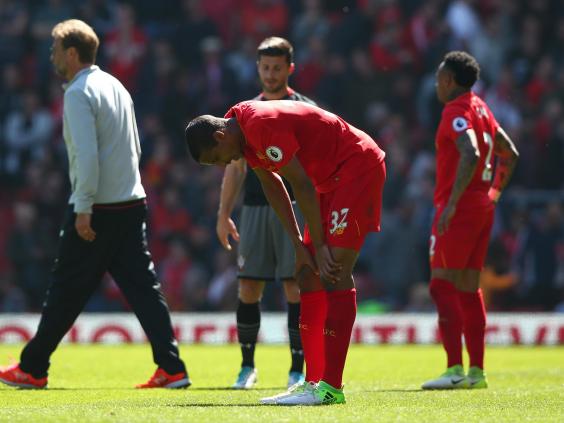 But their top four aim is in their own hands. They are third, five and seven points clear of 5th and 6th placed Manchester United and Arsenal, who have games in hand.
"You look at the results all season," Milner said. "We have dropped points where you might not expect us to and there have been some disappointing games. We do that job better and we are fighting for the title, never mind fighting to get into the top four. That is disappointing and we know it is an area we need to improve.
"Against the top teams, our record is very, very good but against the teams that come to sit back and play on the break and look to get something from a set piece, we need to improve. There are not many things wrong. We can certainly improve on it and if we do that, we will be in the reckoning.
"This is a team and a club that needs to be in the Champions League. We will be in Europe but the Champions League is where everyone wants to play."
Liverpool 0 Southampton 0 player ratings
Liverpool 0 Southampton 0 player ratings
1/22 Simon Mignolet – 5 out of 10

He was only forced to make a small number of saves, so it was an easy afternoon for the keeper.

2/22 Nathaniel Clyne – 6 out of 10

He was charging up and down the channels, but at times he was leaving Liverpool vulnerable the back when he was struggling to track back.

3/22 Dejan Lovren – 5 out of 10

Was clumsy in his challenges which gave away a cluster of unnecessary fouls. However, he held the line well at the back and used possession well.

4/22 Joel Matip – 6 out of 10

It was a relatively straight forward afternoon for the defender due to a lack of attacks from the Saints, but he did his job when he was called upon.

5/22 James Milner – 4 out of 10

He missed from the penalty spot, which denied Liverpool the chance to take the lead. Despite an impressive record from the spot, Forster came out on top this time.

6/22 Emre Can – 5 out of 10

Appeared to run out of ideas in possession – when he was on the edge of the box he was just giving the ball away.

7/22 Lucas – 6 out of 10

He was pumping balls up to the strikers, but his efforts went unrewarded. He looked energetic, but he came out second best in a number of 50/50 challenges.

8/22 Georgino Wijnaldum – 6 out of 10

A textbook display from Wijnaldum in the middle, but sometimes he needs to use the simple option as opposed to always going for the long ball.

9/22 Roberto Firmino – 7 out of 10

Was Liverpool's best player in the first half – he appeared to have no end of energy and his movement off the ball was creating chances.

10/22 Philippe Coutinho – 4 out of 10

His movement was good, but when he was on the ball he failed to take any of his chances. He looked as though he needed an injection of confidence.

11/22 Divock Origi – 6 out of 10

He looked menacing when he was charging at the Southampton defence, but he was just lacking the final product.

12/22 Fraser Forster – 9 out of 10

His exquisite penalty save kept the scores level and he made a collection of crucial stops throughout.

13/22 Cedric Soares – 7 out of 10

His repeated interceptions and clearances stopped a handful of Liverpool moves. He also used possession well from the back.

14/22 Jack Stephens – 5 out of 10

His moment of inanity for the handball was rescued by Forsters excellent save. Aside from that he defended well today.

15/22 Maya Yoshida – 5 out of 10

He was playing very deep, which was allowing the Liverpool to have a lot of space going forward.

16/22 Ryan Bertrand – 6 out of 10

He was crashing into challenges, holding his position well and looked more than capable of maintaining the Liverpool forwards.

17/22 Dusan Tadic – 6 out of 10

He was finding himself in all of the right places, but just lacked service throughout.

18/22 Steven Davis – 6 out of 10

Was highly influential in the Southampton side today and he started a handful of promising moves for the visitors.

19/22 Oriol Romeu – 7 out of 10

His bruising challenge on Origi marked his authority in the early stages of the game. He battled hard and tackled well.

20/22 James Ward-Prowse – 6 out of 10

His deliveries into the area were menacing, but the Saints lacked an aerial threat so his crosses were never converted.

21/22 Sofiane Boufal – 4 out of 10

Aside from the occasional pass, Boufal had no input to the game today. He was constantly marked and did not seem to want the ball.

22/22 Manolo Gabbiadini – 4 out of 10

The striker went missing at times today and he failed to make any real impact when in possession.
Milner said that Jurgen Klopp now has players preparing specifically for opponents who drop behind the ball, as Southampton did.
"Yeah, of course we work on that," he said. "Every team defends differently and we will have different game plans for different opposition, different attacking patterns for how we want to break them down."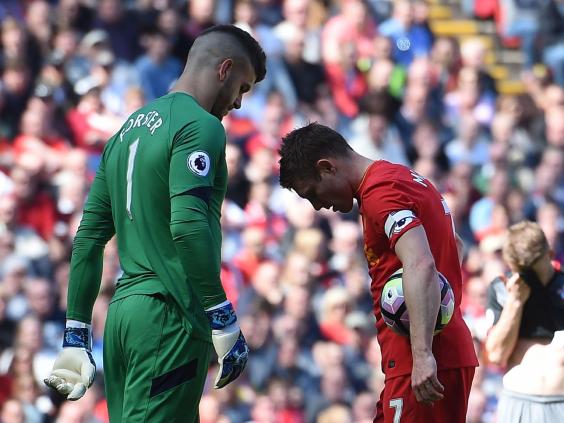 The wing back was surprisingly diplomatic about the gamesmanship which saw Forster - with whom Milner once played at Newcastle - towering over him as he guarded the sport against the goalkeeper's attempt to do damage to it.
"He was trying to scuff up the spot, so I just stood in front of it," Milner said. "Listen, it's all part of it. It never affected me, it didn't get in my head or anything like that. I knew what I wanted to do. I just didn't get it in the corner that I fancied.
"I don't if he went early or not but he is a big lad and he has seen me take a lot of penalties when we have been taking them with England at the Euros. They are a bit tougher when they know you. Ultimately, the penalty wasn't good enough. He made a good save."
Reuse content