It is a new Financial Times analysis of Premier League season-ticket prices which puts the campaign against Liverpool's regime into perspective. The club's cheapest season ticket costs £300 less than Arsenal's but, after adjusting for income levels in the areas surrounding each side's stadium, you find their followers are worst off – paying more than 4 per cent of median gross annual earnings for the cheapest seat at Anfield.
No one else approaches Liverpool, by that unwelcome barometer. Tottenham and Arsenal are closest, both hovering just over the 3 per cent mark. Those who have presided over the Anfield public relations car crash may be interested to know that the clubs whose cheapest season tickets take the smallest slice of the locals' salaries are Watford, Manchester City and Stoke City. The most commonly purchased season-ticket price is more than 5 per cent of annual earnings for local Liverpool fans – way higher than Tottenham and Manchester City, who are next on that table.
That's the context in which to judge one of the startling proposals, which has never been publicised or referred to in print, which Liverpool put forward when drawing up their ticket price plans: an auction of some of the tickets on general sale, to the highest bidder. 
For the supporter representatives from the Spirit of Shankly organisation, which has piloted the successful protest to get plans for £77 seats overturned, the suggestion came out of nowhere. At the time, they'd just sat down at a meeting with the club and said: "Put all your ideas on the table and we'll try to find some compromises." They thought that naming rights for the stadium would be mentioned. But the idea of general sale tickets being available on the basis of "who can pay gets" – the mechanics of the black market, except the football club pockets the cash – took market forces on to another level. 
There were some vague specifics to the idea. It would only be a few dozen, tickets. It was perhaps Spirit of Shankly's astonished response which caused the proposal to be quietly parked. It vanished from later draft plans presented to supporters, ahead of the final document which provoked mass protest. In place of the auction was the idea of three tranches of tickets being offered at substantially higher prices – £185, £100 and £85 – instead. These were redefined as "low-level hospitality" in a later discussion with fans, though still part of the £39m target the club intended to raise through general sales.
The very notion of an auction of tickets astonishes the Football Supporters' Federation, which has never encountered any club trying it before. "It's the idea that if you've got enough money you can buy anything," the organisation's chairman, Malcolm Clarke, tells me. "Clubs might ballot tickets for a cup final but there's something fundamentally different between that and an auction, which is deeply undesirable."
Aston Villa 0 Liverpool 6 player ratings
Aston Villa 0 Liverpool 6 player ratings
1/23 ASTON VILLA: Mark Bunn: 3 out of 10

Saved well from Sturridge in the first half, but that was as good as his awful afternoon got.

2016 Getty Images

2/23 Micah Richards: 5 out of 10

Tried desperately to drive his team forward, but fought a losing battle.

2016 Getty Images

3/23 Jores Okore: 3 out of 10

Constantly lost his marker in the box, and was a responsible part of a shambolic Villa defence.

2016 Getty Images

4/23 Joleon Lescott: 4 out of 10

Unable to make his experience count as he failed to dominate in the air like days of old.

2016 Getty Images

5/23 Aly Cissokho: 3 out of 10

Constantly troubled by the movement between Firmino and Coutinho.

6/23 Leandro Bacuna: 3 out of 10

Responsible for a number of poor quality right wing deliveries, it was no surprise when he was eventually substituted.

7/23 Ashley Westwood: 3 out of 10

A determined midfield presence, but his frustrations got the better of him as his team crumbled.

2016 Getty Images

8/23 Idrissa Gueye: 4 out of 10

Failed to protect the Aston Villa backline when Liverpool upped the tempo.

2016 Getty Images

9/23 Jordan Veretout: 4 out of 10

Displayed some neat touches, but they were few and far between.

2016 Getty Images

10/23 Carles Gil: 3 out of 10

An anonymous afternoon for the talented Spaniard. 3

2016 Getty Images

11/23 Gabby Agbonlahor: 3 out of 10

An isolated figure in attack. Had only 13 touches in the first half, and the second period was even more forgettable as he was subbed off.

2016 Getty Images

12/23 LIVERPOOL: Simon Mignolet: 6 out of 10

Looked good taking a couple of goal kicks. There was little else for him to do.

2016 Liverpool FC

13/23 Nathaniel Clyne: 7 out of 10

Took advantage of Villa's diabolical defending with direct running, and earnt his goal.

2016 Getty Images

14/23 Kolo Toure: 7 out of 10

Plundered his side's sixth with an unmarked header. Celebrating his goal was the only time he needed to break sweat.

2016 Liverpool FC

15/23 Mamadou Sakho: 7 out of 10

Kept Agbonlahor quiet on the rare occasions that Aston Villa threatened to attack.

2016 Liverpool FC

16/23 Alberto Moreno: 7 out of 10

Given free rein to patrol up and down his left flank.

2016 Getty Images

17/23 James Milner: 8 out of 10

Haunted his former club once again by scoring the second and dominating midfield.

18/23 Jordan Henderson: 7 out of 10

The captain kept things ticking over and picked out Toure for the sixth with a pinpoint corner.

2016 Liverpool FC

19/23 Emre Can: 8 out of 10

Capped another impressive performance with a fine first Premier League goal of the season.

2016 Liverpool FC

20/23 Philippe Coutinho: 9 out of 10

At the heart of Liverpool's best attacking, he laid goals on a plate for both Sturridge and Origi.

2016 Liverpool FC

21/23 Daniel Sturridge: 8 out of 10

Back in the team and back among the goals. His opener showed a predatory instinct that Liverpool have been missing.

2016 Liverpool FC

22/23 Roberto Firmino: 8 out of 10

Worked well with Coutinho and Sturridge as Villa allowed the front three to run riot.

23/23 Best off the Bench - Divock Origi: 7 out of 10

Needed just 37 seconds to join the goalscorers after coming off the bench.

Getty
The idea belongs to the broader trend in global sport of what economists like to call "dynamic pricing". Put simply, prices rise and fall depending on demand and, as the FT observed at the weekend, dynamic pricing has long been a feature of US sport, filling empty stadiums and increasing revenue from full ones. Liverpool are ripe for the latter. Premier League stadiums are 94 per cent full, compared with 67 per cent in La Liga and 60 per cent in Serie A. The cramped Anfield stadium is at 99 per cent.
What Liverpool did not bargain for, however, was the socialist spirit of their fan base: what you might say is the Spirit of Shankly incarnate. Not even those who laid plans for the 77th minute walkout against Sunderland nine days ago knew how highly feelings ran. Few fans anticipated 15,000 joining the protest, least of all the club. "The club kept saying, 'How many fans do you speak for?'" says Spirit of Shankly's James McKenna. The inference was: "Are you sure they're going to be so angry?" 
Not even in the dark days when Tom Hicks and George Gillett almost brought the club to its knees would there have been a walkout, McKenna adds. But that particular campaign centred on the obscure finer points of leveraged buyouts. This one tapped a more fundamental sense of wrong.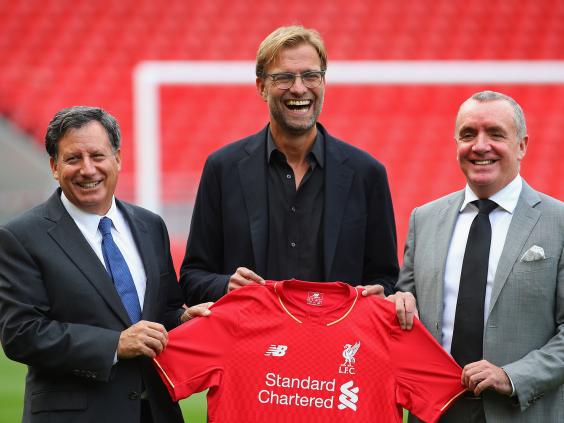 The very significant point about the walkout has not been fully appreciated. It is that very many supporters whose ticket prices were to be reduced joined it – unprepared to accept that others would be forced to pay more.
Liverpool FC knew soon enough that their scepticism was misplaced. Just when the globalisation of football and the dwindling influence of British owners appeared to have spirited the game away, we witnessed the stadium brigade fighting back – and it is not only their own battle that Liverpool's supporters have won.
"The club did not expect people beyond their city to take notice but the high level of coverage has set the tone. It has been a watershed moment," says Clarke. 
You wonder, given the minimal percentage of revenue generated by ticket prices in the era of multibillion TV rights, which will be the first club actually to reduce prices. But auctioning tickets – the survival of the fittest brought to the terrace queue – seems unlikely to darken the Premier League's door again.
When it's all over, remember the unknown sub-editors 
"Bit sharp, weren't you?" said my wife, who sometimes knows best, when I'd put down the phone. And she was right. It had been one of so many calls I've received over the course of the years – 5.30pm, perhaps 6.0-ish, generally no later than 7.0 – from those who have worked on the stories I've submitted: designing them, crafting them, correcting them, developing them into the finished product on the page. They'd be working deep into the night yet there was I, with my casual irritation for dinner a few minutes delayed. "Sorry," I'd say next time, and they were always ready to pretend there was no cause to say that.
We don't know if we'll still be working together, since the Independent in its beautiful, bold printed form is to cease, removing from our lives "rustle and whiff of the paper, the thud on the doormat when it arrives," as my editor, Amol Rajan, so exquisitely captured it in Saturday morning's paper. The name of the title goes on, in the verve and imagination of i, a publishing sensation, alongside our digital platform, though not that experience of turning in from the back to see the fixes, the enhancements, the published expression of what, very often, were their own ideas in the first place. I thank them all – brilliant, clever, questioning, forgiving people who gave every day, without so much as a byline.
Reuse content