Not quite the searing annihilation of two years ago, perhaps, when Liverpool were three-up on Arsenal in quarter of an hour, but it was a mighty win for them, all-right: a night which left those of an Anfield disposition perhaps not knowing whether to laugh or cry. If they only achieved this kind of display against those sides with no reputation, they might be challenging Chelsea for the title.
The outcome must be viewed in the context of Arsenal's desperate first half performance yet it was a reminder, too, of Liverpool's glorious autumn in which the attacking big four – Philippe Coutinho, Sadio Mane, Adam Lallana, Roberto Firmino  - looked equal to anyone. Coutinho looked his best in weeks and Mane, contributor to both goals, dominated the Arsenal left.  A moment of sublimity from Firmino early in the second half – chest control, drag back behind Bellerin and shot – was a metaphor for his enduring class.
Liverpool's belief flowered as the reality of Arsenal's early hopelessness dawned. They hunted in packs during a first half in which Francis Coquelin and Grant Xhaka were terrorised and mentally spent, and in which Arsene Wenger's full-backs were utterly absent when each of the decisive first half goals came in.
There was strife to go with all this, when Alexis Sanchez was left on the bench and spent the first half glowering in the dug-out. His absence gave Liverpool a pass. Without his threat, the home defence could afford a higher line from the outset, with Emre Can organised to drop into the back four to deal with Olivier Giroud when required.
Giroud had previously scored five in seven against Liverpool in the Premier League, which offered some rationale to Wenger's Sanchez decision – but not much. The decision seems to stem substantially from the psychological state Sanchez is in. His body language after the 5-1 defeat at Munich two weeks ago, crouched on the pitch at the end, telegraphed how he took the dreadful display personally and was above it all. He remonstrated with Alex Oxlade-Chamberlain on the pitch that night and did the same with Nacho Monreal when he arrived after half time here and you sense it is his attitude which Wenger had taken against. He senses a selfishness.
That kind of a statement from a manager is all very well when his side goes out and delivers, yet Arsenal without Sanchez were pitiful. From them it was the 'anti-press'; a first half in which they invited Can to look up and select a pass. Can has not been demonstrating the kind of form which entitles him to his delay on contract talks, yet the space opened up for him and the confidence came freewheeling back.
The goals both displayed Liverpool's fast exchange of passes at their best, though included a desperate quality of defending, too. Mane slid a cross from the right on nine minutes, which Coutinho tried to flick in. He missed, so Firmino, behind him, did the honours - drilling home instead, with Hector Bellerin drawn fatally into the area and away from the lurking threat. Firmino returned the favour for Mane six minutes before half-time, finding the Senegalese in such space - five yards of it – that he had time to control, take aim and level a right foot shot beyond Petr Cech.
Liverpool vs Arsenal player ratings
Liverpool vs Arsenal player ratings
1/22 Simon Mignolet – 6 out of 10

It was a relatively quiet day at the office for the keeper, with Arsenal providing him very few tests throughout.

Getty Images

2/22 Nathaniel Clyne – 7 out of 10

Made a number of bursting runs forward and worked incredibly well with Mane down the right.

Getty Images

3/22 Joel Matip – 6 out of 10

He held his position well and played it safe at the back – which it exactly what was needed.

Getty Images

4/22 Ragnar Klavan – 6 out of 10

He proved a tough opponent for the Arsenal strikers, as he tackles hard and reads the game well.

Getty Images

5/22 James Milner – 5 out of 10

Played a huge role in Mane's goal, but aside from that he did not make the biggest impact.

Getty Images

6/22 Georginio Wijnaldum – 7 out of 10

His impressive display was completed with a last minute goal to seal the deal at Anfield.

Getty Images

7/22 Emre Can – 6 out of 10

Was a key outlet for Liverpool, but his tackling was clumsy and unnecessary at times.

Getty Images

8/22 Adam Lallana – 7 out of 10

His closing down of possession and movement on the field was phenomenal. Top display.

Getty

9/22 Philippe Coutinho – 7 out of 10

Continued to make chances throughout and was a key element to almost every Liverpool attack.

Liverpool FC via Getty Images

10/22 Sadio Mane – 8 out of 10

With an assist and a goal under his belt, the confidence of this talent was obvious throughout. Caused a nuisance of himself throughout.

AFP/Getty Images

11/22 Roberto Firmino – 7 out of 10

His goal opened the scoring for Klopp's men and he continued to test The Gunners defence throughout.

Liverpool FC via Getty Images

12/22 Petr Cech – 5 out of 10

Letting in three goals at Anfield is never going to reflect well, despite making a number of important saves.

Getty Images

13/22 Hector Bellerin – 6 out of 10

Going forward he was dangerous, but defensively he kept being dragged out of position.

Getty Images

14/22 Shkodran Mustafi – 6 out of 10

He made a handful of vital interceptions and tackles.

Arsenal FC via Getty Images

15/22 Laurent Koscielny - 6 out of 10

Struggled, as the rest of the side did, against Liverpool's attack but managed to keep some sort of shape to the central defence.

Getty Images

16/22 Nacho Monreal – 6 out of 10

Worked well going forward, but looked insufficient against the pace and power of Mane.

Arsenal FC via Getty Images

17/22 Francis Coquelin – 5 out of 10

Made a number of unnecessary and clumsy challenges. Subbed during the break for Sanchez.

AFP/Getty Images

18/22 Granit Xhaka – 5 out of 10

Needs to be winning more in the middle of the park, as this lost Arsenal the game at times.

AFP/Getty Images

19/22 Alex Oxlade-Chamberlain – 7 out of 10

Showed glimpses of excellence and his skills on possession were sublime.

AFP/Getty Images

20/22 Alex Iwobi – 6 out of 10

Performed going forward, but defensively he appeared unaware of his duties.

Getty Images

21/22 Danny Welbeck – 6 out of 10

Aside from scoring, he did very little today. He was being dragged inside and it was making the Arsenal attack very narrow.

Getty Images

22/22 Olivier Giroud – 5 out of 10

Aside from one headed effort, he barely touched the ball. Quiet would be an understatement.

Getty Images
Sanchez took only minutes to breathe fire into Wenger's side when arriving immediately after the interval, bullying Can in midfield and sliding a ball into the inside left channel after 56 minutes for Danny Welbeck to clip an excellent finish over Simon Mignolet.
In the Arsenal tradition of recent years, the side found some fight when the fight looked like it was gone – pressing, harrying and testing the vulnerability in Liverpool's central defence. Theirs was a very open formation, yet Alex Oxlade-Chamberlain billeted in central midfield as Sanchez took the left hand berth, contributed well. Mignolet had already been forced to palm over when a cross looped over Ragnar Klavan for Giroud to head, before Arsenal scored.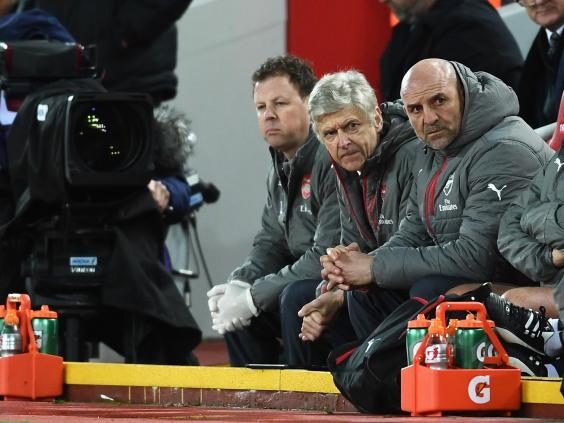 Liverpool had their own chance to put the game away when a Coutinho free-kick presented Joel Matip with a free header and substitute Divock Origi headed against the upright from a James Milner free-kick eight minutes later. The game was in its dying embers when Liverpool finished it off – an imperious pass from the Firmino outstep finding Origi who crossed for Georginio Wijnaldum to strike home. It was some finish from a midfielder under such pressure.
Jurgen Klopp's side stride into the top four, still daring to believe that they are progressing. Arsenal are simply left bereft - wondering where on earth this tunnel will take them and when they will find some light.
Teams
Liverpool (4-3-3): Mignolet; Milner, Matip, Klavan, Clyne; Lallana, Can, Wijnaldum; Mane, Firmino, Coutinho, Substitutes not used: Karius, Lovren, Moreno, Lucas
 Arsenal (4-2-3-1): Cech; Bellerin, Xhaka, Koscielny, Monreal; Oxlade-Chamberlain, Coquelin; Welbeck, Iwobi, Mustafi; Giroud. Substitutes not used: Ospina, Gibbs, Gabriel, Sanchez, Ramsey
Star man: Firmino
Match rating: 8