Ahead of a fixture with a richer history than most, from final-minute title winners to 4-4 scorelines, Arsène Wenger was asked an old question.
It is all the more relevant given the context of Arsenal's trip to Anfield this season, and Liverpool's own problems. Will the Gunners finally be signing a centre-half in January? "If we find the right player, we will do it," Wenger said. "Without any doubt."
The doubt, however, has tended to arise because, with the exception of Alexis Sanchez last summer, Wenger has so rarely found the right player compared to when he arrived at the club and brought in brilliant recruits.
He doesn't seem to spend in certain areas at all. Look at the last few transfer windows and you see how gaps in the Arsenal squad have been left unfilled.
Arsenal: Players linked with a move to the Emirates during the latest transfer window
Arsenal: Players linked with a move to the Emirates during the latest transfer window
1/16 Ilkay Gundogan

The Germany international is out of contract in 18 months with Borussia Dortmund, and while he is thankful for their support during a long-term injury and subsequent recovery, he will not be signing an extension. That could see the Bundesliga club allow him to leave in order to cash in on his worth, and Arsenal are believed to be preparing a £16m offer to test the German club's resolve.

Getty Images

2/16 Ron Vlaar

The Aston Villa captain is out of contract at the end of the season, but his impressive form at the start of this campaign helped Villa get off to a promising start. Paul Lambert remains hopeful of agreeing a new contract with Vlaar to avoid losing him on a free in the summer. The 29-year-old would bring a wealth of experience to the Gunners defence along with a certain calibre, having started all seven of the Netherlands' World Cup matches in Brazil.

Getty Images

3/16 Loic Perrin

Wenger is reportedly interested in Saint Etienne captain Loic Perrin. The French defender, 29, can also play in defensive midfield and at a price of around £6m would allow Wenger to chase other, bigger name defensive options.

Getty Images

4/16 Winston Reid

The West Ham defender has been impressive this term and would offer a cheap, if uninspiring choice at centre-back. With his contract expiring in the summer, he could be available for around £4m in January. A possible swap deal with Carl Jenkinson has also been mooted.

GETTY IMAGES

5/16 Mats Hummels

Borussia Dortmund's talented centre-back is one of the most sought-after players in Europe with both Manchester United and Barcelona interested in his services. Arsenal emerged as a shock potential destination though, with the Gunners rumoured to be willing to pay up to £32m for Hummels, who has suggested that this could be his final season with Dortmund.

GETTY IMAGES

6/16 Morgan Schneiderlin

The Frenchman accepted that he would not be leaving Southampton in the summer and flourished as a result, with Saints flying high in the Premier League. However, Schneiderlin will look to leave the south coast club come the end of the season with Tottenham likely to be the favoured destination to link up with his former manager Mauricio Pochettino, but Arsenal could look to hijack any deal and get one over their North London rivals. Schneiderlin would suit the Gunners playing style, and he certainly has the quality to fit in the current Arsenal first-team – just look at his record over the past two seasons compared to Mikel Arteta and you'd suggest there is only one winner.

Getty

7/16 Edinson Cavani

Cavani has spoken of his desire to move to the Premier league and Arsenal have been identified as a potential destination. The Uruguayan would not come cheap, given that PSG signed him from Napoli for £53m. A January move would be difficult with PSG still in the Champions League.

Getty Images

8/16 Nabil Fekir

French youngster Nabil Fekir has impressed with Lyon this term, scoring goals at a decent return. His father has said that if he leaves the French side, Arsenal would be his preferred destination, despite rumours of interest from Manchester City.

Getty Images

9/16 Julian Draxler

Draxler was a name that was heavily linked during last season's January transfer window, but any hope of a move appeared to be dashed when he suffered a drop in form that nearly cost him his World Cup place in the Germany squad. Despite that, Arsenal are reportedly still interested.

10/16 William Carvalho

Arsenal have held talks with Sporting Lisbon before but have so far been unsuccessful in their attempts to sign the holding midfielder. It's reported that Arsene Wenger has renewed hope of landing the 22-year-old Portugal international due to Sporting Lisbon's elimination from the Champions League at the group stage and is preparing a £25m bid.

GETTY IMAGES

11/16 Chris Smalling

The England international was discussed by Arsenal when Thomas Vermaelen was linked with a move to Manchester United. Vermaelen went to Barcelona instead but Arsenal are thought to retain that interest in Smalling, despite some questionable performances this season.

Getty Images

12/16 Yohan Cabaye

Arsenal failed with an audacious £10m bid for the Frenchman last year, and he eventually returned home to join PSG in a deal worth in excess of £20m after three years with Newcastle. However, Cabaye has found himself on the fringes of the first-team in Paris, with Marco Veratti, Blaise Matuidi and Thiago Motta favoured in a three-man midfield. Arsenal are still believed to be interested in his services, and a return to the Premier League may not be that far-fetched.

Getty Images

13/16 Sami Khedira

Linked with just about every major club in Europe in the summer, Khedira ended up staying at Real Madrid. He's made very few appearances this term and with his contract up in the summer, the Champions League holders may opt to make a few bucks by selling the World Cup winner. Arsenal would be very keen.

Getty Images

14/16 Christoph Kramer

If Arsenal can't land Khedira, there is another German midfielder of interest. Christoph Kramer, who is on a long-term loan with Borussia Monchengladbach from Bayer Leverkusen has indicated his interest in moving to the Premier League. Arsenal have been linked with a £20m move.

Getty Images

15/16 Paulo Dybala

Arsenal have been linked with a move for Palermo striker Paulo Dybala. The 21-year-old has been banging in the goals in Serie A this term, leading to speculation he's in line for a big move. But the Palermo president has indicated he won't be allowed to leave for anything less that £31m

GETTY IMAGES

16/16 Paul Pogba

The French midfielder is believed to be attracting attention from the Emirates regarding a possible £40m move, and would fill the holding role that has hindered the Gunners for years.

Getty Images
It is an issue that puts a specific spin on today's meeting at Anfield, not least because failures in the market have left both sides unable to build on last season. Liverpool have spent so much without reward, Arsenal have seemingly not spent enough.
Wenger continues to deny stridently accusations he is tight with the club's money. "There is a huge difference between the perception that people have of me and [the reality]. I'm not scared to spend. If you go out with me one night, you will understand that!
"There were periods when we did not have the money. What I don't like is to spend money that I don't have. Now I have money, so no problem spending it at all. What I fought against was spending money that would have put the club in danger."
Sanchez, at £35m, is perhaps proof of the change, not least because Arsenal beat Liverpool to him. The Chilean also reflects the main difference between the teams this season: scoring power. Wenger believes Sanchez has proved as good a signing as Chelsea's Diego Costa. "Yes, in the buys of the season he would be very high," he agreed.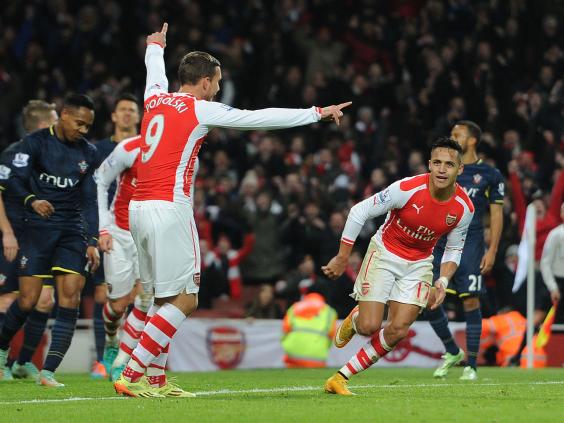 However, as exceptional as Sanchez has been, he hasn't been able to take Arsenal any higher as a side. On the contrary, it's tempting to wonder how low they would be without the Chilean. That is where the real doubt about Wenger's transfer approach lies. It is not that he refuses to spend, it is that he is not spending in the areas of most need. Jamie Carragher was forensic in a way Wenger hasn't been when citing on Sky how Chelsea calculatingly fixed their problems in the summer, whereas Arsenal didn't.
Arsenal's problems were  starkly exposed by Liverpool in last season's stunning 5-1 win on 8 February. It was as if that game fatally sapped Arsenal's belief. Before then, they had averaged 2.29 points from 24 games while scoring almost two goals a match and conceding less than one. From 8 February to now, they have managed 1.67 points a game, have scored 1.63 goals a match and conceded 1.3.
This is why they needed more than forwards in the summer. The structural problems stayed and were brutally revealed again by Stoke City just two weeks ago.
That 3-2 defeat threatened to be embarrassing. Wenger still believes that it can serve as a reality check to improve rather than a sign of more serious issues.
"I think we have responded well because we scored eight goals in two games since," he said. "That shows that the group is healthy because it can respond to disappointment and has good unity. Also we have learned. We're getting better but without defensive solidity we have no future."
It is something that's been said so many times in the past. Arsenal could do with correcting that and resetting their path from last season's trip to Anfield.
Reuse content