As centre-half heroics go it was a textbook afternoon for Martin Skrtel: blood wound to the head, lengthy treatment ensuing, major bandaging and then, more than six minutes into injury-time, a thumping header to earn a point for his side when they needed it the most. What it did for Brendan Rodgers' season will have been well worth the headache.
Liverpool needed something to make them believe that not everything they touched was destined to collapse. This was not a calamitous performance, far from it, but as the game entered nine minutes of time added on, and the home side trailing 2-1, it was shaping up to be a calamitous result for Liverpool.
As for Arsenal, this was a post-Christmas party performance; the kind of club Christmas party Tony Adams used to organise before the days of Arsene Wenger. Befuddled and directionless in midfield Arsenal sleepwalked through the first half and mysteriously found themselves level at the break with an equaliser from Mathieu Debuchy after Philippe Coutinho has scored Liverpool's first on 44 minutes.
It had been Arsenal's only attempt on goal at that point. Their second, from Olivier Giroud on 64 minutes gave them a 2-1 lead and when the game went into extensive injury-time, necessitated by the lengthy treatment for Skrtel's second half head-gash, there was a chance that the away team might pinch all three points. As robberies go it would have been only slightly less heinous than taking the Christmas tree and all the presents.
Liverpool vs Arsenal Player Ratings
Liverpool vs Arsenal Player Ratings
1/22 Brad Jones

Let Giroud's shot through his legs too easily and perhaps could have done better with Debuchy's opener, too. 3

GETTY IMAGES

2/22 Kolo Toure

Too easily beaten for Giroud's goal, he looked slow and cumbersome throughout but nevertheless found time for some of his typical buccaneering runs forward. 4

GETTY IMAGES

3/22 Martin Skrtel

At fault for Arsenal's equaliser when he allowed Debuchy to steal in at the back post but made up for that error with the equaliser, a howitzer off an injured forehead. 6

GETTY IMAGES

4/22 Mamadou Sakho

There is a good player waiting to break out – but Sakho still looks shaky when pressurised by fast attackers. 6

GETTY IMAGES

5/22 Jordan Henderson

Neat and tidy at points, but in this remodelled, strikerless Liverpool system he appears less able to cut defences open with passes and driving runs. 6

GETTY IMAGES

6/22 Lucas Leiva

How Coutinho benefits from having a player of his defensive responsibility mopping up behind him. Almost scored too, with a late run into the box. 8

GETTY IMAGES

7/22 Steven Gerrard

Willed his team on in the last ten minutes as is his wont. Less influential than before but still such a massive influence on this team. 6

GETTY IMAGES

8/22 Lazar Markovic

Far, far better than he has been so far in a left wing-back role. Missed two good opportunities to put Liverpool in front but Rodgers may yet have found a gem in the 20-year-old. 7

GETTY IMAGES

9/22 Philippe Coutinho

Livelier than he has been since last season, the Brazilian looks far more comfortable with Lucas behind him. Perfectly-placed shot found the corner to put his side ahead but guilty of missed opportunities thereafter. 8

GETTY IMAGES

10/22 Raheem Sterling

Left Debuchy for dead midway through the second half in a reminder of his luminous skill and, along with Coutinho, was Liverpool's biggest threat throughout. 7

GETTY IMAGES

11/22 Adam Lallana

Does not and indeed has never looked worth £25m. Flitted in and out of the game with sporadic touches of skill. 5

GETTY IMAGES

12/22 Wojciech Szczesny

Could do nothing about either Coutinho's well-placed shot or Skrtel's bullet header. 7

GETTY IMAGES

13/22 Calum Chambers

He will be a fine player, but he looked overawed by Coutinho and Lallana's movement. 6

GETTY IMAGES

14/22 Mathieu Debuchy

Struggled defensively but contributed meaningfully at the other end of the pitch, popping up with a crucial equaliser right on half time. 7

GETTY IMAGES

15/22 Per Mertesacker

A mistake waiting to happen. Looked rickety early on as Sterling and Coutinho drove at him and should have at least attempted to stop Skrtel powering past him for the equalising header. 4

GETTY IMAGES

16/22 Kieran Gibbs

Was fortunate that most of Liverpool's threat was confined to the left wing. Got forward well as is his custom. 6

GETTY IMAGES

17/22 Alex Oxlade-Chamberlain

Quieter than the bullocking figure of recent weeks, he struggled to impose himself on the game. 6

GETTY IMAGES

18/22 Mathieu Flamini

Struggled early to track Coutinho and received a yellow for hauling him down. Could have been sent off after clashing with Lallana. 5

GETTY IMAGES

19/22 Alexis Sanchez

A peripheral presence but won the free kick from Gerrard that led to Debuchy's goal. Oddly quiet thereafter and eventually departed the field. 5

GETTY IMAGES

20/22 Santi Cazorla

An effervescent display. Allowed further forward in the second half, he responded with a serving shot that travelled narrowly wide and the delicious cutback from which Giroud put Arsenal ahead. 8

GETTY IMAGES

21/22 Danny Welbeck

Quiet before he was hurt in a clash with Sakho midway through the second half, and limped on ineffectually thereafter. 7

GETTY IMAGES

22/22 Olivier Giroud

Hit a snapshot over on 62 minutes, and was often played wide in the first half. But he made the crucial intervention by slotting home Cazorla's cross. 7

GETTY IMAGES
Rodgers' team, for all their defensive weaknesses at least looked like a side trying to put together a performance. At times it was hard to know exactly what Arsenal were up to. They could barely pass the ball in the first half and overall mustered just three shots on goal and 35 per cent possession. This is not the Arsenal that Wenger has spent his life trying to build and his suggestion that "bad memories" of last season's 5-1 defeat in the same fixture had played their part was bizarre.
In the end, Liverpool, who had the substitute Fabio Borini sent off for two yellow cards, got less than they deserved and Arsenal a great deal more. Yet it was Rodgers who looked the happier of the two managers. His description of his side as "brilliant" might have been pushing it somewhat but you could see what he was trying to do. He needs the confidence of this team, up to tenth place now, to return if they are to have any chance of challenging for the top four again.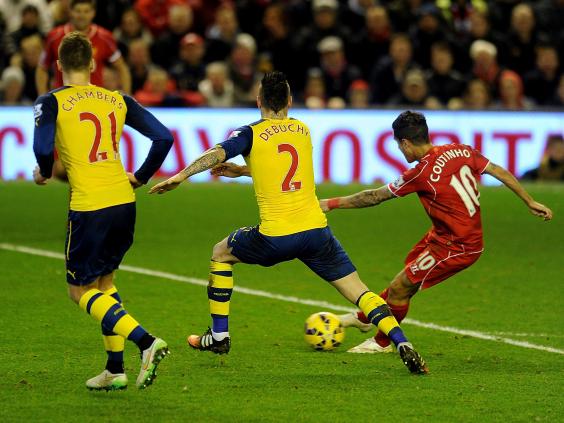 The game was controlled by Steven Gerrard in front of the back four, and in front of him the likes of Raheem Sterling, Coutinho and Lazar Markovic reprised the pressing game that is so crucial to Rodgers' philosophy. As for Wenger he picked five attacking players and a defence protected by Mathieu Flamini, and they rarely looked coherent.
Nevertheless it was shaping up to be another afternoon of broken dreams for Liverpool when, on 90 minutes, Borini, the recipient of two bookings, ran down the tunnel having come on just 17 minutes earlier. His first booking was a needless throwing of the ball in anger. His second was for a raised boot on Santi Cazorla. More than anything, the Italian just looked embarrassed.
In the first half in particular, Arsenal seemed outnumbered everywhere apart from in defence where, it should be said, Sterling was kept corralled. Danny Welbeck tried to lead the way by applying some sort of pressure, urging his team-mates to do the same, as he could not do it alone. Rodgers' team passed their way through the away side's ragged midfield in which Arsenal's low quality of passing had to be seen to be believed.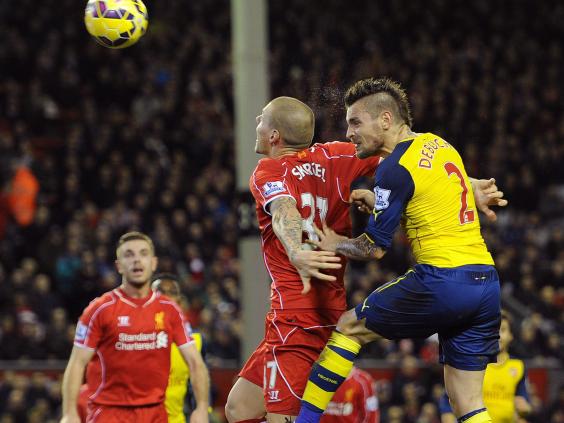 A nadir came three minutes from half-time when Debuchy, looked up and calmly passed the ball into touch. It said everything about the way Arsenal had played. They were a team that did not look like they had much of a plan.
There were some moments of promise from Markovic, the slow-burn £20m Serbian whom Rodgers is clearly desperate will succeed as a signing. It was the Brazilian Coutinho who scored the goal on 44 minutes, taking the ball from Jordan Henderson from the right and, with Debuchy standing off him, struck a right foot shot across Wojciech Szczesny and in off the post.
It was as much as Liverpool deserved at that point, but Rodgers has become accustomed to getting less than he has hoped for in recent months. So it was that referee Michael Oliver awarded a soft free-kick against Gerrard on the right side for a foul on Alexis Sanchez, whom the Liverpool manager would later accuse of diving to win the ball. From the free-kick, Arsenal equalised.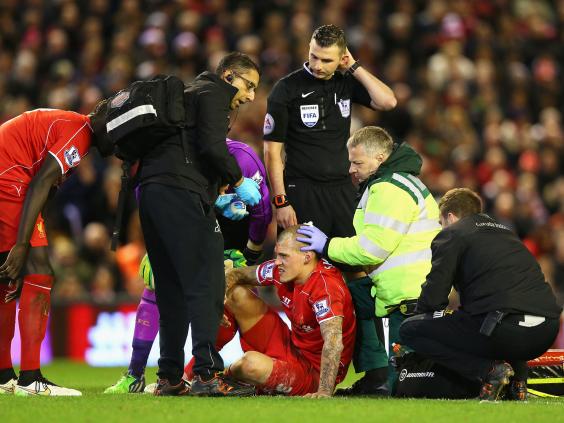 Liverpool missed their first opportunity to clear when Per Mertesacker got to the initial Sanchez free-kick. When the ball dropped to Mathieu Flamini he headed it towards the back post and Debuchy, played by Wenger at centre-back, came in behind Skrtel to head the ball past Brad Jones.
Liverpool had chances at the start of the second half, most notably a header from Gerrard that went over. Sterling had gone round Szczesny – another mad rush off his line – and cut it back to his captain. Lucas Leiva shot over from Markovic's pass.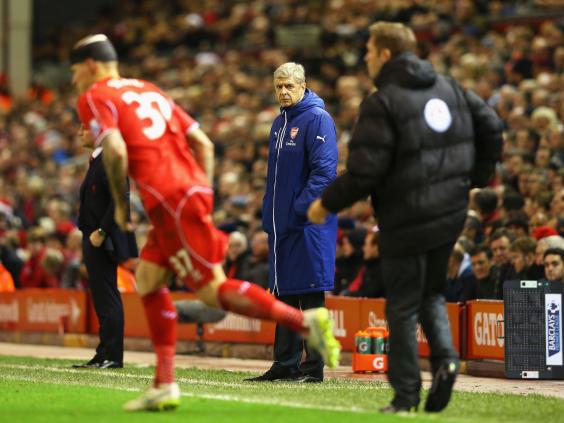 Then came the second Arsenal goal, well worked but hardly unstoppable. Kieran Gibbs broke forward and picked out Giroud who snapped the ball back out to Santi Cazorla on the left. Mamadou Sakho then lost the French striker who struck the cross crisply first time through the legs of Jones.
It became increasingly desperate for Rodgers, who tried to increase the pressure on the home side only to lose Borini to the red card. Yet Liverpool barely blinked when they went down to ten men and Arsenal, who had shown little discipline all afternoon, failed to make anything of the advantage.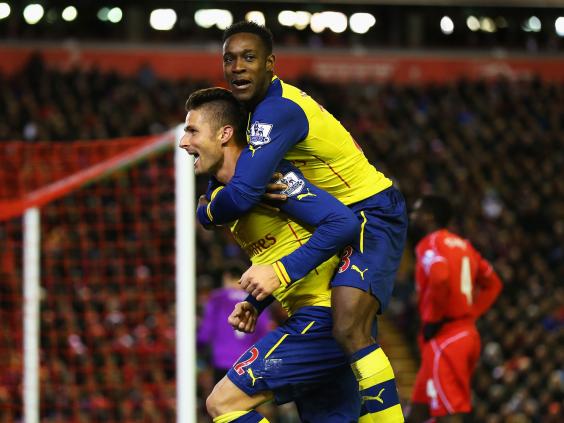 In those last nine minutes Szczesny looked more assured stopping shots than the Arsenal defence did with balls crossed into the area. Skrtel beat Calum Chambers' challenge for the equaliser, headed in from an Adam Lallana corner. Rodgers had rescued a point, which was much better for him than the alternative he had been facing seconds earlier.
Liverpool (3-2-4-1): Jones; Toure (Lambert, 81), Skrtel, Sakho; Leiva, Gerrard; Henderson, Lallana, Coutinho Markovic (Borini, 74); Sterling.
Substitutes not used: Enrique, Moreno, Manquillo, Mignolet (gk), Can.
Arsenal (4-3-3): Szczesny; Chambers, Debuchy, Mertesacker, Gibbs; Oxlade-Chamberlain (Campbell, 90), Flamini, Cazorla; Welbeck, Giroud (Coquelin, 82), Sanchez (Monreal, 90).
Substitutes not used: Podolski, Walcott, Martinez (gk), Maitland-Niles.
Referee: M Oliver
Man of the match: Gerrard
Rating: 7
Booked: Liverpool Borini Arsenal Flamini, Debuchy, Cazorla
Sent off: Borini
Reuse content