Steven Gerrard has issued a stern warning to his Liverpool team-mates that they need to play "like men" and will only have themselves to blame if the club cannot raise itself out of the current slump in league form.
Speaking after the 3-1 victory over Bournemouth in the Capital One Cup quarter-final on Wednesday night, the Liverpool captain said that the next few weeks, starting with the home game against Arsenal on Sunday, would be a test of the character of the team. Last season they beat Arsène Wenger's side 5-1 at Anfield in February with four goals in the first 20 minutes at a time when Arsenal were the Premier League leaders.
Gerrard said: "We won the game [last season] in the first 20 minutes. But when you have a strikeforce of Daniel Sturridge and Luis Suarez, they are capable of killing teams in 20 minutes. It's different this year and everyone knows that. I think they were 60 to 70 per cent of our goals, those two. You take them out of any team in the world and it's going to be tough, and it has been.
Liverpool injury list
Liverpool injury list
1/5 Adam Lallana

Replaced against Manchester United after picking up a groin problem, missed the game against Arsenal and is unlikely to return against Blackburn.

Getty Images

2/5 Jordan Ibe

The promising youngster has been out with a knee injury but returned to light training last month.

3/5 Brad Jones

A thigh injury forced the goalkeeper off on Boxing Day last year with no return date set.

GETTY IMAGES

4/5 Jon Flanagan

Hurt during pre-season, the defender is still yet to feature this season. Training is becoming more intensive for the 22-year-old and he played a small cameo in the Steven Gerrard charity game at Anfield.

5/5 Mario Balotelli

Missed the game against Arsenal but could be fit against Blackburn after training with the first team.

GETTY IMAGES
"But I think this is where you find out what kind of players you've got in the dressing room," he added. "It's time to roll your sleeves up and fight for the club and try to put it right as soon as possible and that's what we're trying to do.
"It's been very hard,"  Gerrard admitted. "For me I've experienced it a few times during my career at Liverpool when it gets tough under certain managers and from the outside people are trying to 'kill' you [with criticism]. It's normal. We're at a big club, we've got to take that responsibility. We can't have players hiding and feeling sorry for themselves, we need men out there and [against Bournemouth] I thought we all turned up. That's why the result came."
Gerrard added that he had not been slow to inform team-mates when he felt their performances had not reached the required level. "I tell them individually, I tell them in the dressing room. But if you're  sitting in that dressing room and you don't know that the performance levels haven't been good enough of late, you're at the wrong place."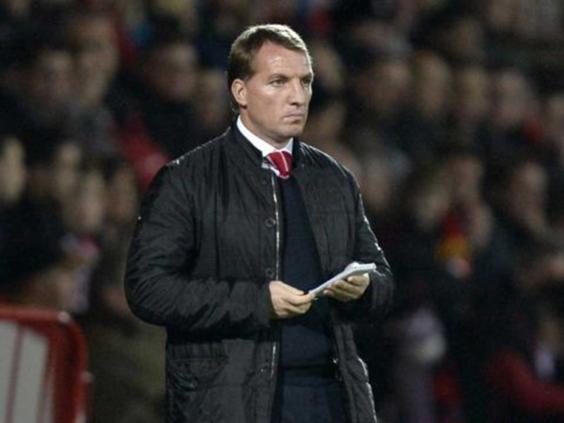 Asked about whether it was wrong that Brendan Rodgers' position had come under question during a run that had yielded just two wins in 10 games before Wednesday night, Gerrard said that it was part of being manager at a club were the expectations are  consistently high.
"Yeah, I'd say so. But it comes with the territory," he said. "There was a stage were a couple of my performances were under par and I got a bit of stick. It's normal. I've got to accept it being captain of the club and he's got to accept it being the manager of Liverpool. If results don't go well, questions are going to get asked, criticism is going to fly, you take it on the chin and try to improve things. That's the only way."
Liverpool will face Chelsea over two legs in the Capital One Cup semi-final next month, a repeat of the final  nearly 10 years ago in which Jose Mourinho won his first trophy in England and Gerrard scored an own goal which took the game into extra-time. Gerrard conceded it would be "tough" to beat the league leaders and make it to the final.
"Of course it's tough. On current form they're the best team in the country. But it's exciting. It will be two great games, and two great atmospheres and it's a bonus for us because it's been tough.
"It's nice to see the lads smiling. We'll certainly be looking forward to the games and if we can through, it's a great chance to get another cup."
Reuse content