As Luis Suarez prepared for his comeback in Madrid, the man given the task of replacing him finished his match flat on his back staring up at the unforgiving heavens.
The pass from Philippe Coutinho was perfect, it required just a touch to turn it into the net beneath the Kop, but Mario Balotelli's touch had deserted him long before.  Had it gone in, there would barely have been time for Hull to have kicked off.
The previous Saturday at Arsenal, Hull had been denied victory by Danny Welbeck with virtually the last kick of the game. Welbeck, however, is a centre forward who does not wonder what it must be like to score a goal.
When he brought him to Merseyside, his manager, Brendan Rodgers, insisted Liverpool would not become "the Mario Balotelli show", but until his fate is settled most of their games will be shows with a cast list of one.
Nevertheless, this was a vastly improved display from the one that had seen him substituted at half-time against Real Madrid. "I thought he was their best player," said Hull's manager, Steve Bruce.
"There is a lot wrote about him, he is not everybody's cup of tea but he is a bit of a character and when you sign a maverick, you have to treat him like a maverick.
"I saw him against Tottenham two months ago and I thought he was terrific. The lad is a talent.
"I only saw the highlights of the Real Madrid game because I couldn't get a ticket but for me he was made the whipping boy for that game. Here, he was Liverpool's most effective player."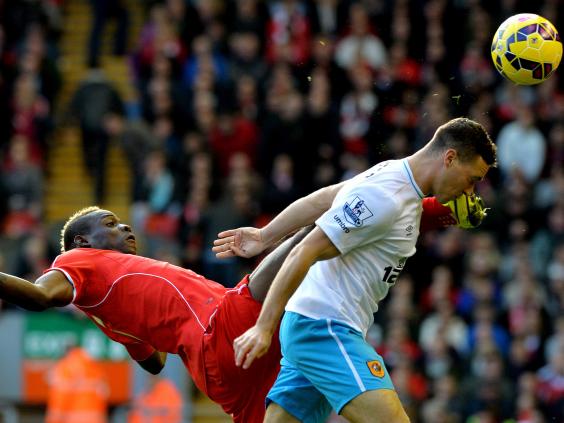 Rodgers remarked that Balotelli "probably did not expect to start this game", and given the storm swirling around the Italian's bleached Mohican head, Rickie Lambert must have wondered what he would have to do to start a league match for Liverpool.
Lambert was brought on after an hour, when Liverpool were looking increasingly devoid of ideas. Thereafter, Hull were subjected to a pounding siege that became more menacing with every minute.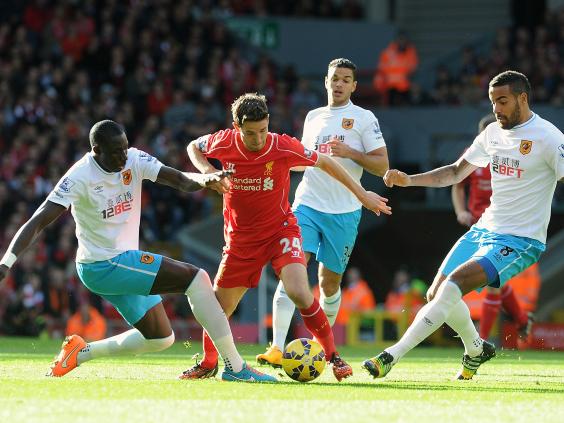 A lovely flick from Lambert found Balotelli virtually on the penalty spot before he went down under pressure from Alex Bruce. The stadium screamed for a penalty and Rodgers's voice might have been among them. However, when the Liverpool manager analysed the replay, he concluded that Balotelli had slipped.
Coutinho had a shot flicked over by Eldin Jakupovic, Hull's third-choice keeper, who picked quite a day to make his full Premier League debut at the age of 30.
The lot of a third-choice goalkeeper must be one of the more surreal sport has to offer and injuries to Allan McGregor and Steve Harper had pitched Jakupovic, born in Bosnia, brought up in Switzerland and brought to Hull via Greece, into the spotlight.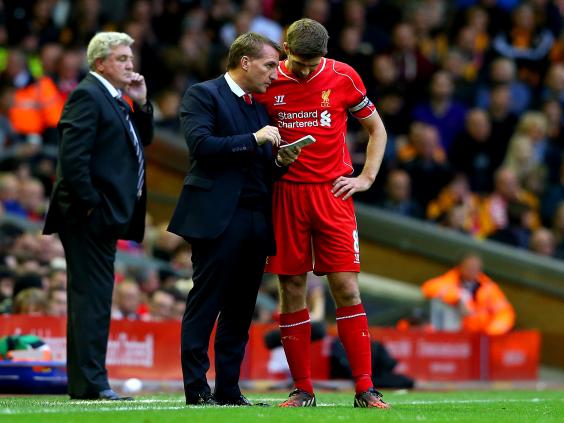 His first save was a full-length dive to block Dejan Lovren's header and he rarely faltered amid the 14 corners Liverpool forced.
Hull managed just the one, which given how absurdly vulnerable Liverpool can be from set-pieces, would have disappointed their manager.  This was Liverpool's first clean sheet at Anfield since Tottenham were thrashed 4-0 here in March and there was seldom any doubt they would achieve it.
When Hull did break away, their counter attacks were too slow and ponderous to worry Liverpool's defence. Midway through the first half Bruce covered himself with his jacket as the Kop sang "Steve Bruce he's got a big fat head" - a chant left over from his days at the heart of Manchester United's defence.
Bruce could afford to laugh. His record against Liverpool at clubs as diverse as Sunderland, Birmingham and Wigan, is an excellent one.
When Rodgers came to examine last season's defeats that cost the club the chance of the title, the 3-1 reverse on Humberside would be one that stood out. For Rodgers, this result would have been two more points dropped.
Fifty years ago this week, as the Tannoys reminded the crowd, Bill Shankly had introduced Liverpool's all-red kit. His successor this week admitted to finding himself in his kitchen at 4.30 in the morning pondering football problems, and last night he would have gone home wondering once more about Mario Balotelli.
Liverpool (4-3-3): Mignolet; Manquillo, Skrtel, Lovren, Moreno; Allen (Coutinho 61), Gerrard, Can (Henderson 75); Sterling, Balotelli, Lallana (Lambert 61). Subs not used: Jones, Johnson, K Toure, Markovic.
Hull City (4-2-3-1): Jakupovic; Chester, Bruce, Davies, Elmohamady; Livermore, Diamé (Meyler 86); Huddlestone, Brady, Ben Arfa (Aluko 71); Hernández (Ramírez 71)
Referee: Neil Swarbrick
Man of the match: Bruce (Hull)
Match rating: 6/10
Reuse content