On a night when the monied clubs that would catch Leicester lay in a collective heap, nobody fell harder than Manchester City. 
If Manuel Pellegrini is to take his leave of the Etihad Stadium by regaining the league title, he will have to oversee an electric finish. Before the game his captain, Vincent Kompany, had argued they would use their greater experience to hunt Leicester down. Now, 10 points adrift of the Premier League's most surprising leaders, Manchester City look like they have let the Foxes bolt.
With Manchester United and West Ham uncomfortably close, Pellegrini's main task would appear to be to finish in the top four.
If you judged them by their two league performances against Manchester City, won by a collective scoreline of 7-1, you might ask why Liverpool are unlikely to finish in the Champions League places. Had they played to this level in Sunday's Capital One Cup final, they would not have needed to lose to City in a penalty shoot-out.
"Falling down is okay in life," said Jürgen Klopp after the defeat at Wembley. "It is expected but you have to move forward." This was a giant stride but in the league Manchester City's only direction seems to be backwards.
When they thrashed Manchester City at the Etihad Stadium, Liverpool did so with a series of quick, harsh hammer blows. Here they took control of the night almost by stealth. Liverpool did not threaten anyone until suddenly they were two and then three up.
Nobody in Manchester City's back four seemed particularly aware of any danger when Adam Lallana moved forward with Roberto Firmino to his left.  Kompany retreated and only too late did Nicolas Otamendi realise the danger and attempt to close Lallana down. The shot was low and hard and should probably have been saved by Joe Hart. Most of the stadium seemed to think it had gone wide. For a second there was almost no reaction, then an eruption of emotion followed.
Seven minutes later, there was another as Liverpool's second worthwhile attack of the evening produced a second goal. If there is a criticism of the way Pellegrini has handled Manchester City, it would lie in central midfield. Gareth Barry and James Milner, the two Englishmen he dispensed with, still seem an obviously better combination than the Brazilian pairing of Fernando and Fernandinho.
Now Milner seized on Firmino's ball that bisected Kompany and Pablo Zabaleta and drove his shot past Hart before Zabaleta could make the tackle.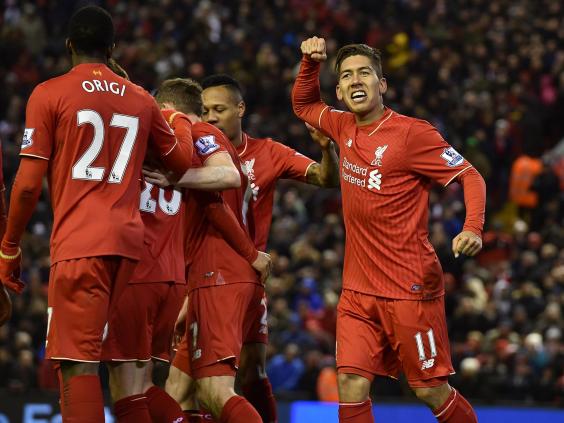 Just before the interval Milner displayed another side to his game, chesting down what would have been Manchester City's first attempt on target – a header from Sergio Aguero.
Manchester City have seldom enjoyed their journeys to the red half of Merseyside. They had won just one of their previous 34 games at Anfield and that was courtesy of goals from a former Liverpool player, Nicolas Anelka. However, it seems hard to imagine they had performed as insipidly as they did now.
After the interval, Otamendi, who seemed to have forged something of a partnership with Kompany in the victory over Dynamo Kiev, gave the ball away with a sloppy touch and Firmino burst through to finish as emphatically as he had at the Etihad. The game was not an hour old and Manchester City had lost.
And yet, until Liverpool's breakthrough, the night was still languishing in the shadow of Wembley. Klopp's remark that "the championship is not so interesting for us" – a damning admission for a Liverpool manager to make at the beginning of March – seemed to have spread to the pitch.
There was a flatness. Kompany, who had been absent in November when Manchester City's defence had been slashed apart in their stadium by Firmino and Philippe Coutinho, seemed in control. Even the booing of Raheem Sterling, making his first return to Anfield since he forced his way out of the club, was pantomime-like, lacking real spite.
It was not, however, an occasion Sterling would want to linger over. He was facing Jon Flanagan, who had last played for Liverpool in May 2014 when Sterling was a team-mate, the team-talks were delivered by Brendan Rodgers and Luis Suarez spearheaded the attack. 
Flanagan, who grew up within earshot of the Kop, played astonishingly well. His first touch was to bundle Sterling off the ball, which provoked a wave of laughter around Anfield and, towards the end of the first half, he deftly took a pass from Aguero off Sterling's feet.
Then, as the teams prepared for the second half, Sterling's number was held up by the fourth official. The "greedy bastard", as they called him, would not be reappearing for the second half. 
It was almost enough to erase the pain of Wembley. Almost but not quite.
Reuse content