Liverpool are not the same team without Adam Lallana
Not a statement anyone hoping to maintain their credibility would have said 12 months ago. Lallana, who was substituted early in Liverpool's victory at Swansea after sustaining a groin injury which forced him to miss the subsequent set of international fixtures with England, was deemed fit enough to only be selected on the substitutes' bench here.
Without him – and, indeed, Georginio Wijnaldum, whose quick rotation of possession has been an understated feature of Liverpool's best performances this season - Jürgen Klopp's midfield was one-paced and lacking the necessary energy to impose pressure on the opponent.
Emre Can started a league game for the first time and his lack of match fitness was visible and audible. When the German reacted to Marcus Rashford's darting in-field run with all the stealth of an elephant pricked by a tranquiliser dart, Klopp leapt from his seat to remind him of his expectations. When the centre of the pitch opened up moments later and Can elected to turn around and pass the ball backwards, Klopp was joined by his assistant Zeljko Buvač in the technical area and Can was scalded again.
Liverpool were much brighter when Lallana was introduced with half an hour remaining. Like Can, Daniel Sturridge did not enjoy the best of evenings. Maybe, in fact, Liverpool's improvement was a consequence of the striker's exit.
Liverpool's goalkeeping problem has not been remedied with the dropping of Simon Mignolet
Not yet, anyway. There are some encouraging signs for Loris Karius. First of all, he must have done enough in training to impress his teammates, judging by the number of times he was entrusted by Liverpool's defenders to use the ball with his feet.
And yet, through his actions there were glimmers of encouragement for United: the times he failed to deal adequately enough under pressure from a cross only to be saved by the decision to award Liverpool a free-kick for the slightest of touches on him, and then again when his loose pass was intercepted by Paul Pogba only for the maximum punishment to be avoided because Zlatan Ibrahimović was subsequently standing in an offside position.
Liverpool vs Manchester United player ratings
Liverpool vs Manchester United player ratings
1/22 Loris Karius – 4 out of 10

Didn't have too much to do but looked nervous when the crosses did come in and his loose pass nearly gave United the lead.

2/22 Nathaniel Clyne – 5 out of 10

Couldn't attack anywhere near as much as he normally likes to and was restricted in what he could contribute.

3/22 Joel Matip – 7 out of 10

Had a good battle with Ibrahimovic throughout and probably got the better of the big Swede.

4/22 Dejan Lovren – 7 out of 10

Like Matip, did well to keep Ibrahimovic quiet and read the play well.

5/22 James Milner – 7 out of 10

Could have had a tough night against Rashford but continued his impressive run at left back.

6/22 Jordan Henderson – 5 out of 10

Struggled to get his foot on the ball as he lost the midfield battle to United's pairing.

7/22 Emre Can – 5 out of 10

Much of the play passed him by as it seems he is still lacking match fitness on his first Premier League start of the season.

8/22 Sadio Mane – 6 out of 10

Continued to drop deep in hope of making something happen and was probably the liveliest of Liverpool's attacking players.

9/22 Philippe Coutinho – 5 out of 10Philippe Coutinho – 5 out of 10

Looked out of sorts and made uncharacteristic errors with his forward passing and crossing.

10/22 Roberto Firmino – 5 out of 10

Similar to Coutinho, he also struggled to find any space between the lines to work in.

11/22 Daniel Sturridge – 4 out of 10

Anonymous in the first half and replaced before the hour mark by Lallana. He has now gone 615 minutes without a Premier League goal.

12/22 David De Gea – 8 out of 10

Didn't put a foot wrong and was needed to pull off two world-class saves from Can and Coutinho.

13/22 Antonio Valencia – 8 out of 10

Continued his fine start to the season and saved the game for United with a stunning last-ditch challenge.

14/22 Chris Smalling – 6 out of 10

Did well to keep Coutinho and co. out but United's captain for the night was overshadowed by his new centre-back partner.

15/22 Eric Bailly – 7 out of 10

A strong and commanding performance by Bailly as he kept Liverpool's attacking quartet quiet.

16/22 Daley Blind – 5 out of 10

Could have been found out with his lack of pace but held his own against the Reds' pacey attacks.

17/22 Marouane Fellaini – 7 out of 10

Helped control the game from midfield and broke up play well alongside Herrera.

18/22 Ander Herrera – 8 out of 10

Was the best outfield player of the game. He was dynamic and won possession well on multiple occasions.

19/22 Paul Pogba – 5 out of 10

Played in a more advanced role but other than a few neat passes he looked frustrated as he struggled to make anything happen.

20/22 Marcus Rashford – 5 out of 10

Didn't get past Milner as much as he'd have liked but the one time he did he fired in a dangerous cross that Liverpool struggled to deal with.

21/22 Ashley Young – 6 out of 10

Did exactly what he was put into the team for. Crossed well and worked back industriously to keep Clyne quiet.

22/22 Zlatan Ibrahimovic – 4 out of 10

Cut a frustrated figure up front as he struggled to link with his midfielders amid the pressure from Matip and Lovren.
David De Gea took time to settle into his role as United's first choice goalkeeper when he arrived from Atlético Madrid as a 20-year-old before emerging as arguably the Premier League's best. Yet just as any Liverpool midfielder bought to replace Steven Gerrard would be affected by the expectations placed on him, Anfield's nervousness can be felt each time a cross is not dealt with adequately or a shot is parried rather than gathered because of three seasons spent with Simon Mignolet. It means Karius will probably not be afforded the settling in period he might need.
Paul Pogba is not performing with the conviction of someone who is sure of his responsibilities
When an interview with Paul Ince appeared on the pages of The Independent last week, the former Manchester United midfielder suggested that Pogba is yet to discover the form which prompted United to break their transfer record by some distance on a player they let go for almost nothing four years ago because of the different tactical system used at Juventus.
While Pogba's supporters will might speak of a his diligence here when he helped close down the angles where Liverpool's defenders and midfield might have been able to build some momentum, he offered absolutely nothing in a creative sense and was slow to react to potential goalscoring opportunities on the few occasions when United broke from their defensive rhythm.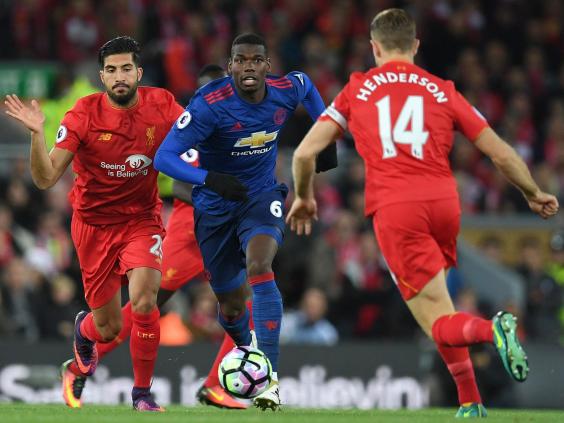 It remains to be seen whether Pogba is best suited to a number 6 position, a number 8 or acting as a number 10.
For £89 million and considering his history with the club, you'd have expected someone at United to know exactly what they were getting.
Anthony Taylor might be an Altrincham fan after all
In order not to become the story and therefore the focus of the questions aimed at both managers in the post-match press conference, there was a feeling that referee Anthony Taylor would need to deliver a faultless display.
Taylor, who lives a Marouane Fellaini misplaced pass away from Old Trafford and was born in Wythenshawe, says he supports his local team, Altrincham.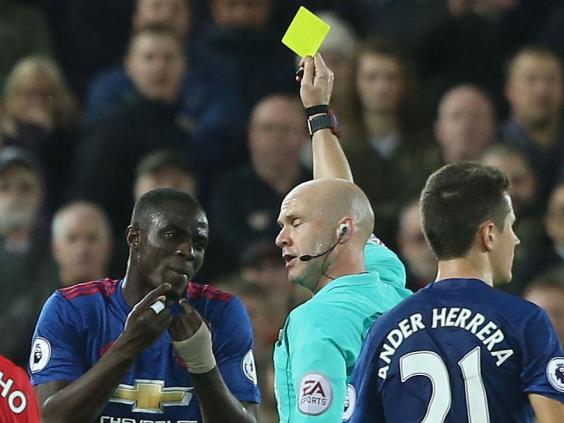 His appointment to this match was met by bewilderment, particularly from José Mourinho, who suggested it would be "difficult" to referee a match at Anfield when United are the visiting team.
It might be a challenge to believe someone with even a passing interest in football when they claim not to be touched by rivalry when growing up in a city with such entrenched views about partisanship and yet, Taylor's demeanour was cool and his decision making, consistent.
Though it would not be a surprise if at least one of the managers complained because they usually do to suit their own agenda, Taylor's performance was sound.
Reuse content