Manchester United's Jose Mourinho delivered a dig at Liverpool in the aftermath of the Anfield stalemate, mocking their reputation as an attacking side and claiming that their tactics were defensive in the match.
In a device designed to fend off allegations that he had been defensive in the game, Mourinho - who declared the stadium to have been "the quietest Anfield I've had" - said: "You like to say they are the last wonder of the world in attacking football but they are also defend and like to think defensive."
The level of his sensitivity to suggestions that his own side had lacked ambition were revealed when he made a bizarre return to the press conference room, where it had been put to him that United's 35 per cent possession was their lowest in the Premier League since Opta's records began in 2003.
Having left the room after his post-match discussion, Mourinho appeared from behind a side door to look for the journalist who had put the 35 per cent figure to him, saying: "It was 42 per cent. We asked our guy." When it was put to him that the BBC had also quoted the figure, he said: "Our guy is better than them." Jurgen Klopp also quoted 35 per cent.
Mourinho cited Klopp's deployment of both Emre Can and Jordan Henderson as holding midfielders to make his argument that Liverpool had been more defensive than usual and that they - as much as United - had attempted to do a containment job. "They normally protect more players in attack and were very cautious. They had only one player behind the three more offensive players. We thought they were only going to play one player there [in front of defence] but they played too."
In fact, Klopp's set-up was very similar to usual, with Can a straight replacement for Georginio Wijnaldum, who tends to advance up field more.
Liverpool vs Manchester United player ratings
Liverpool vs Manchester United player ratings
1/22 Loris Karius – 4 out of 10

Didn't have too much to do but looked nervous when the crosses did come in and his loose pass nearly gave United the lead.

2/22 Nathaniel Clyne – 5 out of 10

Couldn't attack anywhere near as much as he normally likes to and was restricted in what he could contribute.

3/22 Joel Matip – 7 out of 10

Had a good battle with Ibrahimovic throughout and probably got the better of the big Swede.

4/22 Dejan Lovren – 7 out of 10

Like Matip, did well to keep Ibrahimovic quiet and read the play well.

5/22 James Milner – 7 out of 10

Could have had a tough night against Rashford but continued his impressive run at left back.

6/22 Jordan Henderson – 5 out of 10

Struggled to get his foot on the ball as he lost the midfield battle to United's pairing.

7/22 Emre Can – 5 out of 10

Much of the play passed him by as it seems he is still lacking match fitness on his first Premier League start of the season.

8/22 Sadio Mane – 6 out of 10

Continued to drop deep in hope of making something happen and was probably the liveliest of Liverpool's attacking players.

9/22 Philippe Coutinho – 5 out of 10Philippe Coutinho – 5 out of 10

Looked out of sorts and made uncharacteristic errors with his forward passing and crossing.

10/22 Roberto Firmino – 5 out of 10

Similar to Coutinho, he also struggled to find any space between the lines to work in.

11/22 Daniel Sturridge – 4 out of 10

Anonymous in the first half and replaced before the hour mark by Lallana. He has now gone 615 minutes without a Premier League goal.

12/22 David De Gea – 8 out of 10

Didn't put a foot wrong and was needed to pull off two world-class saves from Can and Coutinho.

13/22 Antonio Valencia – 8 out of 10

Continued his fine start to the season and saved the game for United with a stunning last-ditch challenge.

14/22 Chris Smalling – 6 out of 10

Did well to keep Coutinho and co. out but United's captain for the night was overshadowed by his new centre-back partner.

15/22 Eric Bailly – 7 out of 10

A strong and commanding performance by Bailly as he kept Liverpool's attacking quartet quiet.

16/22 Daley Blind – 5 out of 10

Could have been found out with his lack of pace but held his own against the Reds' pacey attacks.

17/22 Marouane Fellaini – 7 out of 10

Helped control the game from midfield and broke up play well alongside Herrera.

18/22 Ander Herrera – 8 out of 10

Was the best outfield player of the game. He was dynamic and won possession well on multiple occasions.

19/22 Paul Pogba – 5 out of 10

Played in a more advanced role but other than a few neat passes he looked frustrated as he struggled to make anything happen.

20/22 Marcus Rashford – 5 out of 10

Didn't get past Milner as much as he'd have liked but the one time he did he fired in a dangerous cross that Liverpool struggled to deal with.

21/22 Ashley Young – 6 out of 10

Did exactly what he was put into the team for. Crossed well and worked back industriously to keep Clyne quiet.

22/22 Zlatan Ibrahimovic – 4 out of 10

Cut a frustrated figure up front as he struggled to link with his midfielders amid the pressure from Matip and Lovren.
Mourinho also said that Liverpool's "two shots on goal" from their substantial possession had been poor.  "Look - last season United won here:  Liverpool had 14 shots on target and United had one. How many shots on target did they have today? Two? Sixty five per cent of possession and two shots you have to be critical of Liverpool. It's out problem, not their problem."
Mourinho handed Paul Pogba a more attacking role than usual, behind centre forward Zlatan Ibrahimovic. He was happy with the Frenchman's defensive work, though not enthusiastic about the attacking side of his game. "When he recovered the ball I was expecting the team to be more dangerous," Mourinho said.
Liverpool manager Jurgen Klopp said his players had lost their calm in possession because of the physical pressure United had put them under.
"When the opponent creates at atmosphere on the pitch like this you have to keep cool," he said. "We lost patience much too early and our passing game was then not too good anymore. We had 65 per cent possession but you have to do more with the ball. With two better passes we could have had two 100 per cent chances."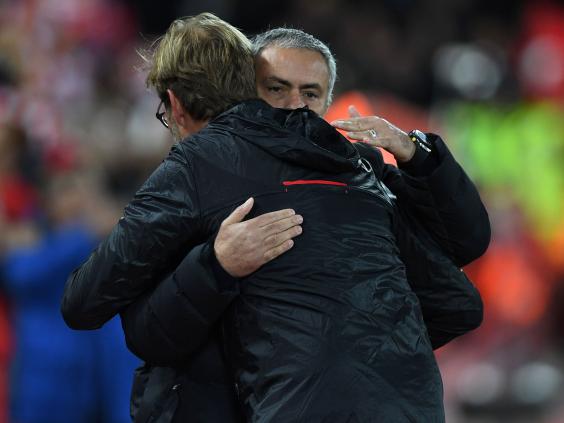 Klopp felt his team had been rushed into trying to supply striker Daniel Sturridge rather than retain possession and try to build openings. "In the last third we immediately lost patience. It was like 'give it to Daniel'," he said. "It was a difficult game for a striker - the way we played today. They [Liverpool's players] tried everything only with the wrong tools."
Klopp was at least happy that his side had kept their "first clean sheet" in ten games this season. But he did not think Mourinho's defensive tactics were necessarily a compliment to Liverpool.
"I'm pretty sure the last think Jose wants to do is make a compliment for my team. We saw the [United] line up. I was pretty sure there would be a lot of high balls. It was really difficult to defend but we did it very well. I don't remember many chances they created out of these situations."
Despite the pre-match controversy about the appointment of a Greater Manchester referee for the game, Mourinho said: "He had a good game and I'm happy for him because people with responsibilities put a lot of pressure on him. It would be very difficult for him to have a good performance which he does."
Reuse content