The great Pele had not returned to his seat in the Anfield directors' box and, tellingly, the digital clock by the corner of the Kop had not been restarted for the second half, so in some ways you could say that time really did stand still for Steven Gerrard's moment of madness.
Why did he do it? His last game against Manchester United at Anfield and the only explanation for his stamp on the leg on the inoffensive Ander Herrera, and the subsequent red card, was that the occasion had shot his composure to bits. Maybe not just the occasion, but this long goodbye to the only club of his life, his most recent injury and the dawning that Liverpool do not need him like they used to.
Gerrard started the game as a substitute and one required to warm-up near the United fans but although they were relentless, he has surely heard their songs about him dozens of times before. This was just his second appearance after that hamstring injury and while the clock inside his head must be ticking, this was not the actions one expects of Gerrard, 34 years old, a man with a century of England caps and every medal bar the league title.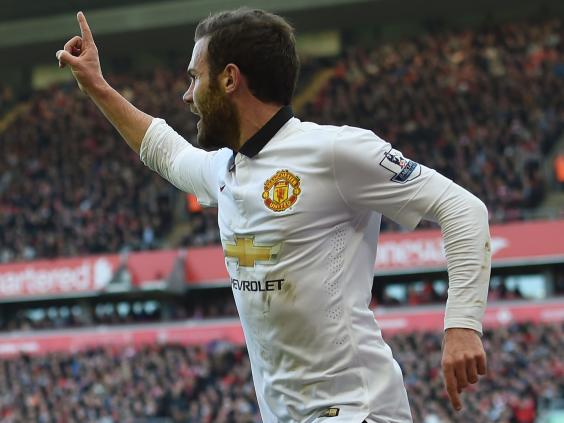 This was the Gerrard as he was occasionally in his early years, the combustible young man sent off for kicking Kevin Campbell in the Merseyside derby in 1999. He was on the pitch today for 38 seconds. As Pele would no doubt testify, it takes some people longer to order their favourite version of the brand of sandwich that the Brazilian is paid so handsomely to endorse.
Gerrard built his career on being the man who could turn a game at Anfield in the last few seconds, but rarely has he had quite such an impact in the first minute.
Wit Liverpool one goal down, playing badly and then facing the prospect of a half with just ten men, Gerrard will take little consolation from the fact that his team-mates did better without him. It was testament to the will of this Liverpool team that, despite falling two goals behind, they were still in this game right to the end after Daniel Sturridge's goal narrowed the deficit.
Liverpool 1 Manchester United 2 player ratings
Liverpool 1 Manchester United 2 player ratings
1/25 Simon Mignolet

A torrid afternoon for the Belgian keeper as his defence provided him with little cover. Made a good save to deny Rooney from the penalty spot. 6

GETTY IMAGES

2/25 Emre Can

Arguably Liverpool's most reliable defender this season and he produced another strong performance, though Di Maria gave him a difficult time when he came on. Conceded a penalty when he committed a daft foul on Blind. 6

GETTY IMAGES

3/25 Martin Skrtel

Another dicey performance from the centre-half. Struggled to cope with Fellaini as he drove forward. 6

GETTY IMAGES

4/25 Mamadou Sakho

Left exposed a lot of the time by Moreno and Mata almost constantly took advantage. 6

GETTY IMAGES

5/25 Raheem Sterling

Played a little out of position on the right of midfield and was therefore not able to make a major impact. 6

GETTY IMAGES

6/25 Jordan Henderson

One of Liverpool's most influential players on a difficult afternoon. His vision unlocked United's defence more than twice but his teammates failed to finish off what he started. 7

GETTY IMAGES

7/25 Joe Allen

He was shown a yellow card early on in the game and that seemed to have had a negative effect on his performance. Not as boisterous in midfield as he usually can be. 6

GETTY IMAGES

8/25 Alberto Moreno

Lost the ball on a number of occasions that left Sakho exposed. He failed on a number of times to track the runs of Mata. Replaced by Balotelli in the second half. 6

GETTY IMAGES

9/25 Adam Lallana

Took a nasty blow to his head when he collided with Jones as they both went for the ball. Let himself down when he pushed his left-footed shot wide of de Gea's goal after finding space. Replaced by Gerrard at half-time. 6

GETTY IMAGES

10/25 Daniel Sturridge

Undeterred by the scoreline, the England striker never gave up and his endeavour was rewarded when he skipped past Jones before slamming his right-footed shot beyond de Gea. 7

GETTY IMAGES

11/25 Philippe Coutinho

Very important again for Brendan Rodgers. He was relentless when going forward with the ball. Linked up midfield and attack expertly. 7

GETTY IMAGES

12/25 Off the Bench: Steven Gerrard

Replaced Lallana at half-time. Sent off within 38 seconds of coming on after he stamped on Herrera. 0

GETTY IMAGES

13/25 Off the Bench: Mario Balotelli

Stroppy when he came on - not exactly the calming influence Liverpool needed and that was proved as much when he received a booking seconds after coming on for Moreno. 6

GETTY IMAGES

14/25 David de Gea

A particularly assured display from the United goalkeeper. He probably should have done better when he was beaten one-on-one by Sturridge. 6

GETTY IMAGES

15/25 Chris Smalling

Made sure Balotelli wasn't able to get ahead of him at set pieces and generally cleared his lines well. He has much more authority now than he did earlier in the season. 7

GETTY IMAGES

16/25 Antonio Valencia

A very strong game from the winger come wing-back come full-back. He was excellent in supplying Mata on the right side. 6

GETTY IMAGES

17/25 Phil Jones

Slightly erratic in a lot of what he does. He was booked when he went in hard on Henderson. Organised his defence well, though. 6

GETTY IMAGES

18/25 Daley Blind

Found himself away from the action quite a lot during the match but he was effective in running the line behind Di Maria. 6

GETTY IMAGES

19/25 Michael Carrick

Sat just in front of the United back four it was his job to stop Liverpool's midfield advancing too far forward. He did that well but was bypassed by Henderson on a number of occasions. 6

GETTY IMAGES

20/25 Juan Mata

Calmly finished past Mignolet after he made a brilliantly-timed run to meet Herrera's pass. He looked a threat when he decided to break forward. Sealed all three points when he pulled off a spectacular bicycle kick to beat the Belgian keeper at his far post. 8

GETTY IMAGES

21/25 Ander Herrera

Provided an excellent through ball for Mata to take advantage of and open the scoring on 14 minutes. He dominated the midfield. 7

GETTY IMAGES

22/25 Marouane Fellaini

His presence very welcome again in the United midfield. He drove forward with intent and rarely lost a battle in the air. 7

GETTY IMAGES

23/25 Ashley Young

Replaced by Di Maria in the second half after he suffered a knock. He was bright in the first half. 6

GETTY IMAGES

24/25 Wayne Rooney

He didn't get as far forward as he usually prefers but he was instrumental in offering Di Maria another option when the winger chose to penetrate the left-side of the Liverpool defence. Held onto the ball well in the last few minutes of the match. Should have done better with his penalty. 6

GETTY IMAGES

25/25 Off the Bench: Angel Di Maria

Replaced Young in the second half and immediately made an impact. His lovely dink teed up Mata for the Spaniard's second goal. 7

GETTY IMAGES
But it was United who won the game, largely thanks to two superb goals from Juan Mata – the second an airborne volley straight out of the Mark Hughes playbook. That Wayne Rooney missed from the penalty spot in time added on at the end of the game at Anfield and for it not to be the most memorable event of the afternoon told you something about the drama of the occasion.
While Mata's technical brilliance was undeniable there were many times throughout an often low-quality game when United relied on the muscle and the heading ability of Marouane Fellaini. Whatever his faults, he is not a bad man to have on your side when the locals are hostile and the stakes are high.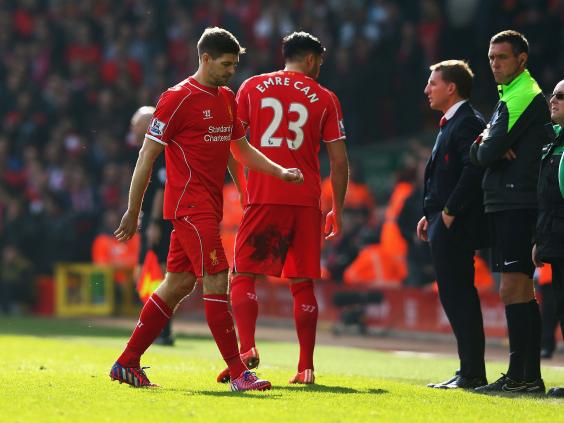 United had a much better first half, and after Gerrard's red card they should have had an even better second half. But they struggled to make that dominance tell in the late stages with Mario Balotelli on as a substitute and the excellent Philippe Coutinho pulling the strings in midfield. For Louis Van Gaal, however, this represented the double over Liverpool in his first season and opens the gap to their rivals in fifth to five points.
Afterwards Rodgers had no stomach to condemn Gerrard who now misses three games including the FA Cup quarter-replay against Blackburn Rovers. More of a concern for Rodgers was the potential for retrospective action against Martin Skrtel for a late studs-up challenge on David De Gea that looked provocative.
Rodgers' team were barely in it from the start while United settled quickly. Fellaini was crucial in those early stages in asserting United's supremacy in the midfield. He won every heading duel that fell within his orbit, and some that did not.
United did not create many chances, but the one in which they scored from was easily the best move of a hard-fought, inelegant first half. It was Alberto Moreno who lost possession for Liverpool and from there it went forward until Fellaini found Herrera and he played his pass into the right channel.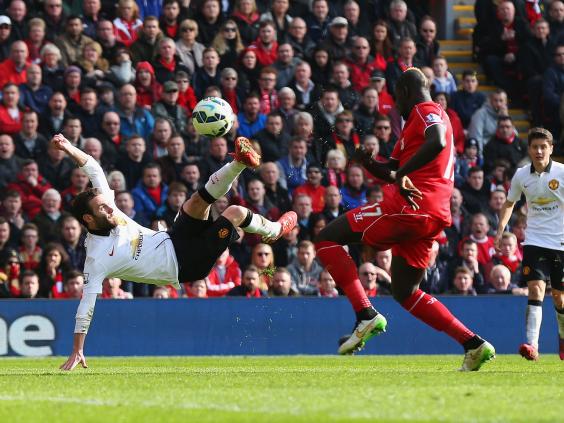 Coming in from the right side, Mata sprung the offside trap and beat Mignolet brilliantly with a shot inside the goalkeeper's right post. By that stage Liverpool had got behind United just once, when Raheem Sterling had run out of ideas down the right side and that was much the way it was for the rest of the first half.
Despite the best efforts of Coutinho to get his team moving on the counter-attack, there was nothing about Liverpool that was as sharp as United's move for the goal. Sturridge had just one sight of goal which he cut back for Adam Lallana, a most un-Sturridge like option to take. Lallana shot wide.
United were fortunate at times with the referee Martin Atkinson booked Joe Allen early. Fellaini managed to escape a similar fate for a tangle with the same player. Phil Jones' heavy collision with Lallana was classic Jones, the driverless train ploughing onwards. He was finally booked later in the second half for a tackle so late on Jordan Henderson it was better suited to the 4pm kick-off.
On came Gerrard at the start of the second half. His introduction had lifted the stadium. His tackle on Herrera was hard but admissible and then came the boot plunged down on the leg of the United player. He went off amid anger in the stands and then, as realisation spread that it was the right decision, disbelief.
All first half the Liverpool captain had to listen to the away fans sing that "Gerrard f***** it up". And now he really had. Before the hour, United had their second, a superb volley from Mata from a cross by the substitute Angel Di Maria. Liverpool fought back and within ten minutes Sturridge had scored, running onto Coutinho's ball down the right.
United never took advantage of the extra man. Only in the later stages, with Liverpool truly stretched did they win a penalty when Emre Can pushed Daley Blind. Simon Mignolet saved from Rooney and Liverpool were alive to the very end, when Skrtel clashed with De Gea. By then Gerrard was readying himself for an apology at a time in his life when he should know better.
Reuse content