Louis van Gaal's bizarre speech during Manchester United's awards dinner was preceded by an equally odd moment.
The Old Trafford boss was taking part in the charity auction when a particular juicy lot presented itself - a round of golf with former Manchester United striker Dwight Yorke.
However, he faced competition for the prize from his assistant Ryan Giggs.
In jest, and to much laughter from the audience at the awards evening - including from Yorke who was sat behind, Van Gaal clipped Giggs around the ear for daring to compete with him.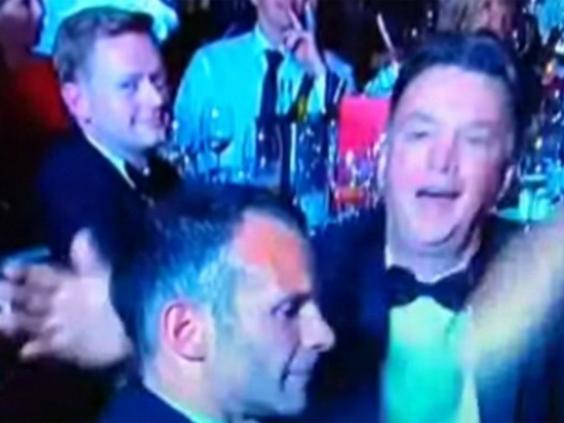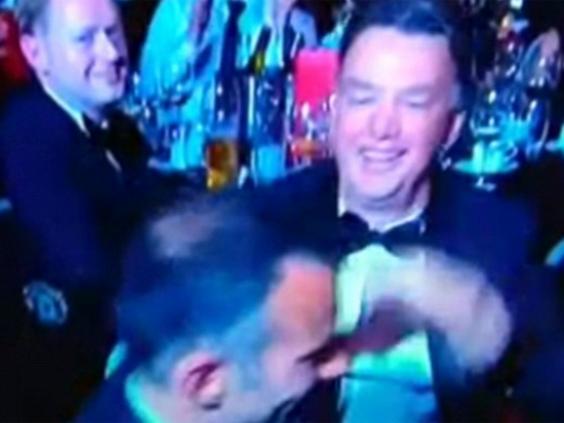 Manchester United players to have joined Real Madrid
Manchester United players to have joined Real Madrid
1/5 David Beckham – 2003

Having made his name as Manchester United's superstar of his generation and taken on the armband for his country, Beckham saw his relationship with Sir Alex Ferguson deteriorate and made the move to Real at the end of the 2002/03 season. Despite taking some time to get going in Spain, Beckham soon locked down his starting berth in the Real first team and scored seven goals in his first season with Real, but his crowning glory would come in his final year when he helped the side to the La Liga title in the 2006/07 campaign.

AFP/Getty Images

2/5 Ruud van Nistlerooy – 2006

Van Nistlerooy arrived at the Bernabeu in time to join Beckham on the successful 2006/07 league campaign, contributing massively with 25 goals in 37 games as well as scoring six times in Europe. However, injury would begin to hamper his time with the club, and despite Real retaining the title the following season, the Dutchman scored 16 goals in 24 appearances having missed nearly a third of the season. The next two seasons would bring much frustration for Van Nistlerooy as he played just seven times in the league and 16 times in all competitions, and he departed the club in 2010 to join Hamburg with two La LIga winners' medals to his name.

Getty Images

3/5 Gabriel Heinze – 2007

Arriving a year later than Van Nistlerooy, Heinze was brought in to strengthen the left flank of the Real defence, although he struggled to lock down the left-back role with the quickly emerging Marcelo competing for a starting role. The Argentine made 20 appearances in the title-winning 2007/08 campaign, and 24 the following season – all of which were starts – but was deemed surplus to requirements in the summer of 2009 as he was sold to Marseille.

Getty Images

4/5 Cristiano Ronaldo – 2009

The Portuguese arrived in Madrid with a Champions League winners' medal and a Ballon d'Or under his belt, but success with Real was initially hard to come by. Despite displaying his undoubted talents for the world to see (his league goal tallies from his six seasons there reads 26, 40, 46, 34, 31 and 45) it took three seasons before Ronaldo could celebrate a first league title, with the Copa del Rey trophy coming his way twice in 2011 and 2014. But it would be the Champions League success last season that remains his defining moment with Real, and he continues to star for them despite constant talk of a return to Manchester United.

5/5 Javier Hernandez – 2014

Having been predominantly used as a super-sup option at United, Hernandez was sent on loan to Real on transfer deadline day last summer. But with Ronaldo, Gareth Bale and Karim Benzema locking down the front-three starting berths, Hernandez had to make do with a place on the substitutes' bench, and has made just six league starts this season which came when Benzema has been unable to play through injury. He has retained his prowess in front of goal though, scoring six goals in his 768 minutes of La Liga action, and could yet remain with the club beyond the end of the season.

Getty Images
With Van Gaal appearing to enjoy himself, he went on to deliver a rambling speech before storming back onto the stage to demand the audience applaud a female saxophonist.
Reuse content