Manchester United are engaged in a desperate attempt to stop Louis van Gaal walking away from Old Trafford, with the manager deeply embarrassed by a losing streak and convinced ahead of Monday night's match against Chelsea that his team is gone and beyond help.
The Independent understands that Van Gaal has spoken with United's executive vice-chairman, Ed Woodward, since the excruciating 2-0 defeat at Stoke on Saturday and been reassured that the club still believe he is the man to stay at the helm.
But Van Gaal, who looked desolate and defeated behind the scenes at Stoke on Saturday afternoon, has told sources that he now believes the team have gone, feels ashamed by four consecutive defeats – a run almost unprecedented in his managerial career – and does not know what more he can do.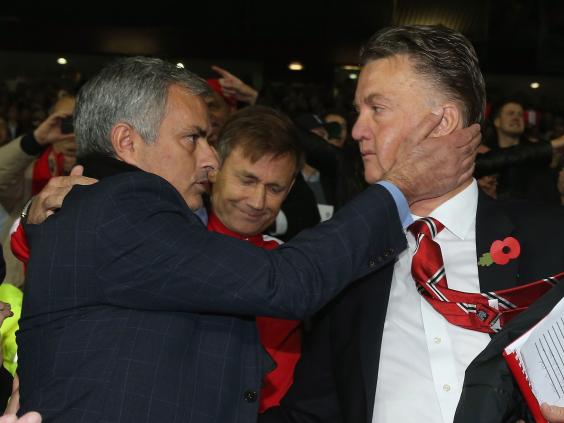 United's position could change if they lose on Monday night but this newspaper understands that Woodward reaffirmed to Van Gaal this weekend that the club are not contemplating sacking him and are prepared to look at how they can reinforce the squad in January. But defeat against Chelsea is almost certain to push the fiercely proud Dutchman, who has resigned from six of his eight posts and been sacked only twice, to walk away from Old Trafford.
The conversation between Woodward and Van Gaal at the weekend came seven or eight days after the Dutchman broached the question of whether United wanted to continue with his services, telling his employers that he would leave if they wished. Woodward, who was not present at the Britannia Stadium, is thought to have urged the Dutchman at that time not to walk away and said that the board desperately wants to stick with him for as long as possible.
Some team members feel differently, however. Van Gaal showed no sign of taking a  different tack with his players in the aftermath of the Stoke catastrophe. He took the non-playing squad members back to Carrington for a 5pm "recovery session" on Saturday, to the bewilderment of some. Dissatisfaction with  his methods is not believed to be universal in the dressing room. Wayne Rooney is thought to have found the manager receptive to him putting forward ideas. After being dropped to the bench on Saturday, however, Rooney is thought to be concerned by what another five months under Van Gaal could do to his England prospects.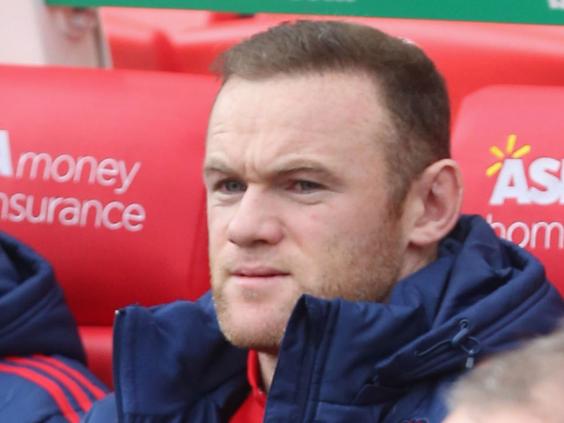 The search for solutions to the United crisis went on at an extended player meeting with Van Gaal on Sunday.
The 13 players that have left Manchester United under Louis van Gaal
The 13 players that have left Manchester United under Louis van Gaal
1/13 Shinji Kagawa (Borussia Dortmund £6.3m)

The Japanese midfielder arrived at Old Trafford amid a sea of hope and expectation, but his time at Old Trafford will sadly be remembered as a failure. Kagawa established himself as one of the standout attacking midfielders in European football, helping Borussia Dortmund to consecutive Bundesliga titles between 2010 and 2012 before United came calling. Sir Alex Ferguson seemed uncertain on where Kagawa's best position was, alternating him between his favoured central role and playing as a left-sided winger where he was largely anonymous. His torrid time in the Premier League came to an end on Sunday, as Dortmund took him back for around £10m less than they received two years ago.

Getty

2/13 Alexander Buttner (Dinamo Moscow, £5.6m)

Just when Buttner put in his best performance for United, he found himself out the door. His showing against Bayern Munich last season was arguably his finest in the red of United, and with Patrice Evra nearing the end of his contract, there was talk that the Dutchman could push on for a regular starting spot. However, Van Gaal's arrival signalled the end of his two-year stay with United, as he clearly signalled his intention not to play under the former Netherlands manager that overlooked him for the World Cup.

Getty Images

3/13 Patrice Evra (Juventus, £2.5m)

Evra unusually agreed a one-year contract extension just over a month before his contract ran out only to leave the club two months later. The veteran left-back signed a new deal to keep him with the club until 2015, and looked to be in Van Gaal's plans to help develop new signing Luke Shaw. That was until Italian champion Juventus lodged a £2.5m offer, and United decided to cash in on the Frenchman after eight years of loyal service.

4/13 Bebe (Benfica, £2.4m)

One of Sir Alex Ferguson's biggest mistakes finally left United this summer after a dismal time in Manchester. Bebe arrived at United in 2010 for a rather worrying £7m even though Ferguson had never seen him play, and he quickly showed that he did not have the skills to cut it at Old Trafford. Just two appearances and three loan spells later, Bebe was offloaded to Benfica for less than half of what United paid for him. The less said about Bebe, the better.

GETTY IMAGES

5/13 Rio Ferdinand (QPR, free)

While Ferdinand technically left the club before Van Gaal arrived, you have to believe that the incoming manager would've instructed the club to tie him down to a new contract should he feature in his plans. Having spent 12 long and successful years with the club, Ferdinand was on the move, which came as a surprise given that United had already bode farewell to another veteran defender in Nemanja Vidic. The former England captain agreed a free transfer to join up once more with Harry Redknapp after agreeing to join QPR, having worked together at West Ham at the start of Ferdinand's career.

GETTY IMAGES

6/13 Angelo Henriquez (Dinamo Zagreb, loan)

Henriquez is yet to make his United debut despite joining the club two years ago, and at 20 years old the belief is that he may have missed the boat if he is to break into the side. Having been sent on loan to Wigan and Real Zaragoza, Henriguez will spend this season with Dinamo Zagreb, and the likelihood is that he won't be part of Van Gaal's plans in the future.

GETTY IMAGES

7/13 Nani (Sporting Lisbon, loan)

The great hope who was tasked with replacing Cristiano Ronaldo never really delivered on his promise, as he ranged between the occasionally sublime and the regularly frustrating during his many performances for United. He looked to be on his way out of the club two seasons ago, only for David Moyes to arrive and promptly reward him with a five-year contract that still has four years left to run. Despite the lengthy deal, Nani was offered to his former club Sporting Lisbon, and will spend the season back in his homeland in an attempt to find some form.

GETTY IMAGES

8/13 Wilfried Zaha (Crystal Palace, loan)

United were quick to sign the promising Zaha after he impressed with Crystal Palace, but he has never really been given a chance to stamp his claim for first team recognition. Moyes sent him out on loan to Cardiff for the second half of last season, and he has been allowed to return to South London for this campaign in an attempt to rediscover the form that saw many mark him out as an England star of the future.

Martin Rickett/PA

9/13 Javier Hernandez (Real Madrid, loan)

The eternal super-sub has departed for the European champions to become, well, a super-sub. It's highly unlikely that Hernandez will be able to usurp the likes of Karim Benzema, Cristiano Ronaldo and Gareth Bale, and he looks likely to be used by Carlo Ancelotti as cover for the big-three alongside Jese Rodriguez once he returns from a long-term knee injury.

Getty Images

10/13 Tom Lawrence (Leicester, £1m)

The 20-year-old made his sole appearance for United at the end of last season after interim manager Ryan Giggs handed him his first Premier League start in the 3-1 win over Hull – he was later substituted for the United legend's final appearance before retirement. Having spent loan spells with Carlisle United and Yeovil Town during the last year, he completed a £1m move to Premier League newcomers Leicester City on deadline day.

PA

11/13 Danny Welbeck (Arsenal, £16m)

A somewhat surprise departure on the final day of the transfer window saw Welbeck head to Premier League rivals Arsenal for £16m in a deal that was not announced until nearly 1am this morning. Welbeck has always struggled to lock himself into the starting line-up under both Ferguson and Moyes, and while he has made three appearances under Van Gaal he did not start a league game for United under the Dutchman. Welbeck will hope a solid run in the Arsenal side in the absence of Olivier Giroud will help establish himself at his new club.

Getty Images

12/13 Nick Powell (Leicester, loan)

Powell joined United as a highly-rated teenager from Crewe Alexander tipped for a big future, and spent last season with Wigan where he impressed in the Championship. His reward is a chance to show he can cut it in the Premier League, and his addition to Leicester could be one of the loan signings of the summer if it pays off, such is his talent. While he may not feature in Van Gaal's plans just yet, regulars at the King Power Stadium will be licking their lips in anticipation at seeing what he can offer to Nigel Pearson's side.

Getty Images

13/13 Michael Keane (Burnley, loan)

Keane is another who has been rewarded for a long spell in the championship with a loan move to a Premier League side. He's featured for Leicester, Derby and Blackburn in recent years having made just one appearance for United, and Burnley will hope he can help them to an unlikely Premier League survival given they are the bookies favourites to go down at the end of the season.

AP
He clearly sees a fourth successive defeat – a run last experienced by United in 1961 – as a tipping point. The United board's hope is that a victory against Chelsea could be the catalyst for a turnaround, with struggling Swansea City and Sheffield United in the FA Cup to follow.
Van Gaal said publicly he cannot resurrect his players' self-belief. "No, because it's not so easy any more," he said. "When you lose four in a row, it's much more difficult than after the third. There are no ways – artificial ways – to solve that."
The Jose Mourinho camp desperately want United to feel urgency about recruiting the Portuguese, but there is unease about bringing him in. Should Van Gaal depart, it is likely that Ryan Giggs would initially take charge.