The Dutch Football Association want Louis van Gaal to head up the operation to rebuild their national team, by becoming technical director at the helm of the nation's enhanced football centre of excellence, work on which will be completed this summer.
Van Gaal has offered the same reply to recent questions about him returning to the national set-up, two years after taking the Netherlands to the World Cup semi-final, stating simply: "I am manager of Manchester United." But there is a growing conviction in the Netherlands that he will step down from Old Trafford this summer and, at the age of 64, that he has the energy and desire to bring the curtain down on his career with a third period with the national federation, who see their Zeist Campus as a launch pad to renewed success.
Van Gaal would have anticipated serving his three years at United, but he indicated to executive vice-chairman Ed Woodward amid the club's pre-Christmas struggles that he would step down if the club felt he could not take them on. He does not seem to have dipped to such a low ebb in the three months since, but does face a struggle for a top four finish, in what looks like a three-way tussle with Manchester City and West Ham for fourth. United's run in looks easier than City's on paper but both club are inconsistent.
The Netherlands' desire to recruit their most experienced coach has intensified since the national team failed to qualify for this summer's European Championships, with Bert van Oostveen – director of professional football at the football association (KNVB) - openly touting the idea of creating a technical director position.
Van Oostveen has been at the hub of attempts to prevent the Dutch losing their status as one the continent's best football nations, after Van Gaal's achievements in Brazil. Concerns included the greater financial resources available to Eastern European nations to leapfrog a small country such as the Netherlands. Always a regular fixture among the world's top eight nations, the country has now dropped to 15th, behind such relative continental minnows as Switzerland and Austria, as well as Ecuador.
Who would Jose Mourinho sell at Man Utd?
Who would Jose Mourinho sell at Man Utd?
1/9 Memphis Depay

His Under Armor advertisements sum up his United career – odd, cost a lot, not really worth watching. While a fresh start may be offered, it wouldn't shock many should Mourinho plan to sell him.

Getty

2/9 Juan Mata

With an inability to track back central to Mourinho's reasoning for selling him to United, his departure is now widely expected with Mourinho's imminent arrival.

Getty

3/9 Michael Carrick

Out of contract come June, Carrick is desperate to stay at United, but with a defensive midfielder on Mourinho's shopping list, he might prove unwanted.

Getty

4/9 Bastian Schweinsteiger

With yet another season blighted by injury, will Mourinho come to the same conclusion as his arch-nemesis Guardiola?

Getty

5/9 Adnan Januzaj

After a disappointing loan spell at Dortmund and barely a sniff of first team action this past season, Januzaj looks far from the finished product – a product that Mourinho might pass on.

Getty

6/9 Paddy McNair

Given some game time by Van Gaal amid a lack of defensive options, Mourinho will surely want to protect himself by buying in the window – and selling players not up to scratch.

Getty

7/9 Tyler Blackett

Similar to McNair, Blackett might prove simply not good enough for the League chasing side Mourinho plans to build.

Getty

8/9 Ashley Young

Is he a winger or a left back? A right back? Maybe even a centre-forward? We can never be sure with Young. But with a year left on his 120k-a-week contract, Mourinho might be looking to ship him.

Getty

9/9 Marcos Rojo

Frustrating and inconsistent, Rojo has struggled to adapt to the Premier League, and with Barca apparently interested, United and Mourinho might cash in.

Getty
The Dutch FA has been undertaking research domestically and overseas, designed to assess weaknesses in their system which was arguably under threat at the 2014 Brazil finals, when a lack of creative players led Van Gaal to operate a more conservative 3-5-2 system.
The possibility of Van Gaal taking up a technical director's position is enhanced by his strong friendship with the current national team manager, Danny Blind – his assistant in Brazil. Blind's son Daley, signed by Van Gaal at United, was impressive as captain when the Dutch beat England 2-1 at Wembley on Tuesday night.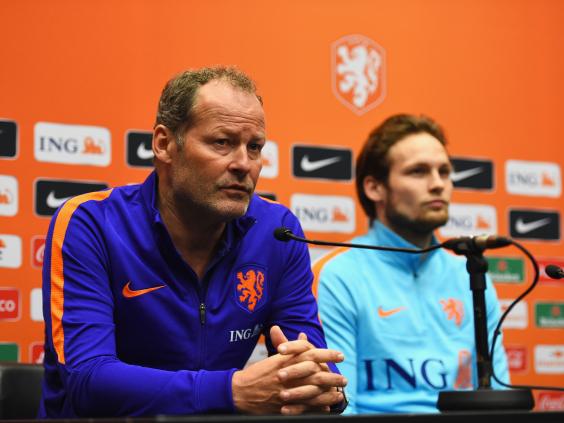 Though Van Gaal has insisted that he will make the United job his last in management, enabling him to make good on his promise to his wife Trudy that he will retire, the federation hope that their investment in the centre of excellence at Zeist, east of Utrecht, may attract him to work with them again. When returning to Ajax in a technical director's position in 2004 he was frustrated by the limitations attached to the position as a football overseer. He may feel differently about an SOS call now.
Blind, who took over from Guus Hiddink as Holland failed to qualify for Euro 2016, told Algemeen Dagblad in December: "With Van Gaal I could achieve a lot. He is in the top category. But there are also many other options to think of where the shoe could fit."