Luis Suarez was at the centre of an extraordinary legal battle as Fifa gave him an unprecedented four-month ban from "all  football-related activities" following his bite on Giorgio Chiellini.
The Uruguay Football Federation will appeal against the ban but Liverpool are taking legal advice to establish, among other things, whether they also have grounds to challenge it.
Liverpool, who have previously been steadfastly supportive of the controversial striker, following the announcement kept some public distance from the incident, taking counsel and gathering information before commenting further.
Suarez was banned for nine competitive international matches and fined £66,000 by Fifa's disciplinary committee as well as being given the four-month ban, which will prevent him from playing, training or even entering a football stadium. This would rule him out of the first nine Premier League matches of next season, as well as the first three Champions League group games, but it would not prevent him from being transferred to another club.
Video: Fifa punishes Suarez following his bite on Chiellini
More immediately, Suarez is out of Uruguay's last-16 match against Colombia at the Maracana Stadium on Saturday, as well as the rest of the World Cup. Suarez is banned from matches and even from the Uruguay hotel so cannot be with his team-mates ahead of the game. Suarez was said on Thursday night to be heading back to Montevideo to be with his family. The Uruguay federation will appeal, although that appeal will have no "suspensive effect" on his ban. It means he misses the Colombia game no matter what.
"We are preparing our appeal now, we have three days to do it," said the federation's president Wilmar Valdez. "It is an excessive decision and there was not enough evidence and I have seen more aggressive incidents recently. It is a severe punishment. I don't know exactly which arguments they used but it is a tough punishment for Suarez. It's feels like Uruguay has been thrown out of the World Cup."
The most controversial and shocking moments of the World Cup so far
The most controversial and shocking moments of the World Cup so far
1/15 Yuichi Nishimura gives Fred a penalty

The opening game of the World Cup between Brazil and Croatia was meant to be all about the hosts, but it was Japanese referee Yuichi Nishimura who stole the show. With the scores level at 1-1 and Croatia looking as likely to take the lead as the team in yellow, Nishimura gave an incredibly soft penalty after minimal contact between Dejan Lovren and Fred. Neymar, who perhaps should have been sent off earlier in the game for an elbow on Luka Modric, stepped up to score his second of the match and Brazil eventually won the match 3-1.

Getty Images

2/15 Finally, justice for Mexico

Mexico completely outplayed a poor Cameroon side but only after not one but two disallowed goals for Giovani Dos Santos. The former Tottenham striker had a volley and a header disallowed despite replays suggesting both should have stood. Thankfully Oribe Peralta scored during the second half and Mexico won the match.

GETTY IMAGES

3/15 The pantomime villain

The 5-1 defeat inflicted on Spain by the Netherlands was perhaps shocking enough, but the greatest moment of controversy came when pantomime villain Diego Costa appeared to aim a head-butt at Bruno Martins Indi. Being booed throughout by the locals due to his switching nationality, the soon-to-be Chelsea striker appeared to move his head towards the Netherlands player.

Getty Images

4/15 Hart goes mental at ball boy

Perhaps angered at being completely duped by an Andrea Pirlo free-kick that thankfully for England hit the bar, or maybe just desperate to get the game going again, Hart went wild as he looked to retrieve the ball. The Manchester City goalkeeper screamed and swore at the poor ball boy behind the goal.

YouTube

5/15 Just because your losing

A superb performance by Joel Campbell not only earned Costa Rica a win against Uruguay, it also saw him given a good kick by Maximiliano Pereira. The Uruguay defender put in a spiteful challenge on the Arsenal striker and waas shown the first red card of the World Cup.

GETTY IMAGES

6/15 Play on

Thanks to the referee, this was a moment of controversy avoided. With the scores level at 1-1, Ecuador had a great chance to take the lead in injury time. But after a superb defensive block by Valon Behrami, the Swiss broke. A dreadful challenge went in but referee Ravshan Irmatov waved play on and seconds later there were jubilant scenes as substitute Haris Seferovic rifled into the net.

GETTY IMAGES

7/15 Goal line technology

Making its first appearance at a World Cup, Fifa have been making the most of the goal line technology at their disposal. Goals that have clearly crossed the line have been replayed in great detail, just to confirm they have. But during France's win over Honduras the technology caused confusion, particularly for BBC commentator Jonathan Pearce. Karim Benzema's initial shot was shown not to be a goal, but when the cameras were rolled forward, it was shown that goalkeeper Noel Valladares had nudged the ball over the line. Quite simply it was a goal, but it still left a few people perplexed, particularly the former Robot Wars commentator.

GETTY IMAGES

8/15 Broken nose

Clint Dempsey has always been something of a hard man. The USA forward once told of how he tried to punch a teacher. But it seems the former Fulham man can take it as well as dish it out. After putting his team into an early lead against Ghana, the Stars and Stripes captain broke his nose after a collision with John Boye. He played on.

GETTY IMAGES

9/15 Pepe plonker

Pepe has never professed to be a mildly mannered defender, but even his actions against Germany were shocking. A coming together with Thomas Mueller saw the Germany striker making the most of the situation, going down rather dramatically. Angered by this, the Portugal defender decided to make sure there really was some damage done by pushing his head towards the Bayern Munich midfielder. It led to a straight red card and contributed to Portugal being mauled 4-0. To rub salt in Pepe's wounds, Mueller scored a hat-trick.

Getty Images

10/15 Deja vu for Capello

Fabio Capello could have been forgiven for thinking he'd see it all before during Russia's first game. The match with South Korea ended 1-1 and involved an horrendous goalkeeping mistake by Igor Akinfeev, bringing back echoes of England's opener against the United States four years ago in which Rob Green let the ball trickle into his net.

GETTY IMAGES

11/15 Marcelo dive

Perhaps encouraged by the refereeing mistakes in Brazil's favour against Croatia, when the hosts were struggling to break down Mexico, Marcelo took a theatrical dive in the box. It was the worst bit of simulation this World Cup had seen, and thankfully the referee agreed.

GETTY IMAGES

12/15 Really disgusting Cameroon

The actions of Alex Song and Benoit Assou-Ekotto were labelled 'really disgusting' by their own coach after Cameroon's 4-0 defeat to Croatia. Song was sent off for a shocking elbow on Mario Mandzukic, but things really descended into chaos when Assou-Ekotto became involved in an on-pitch argument... with his own team-mate!

Getty Images

13/15 The end of the Spanish reign

Having won the last World Cup and the European Championships either side of it, the end of Spain's dominance came in shocking style. Having been whipped 5-1 by the Netherlands, a result was needed against Chile. But the tiki-taka that once mesmerised audiences looked flat and uninspired. Chile won the game 2-0 and Spain's defence of their crown was over before it really got going.

GETTY IMAGES

14/15 Luis Suarez bites again

The Uruguayan striker has been built up as one of the most lethal finishers at the World Cup, and rightly so, but he shocked the world when he appeared to bite Italy's Giorgio Chiellini during the 1-0 victory over Italy. It was the third time Suarez had been involved in such an incident, having previously been found guilty of biting PSV Eindhoven's Otman Bakkal and Branislav Ivanovic of Chelsea in recent years.

PA

15/15 Beam me up Fabio

Igor Akinfeev makes his second appearance here but on this occasion it wasn't his fault. According to Fabio Capello, the Russian goalkeeper was blinded by a laser beam shone in his eyes from someone in the crowd during the build-up to Algeria's equaliser in their 1-1 game. It was a result that saw Russia exit the World Cup.

GETTY IMAGES
Uruguay are entitled to appeal in accordance with Article 119 of Fifa's disciplinary code, which states that "anyone who has been a party to the proceedings before the first instance and has a legally protected interest justifying amendment or cancellation of the decision may lodge an appeal with the Appeal Committee."
Liverpool were initially thought unable to appeal, as they have not been party to the proceedings but they could argue that they have a "legally protected interest" given that Suarez's ban would affect them.
The possibility was even raised last night of an appeal via the Football Association, given that Article 119.2 of the disciplinary code states that "associations may appeal against decisions sanctioning their players, officials or members" with written permission of the person concerned. Liverpool may be able to argue that Suarez is registered with the English FA, even though he plays for Uruguay. As a last resort, the Premier League club could appeal to the Court of Arbitration for Sport.
Liverpool's public response was limited to a short statement from chief executive officer Ian Ayre: "Liverpool Football Club will wait until we have seen and had time to review the Fifa Disciplinary Committee report before making any further comment."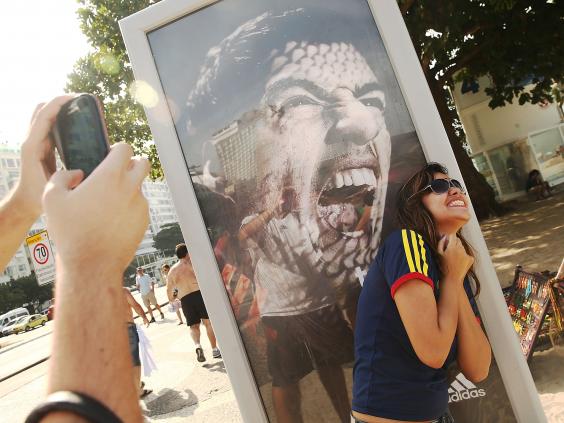 The club are still involved in an information-gathering exercise, taking specialist advice as well as talking to Fifa, the Uruguayan federation and probably Suarez himself before taking any decisions or making any more public pronouncements. The sense at Anfield was that the club are keen to manage expectations, to put the club first and, crucially, to act in a calm and measured and way over an issue from which they have largely been at arm's length.
Ayre does have a good relationship with Suarez and his agent Pere Guardiola. Suarez has signed two contract extensions since Ayre has been in charge at Anfield.
Uruguay are steadfast behind Suarez. The team captain Diego Lugano said that he was outraged at the treatment of the player whose two goals against England helped Uruguay to qualify from Group D.
"Indignation, impotence, I think this is what we are all feeling," Lugano wrote on Twitter. "We would all like a more just world but, quite simply, that world doesn't exist. Those who set the rules set the rules, and the strong are the strong. They don't judge us by the same rules.
"An embrace for Luis, who will always raise himself, and principally the family who always suffers most in these situations, that they continue to feel proud of him, it is deserved. As regards ourselves, nothing will deter us. We will keep going forward with humility, unity, commitment, recognition of errors and with our head always held high."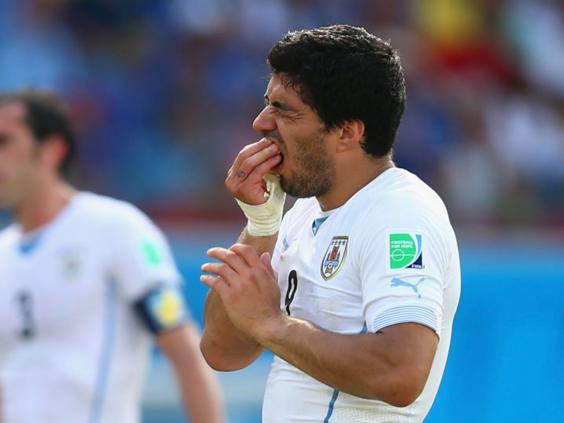 Adidas, one of Suarez's principal sponsors, said they "fully support" Fifa's decision and that they would remind Suarez of his responsibilities. "We have no plan to use Suarez for any additional marketing activities during the 2014 Fifa World Cup," the company added.
Claudio Sulser, who chaired the disciplinary committee, said that Suarez's behaviour was unacceptable especially given the attention on him.
"Such behaviour cannot be tolerated on any football pitch, and in particular not at a World Cup when the eyes of millions of people are on the stars on the field," said Sulser, a former Switzerland striker who played in the 1970s and 1980s.
"The disciplinary committee took into account all the factors of the case and the degree of Mr Suarez's guilt in accordance with the relevant provisions of the code. The decision comes into force as soon it is communicated."
Reuse content