The thrill for Lukas Podolski must have worn off rather quickly. He might have felt he had proved something on Tuesday night, as his two goals earned three points which moved Arsenal back up to fourth in the Premier League table. It was the perfect follow-up to his comments on Saturday evening, that he was being under-used by Arsène Wenger and ought to play more.
But Wenger was asked afterwards if this changed anything. Might it launch a new era for Podolski, giving him what he wanted, a role through the middle, either alongside Olivier Giroud or even in place of him? The answer, in Wenger's own polite way, was no. "I am tempted," Wenger admitted, when asked about  4-4-2, "but I have so many offensive players who all want to go in the middle."
Some of them will therefore have to compromise, and Podolski will be moved before the others. "Lukas is the only one [of the attacking players] who is really a wide player. [Tomas] Rosicky is a central player, [Santi] Cazorla is basically a central player, When you do not have [Theo] Walcott it is very difficult [not to use Podolski as a wide player]."
What of Podolski superseding Giroud and playing through the middle? "Look, I played him as centre-forward a few times and I thought he came a lot to the ball, more like an 'off' striker than a target striker," said Wenger, before quickly running off Podolski's strengths unless he looked too critical: "But he is a fantastic finisher because he has unbelievable power and a very short back-lift. The one you want to have a chance is him."
Arsenal transfer talk: Potential summer targets
Arsenal transfer talk: Potential summer targets
1/14 Sami Khedira

The World Cup winner looks to be heading to the Emirates if the reports are to be believed, as the Real Madrid midfielder looks set for a £26m switch to the Gunners. Having turned down a new contract and just a year remaining on his current deal, Khedira could soon be Arsenal's latest big-name signing.

Getty Images

2/14 Douglas Costa

Costa is one of six Brazilian players refusing to return to Shaktar Donetsk due to the increasing political unrest in Ukraine. Arsene Wenger is reported to be interested in the 23-year-old, with the Gunners reported to be preparing a move for the attacking midfielder.

GETTY IMAGES

3/14 Morgan Schneiderlin

Schneiderlin is a transfer target for the Gunners' fierce rivals Tottenham, but Arsenal are reported to have held talks with the 25-year-old Frenchman over a move that would see him snub Spurs. The midfielder would fill the defensive role that Arsenal are currently lacking.

Getty Images

4/14 John Ruddy

The Norwich goalkeeper would be a shock signing for Arsenal, but rumours have linked the England stopper with a move. Arsenal do need another goalkeeper to replace Lukasz Fabianski, but it is worth noting that Ruddy was part of a side that were relegated last season and conceded the third highest number of goals. The arrival of David Ospina has made it even less likely.

5/14 Iker Casillas

Another goalkeeper linked with Arsenal this summer is Real Madrid stopper Casillas. He's not been the favourite at the Bernabeu for a couple of seasons now and his disastrous World Cup has led to speculation he could move on. Again, the arrival of Ospina makes Arsenal's need for him not so desperate, but Wenger may not want to pass up the chance to sign such an experienced keeper.

6/14 Michy Batshuayi

The Standard Liege star has already stated that he expects to leave at the end of the season, preferring to move to either England or Germany and recently admitting that Arsenal are his favourite team. The 20-year-old striker is the top scorer in the Belgian league this season. Batshuayi can also operate on the wing and has been linked with Everton and Napoli. Arsenal are said to be willing to pay his release clause, which is understood to be £6.5m.

7/14 Javi Martinez

Arsenal are believed to be one of a number of clubs looking at Bayern Munich defender/midfielder Martinez should he become available in the summer. He would not come cheaply though, given the Bavarian club activated his €40m release fee to sign him in 2012.

GETTY IMAGES

8/14 Julian Draxler

A move during the January transfer window failed to materialise over Draxler's £37m release clause with Arsenal unwilling to pay the hefty fee, according to Schalke's sporting director. The German international was also said to be a target for Bayern Munich in case Toni Kroos failed to sign a new deal with the Bundesliga champions. However, chairman Karl-Heinz Rummenigge has ruled out a summer move for the highly-rated 20-year-old. Arsenal will have to change their stance over the transfer fee to acquire the attacker with several big clubs interested.

GETTY IMAGES

9/14 Juanfran

With Bacary Sagna confirming he will leave at the end of the season, Arsenal look short in the right-back department. A reported £9m move for Atletico Madrid defender Juanfran was rejected, but the Gunners could return for his services should they up their bid.

Getty Images

10/14 Josip Drmic

Arsenal have been linked with the Nurnberg striker recently after Lothar Matthaus claimed on Sky Germany that the Gunners had already signed the 21-year-old. Wenger is said to be keen to bring in the Swiss striker before the World Cup this summer. Drmic is a wanted man after scoring 16 goals in the Bundesliga this season despite his club battling against relegation. Drmic, who has three-years left on his current deal, is reported to have a release clause of less than £5m. Only Bayern Munich star Mario Mandzukic, Borussia Dortmund's Robert Lewandowski and Hertha Berlin striker Adrian Ramos have scored more league goals than Drmic this season.

GETTY IMAGES

11/14 Sebastian Jung

Eintracht Frankfurt defender Jung has been monitored by Arsenal this season. The 23-year-old has been one of their best players this season as the Bundesliga side recovered from a bad start to move clear of the relegation battle once they were eliminated from the Europa League. The German could be available for a fee in the region of £2m but the Gunners may face competition from Wolfsburg.

GETTY IMAGES

12/14 Atsuto Uchida

Uchida will travel to Brazil for the World Cup as part of Japan's national team, but the Schalke defender could see himself become the subject of interest from Arsenal as they seek a replacement for Bacary Sagna.

Getty Images

13/14 Salomon Kalou

The former Chelsea forward, currently at Lille in France, is interested in a return to the Premier League. To the dismay of Arsenal fans the Ivory Coast international has been linked once again to a move to the Emirates. Kalou could be available for a fee in the region of £2.5m this summer despite still having two years remaining on his current deal at the Ligue 1 side.

GETTY IMAGES

14/14 Juan Quintero

Having impressed at the World Cup, Quintero could be on the move just 12 months after joining Porto. Arsenal have been linked with a £15.8m bid for the Colombia midfielder who impressed at the World Cup.

Getty Images
That Podolski is the most natural finisher at Arsenal has never been in doubt. The problem is with the rest of his game. That is why Wenger is so reluctant to play him up front and has put him out on the left instead, to Podolski's own frustration. That, ultimately, is why Podolski's Arsenal career has barely got going, almost two years in, and why it might not last for much longer.
This dilemma has never been clearer than it was on Saturday at Wembley, during the FA Cup semi-final after which Podolski poured out his frustrations. He started that game on the left, was barely involved and, after an hour, Wenger decided that they needed more of a direct threat. So Podolski was hauled off for Giroud, who came on to partner Yaya Sanogo in a 4-4-2.
"I felt that we needed some physical presence through the middle," Wenger explained, "and the only two players who had that are Sanogo and Giroud."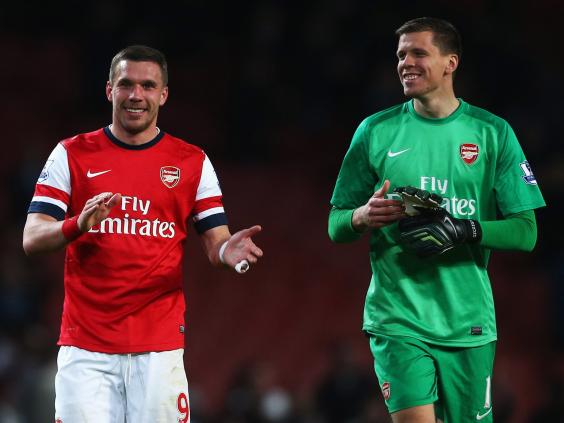 That said more than enough. Podolski is not cut out to play centre-forward for Arsenal. He is not quick enough to run in behind or selfless enough to hold the ball up. The last time he did it was on New Year's Day, at home against Cardiff City, when Podolski – still on his way back from a four-month injury absence – laboured through 64 minutes leading the line before being replaced by Nicklas Bendtner, who won the game instead. For their next match Walcott went up front, and got injured, before Giroud came back in.
Application, rather than talent, has always been the main difference between Giroud and Podolski, both of whom arrived in the summer of 2012. Giroud has embraced the physical demands of the English game to the point of exhaustion, while Podolski looks as if he is still adjusting.
Back in November 2012, just a few months into Podolski's Arsenal career, Wenger was attempting to convey why Podolski was finding adjustment so difficult. "He is not used to working at that level of intensity. At [his previous club] Cologne he plays there and says 'my friends'," Wenger explained, holding out his arms to demonstrate the unconditional adulation Podolski always received from Cologne fans whatever he did. "So when you come to England it is a shock. In England you have Rooney who works his socks off. Everybody works hard, there is no room for anybody to work less or you do not exist."
That felt like the root of the issue. Podolski was so used to being the star man at FC Köln, the biggest fish in one of Bundesliga's smaller ponds, that he had to readjust to the demands of working hard for a successful team. The problem, though, is that Podolski has not yet started to produce the intensity Arsenal would still like from him.
This is why, even on the left wing, he is not exactly the player fans were hoping for. He does not cover his left-back as much as he should, and does not stretch defences like he might going forward. It is little surprise that Wenger has not always trusted him for the big games, when most is demanded of the team. In recent months Podolski was an unused substitute for the big home games against Chelsea and Manchester United in the league, Tottenham and Everton in the cup and Bayern Munich in the Champions League.
It must be exasperating for Podolski, who has 112 full caps for Germany, more than Cristiano Ronaldo has for Portugal. But his record, for club and country, suggests a player who is at his best against the worst. He has scored 17 Premier League goals for Arsenal, but after the first one at Anfield, in September 2012, they have come almost exclusively against unfancied sides: he has four against West Ham, three against Fulham, two against Wigan and the rest against Southampton, Reading, Newcastle, Stoke, Norwich, Swansea and Tottenham.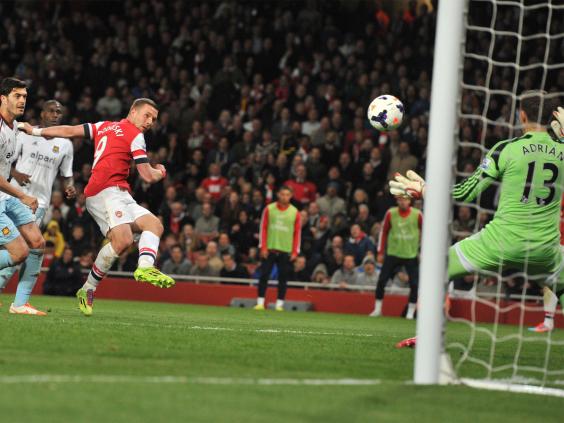 Even for Germany his 46 goals include four against San Marino, three against South Africa, three against Liechtenstein and so forth. He has scored just four goals since 2010, his last two in a friendly against Ecuador last May, and his place is increasingly under threat from the next generation of fitter, faster German forwards.
But with two years left on his Arsenal contract, Podolski could be forgiven for wondering what he is going to do next. If there was going to be a new Arsenal deal it probably would have come by now.
Even Köln, set to be promoted back to the Bundesliga this summer, are thought not to want a third Podolski spell where he would be, once again, simply too dominant over the town and the club. A mid-table German team or Internazionale are the likeliest options for a player whose time in England has never worked out.