There have been plenty of times in the past few months when Luke Shaw has not wanted to stop to dissect publicly the game just ended, in what he admits has been a personal "fight" to acclimatise to Manchester United, but there was a different look on his face late on Sunday.
It was not just the proof that United are capable of a theatrical finish to a game once again, but that Shaw had managed to provide some evidence of why he is worth his wages, in front of Jose Mourinho. The Chelsea manager had sneered at Shaw in public and criticised his apparent wage demands after he had chosen Old Trafford above Stamford Bridge as his next destination in football in the summer, when leaving Southampton for £27m.
Shaw was keen to put the whole Chelsea chapter – he was a boyhood fan and on their books as a boy – behind him. "No, no, no," he said to the idea that Sunday's 1-1 Premier League draw was the best result for his Chelsea-supporting father. "My dad is a United fan now. He's not Chelsea any more. He is a United fan now and he won't be too happy because he wanted us to win really badly."
Shaw's combination with Adnan Januzaj on the left wing was one of the key elements of United's strong first-half showing against Chelsea and he looked robust defensively. There were fewer of the unforced defensive errors which have become a United tendency, too, though 5ft 8in Rafael da Silva failing to mark 6ft 2in Didier Drogba when he headed home Chelsea's opener looked like one of them.
Manchester United 1 Chelsea 1: Player ratings
Manchester United 1 Chelsea 1: Player ratings
1/23 David de Gea

Made superb second-half save to deny Eden Hazard and produced a couple of other decent stops as he continued his impressive form this season. 6/10

GETTY IMAGES

2/23 Chris Smalling

Showed good defensive instincts to cover mistakes by his fellow defenders – especially Marcos Rojo - and was generally in command against Drogba. 6

GETTY IMAGES

3/23 Marcos Rojo

Always looked to pass out from the back, but it put United under pressure on a few occasions, including when he gifted Willian the ball on the halfway line. 5

GETTY IMAGES

4/23 Luke Shaw

Much improved from recent shaky performances – the left-back attacked with purpose and put in some strong challenges on Willian and Oscar. 7

GETTY IMAGES

5/23 Daley Blind

As is his custom, the Dutchman kept things simple with plenty of short passes and held his position well in front of the hosts' back four. 6

GETTY IMAGES

6/23 Marouane Fellaini

Provided a physical presence in midfield and got forward regularly to ensure Van Persie wasn't isolated. Won the header that was spilled to the Dutchman for the equaliser. 7

GETTY IMAGES

7/23 Juan Mata

A reasonable performance but hardly one that will have made Jose Mourinho regret selling him. The Spaniard couldn't produce a telling contribution and was taken off after 67 minutes. 6

GETTY IMAGES

8/23 Angel Di Maria

Not at his scintillating best but he never stopped demanding wanted the ball, and it was his free-kick that led to Robin van Persie's leveller. 6

GETTY IMAGES

9/23 Adnan Januzaj

Enjoyed himself as he beat the Chelsea full-backs with his intelligent movement and quick feet. Constantly willing to take on his man even if it meant getting clattered. 7

GETTY IMAGES

10/23 Robin van Persie

Missed two presentable chances in the first half but was a constant headache for the Chelsea defenders and deserved his late goal. 7

GETTY IMAGES

11/23 Best of the bench: James Wilson

Replaced Mata for the last quarter of the match but, aside from a looping header from the edge of the box, struggled to get into the match. 5

GETTY IMAGES

12/23 Thibaut Courtois

Fine performance as usual, but was left without any chance for Van Perse's rocket of an equaliser after great save from Fellaini. 7

GETTY IMAGES

13/23 Branislav Ivanovic

Nearly scored from an incredible, Messi-esque mazy run, but was then send off for clipping Januzaj for United's goal-yielding free-kick. Eventful game. 6

GETTY IMAGES

14/23 John Terry

The 33-year-old showed his experience in a composed and commanding performance alongside Cahill for the majority of the match. 7

GETTY IMAGES

15/23 Gary Cahill

Brilliant performance was ruined by losing Fellaini in the move for United's equaliser. The towering Belgian's header was rebounded for Van Persie's equaliser. 6

GETTY IMAGES

16/23 Filipe Luis

The Brazilian deputised for the suspended Azpilicueta at left-back, and did struggle against DI Maria in his first Premier League start for the Blues. 5

GETTY IMAGES

17/23 Nemanja Matic

A wall. Broke up waves and waves of United attacks. Every team would love to have a player of his stature guarding the defence. 8

GETTY IMAGES

18/23 Cesc Fabregas

Carried on his fine form for the Blues in a more disciplined defensive performance. Still set the goal up though, of course he did. 8

GETTY IMAGES

19/23 Oscar

The tricky Brazilian's passing was not quite at the races today, and chose the wrong option more than once. Taken off with 20 minutes left. 6

GETTY IMAGES

20/23 Willian

A slick display from the 26-year-old. Always looking to charge forward on the counter-attack and stung the palms of De Gea with a fierce drive. 7

GETTY IMAGES

21/23 Eden Hazard

Unplayable. Twisting and turning at truly remarkable speed. Would have got full marks if he finished the chance when clean through. 9

GETTY IMAGES

22/23 Didier Drogba

Not the terrorising presence he once was, and disposed of with ease at times by Rojo and Blind, but the 36-year-old was there when it mattered. 6

GETTY IMAGES

23/23 Best of the bench: John Obi Mikel

Midfielder was brought on by manager Mourinho to see the game out for Chelsea, which they were unable to do at Old Trafford. 5

GETTY IMAGES
The Independent and MUTV analyst Danny Higginbotham said United appeared to have been very well drilled in set pieces against the aerial threat of Gary Cahill, John Terry, Nemanja Matic and Branislav Ivanovic, with certain players designated to mark each one of those Chelsea men. But with no expectation that Drogba would start, Rafael appeared to have been assigned him by default. Higginbotham wrote of the need for United to discover defensive "leadership" in Saturday's Independent. That quality was required to identify the need for someone other than Rafael to pick up Drogba. "It is about on-pitch management," Higginbotham said. "The manager cannot be responsible for everything."
With each defender picking up one of Chelsea's most threatening players, United striker Robin van Persie was not present in his usual position, in the space beside the near post awaiting the corner, from where Drogba struck.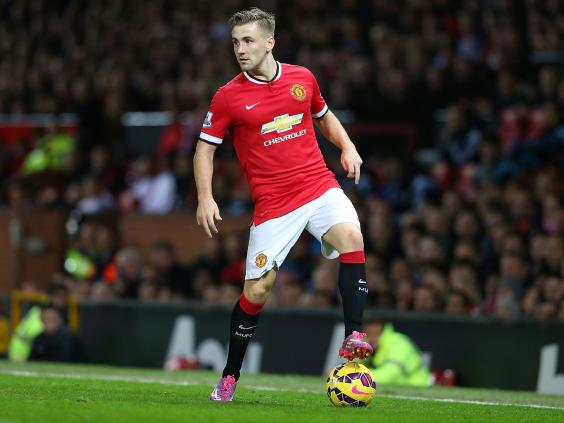 "Van Persie has done that job on numerous occasions this season," Higginbotham said. "If the corner goes over his head he back-tracks and goes to the post. If he had been there, he would have got to that ball before Drogba, or Drogba would at least not have been given a free header.
"Instead, he was halfway off it [the near post] when the header came in."
The United midfielder Marouane Fellaini was able to deal with Chelsea's Cesc Fabregas, whose own influence on the game was reduced by the absence of striker Diego Costa. "Without Costa's pace, United were able to ply a higher line earlier in the game and give Fabregas less time on the ball," Higginbotham said.
Shaw insisted United were not out of title contention, despite the 10-point gulf between them and leaders Chelsea. "It has been a fight but we talk in the dressing room and at training and we know we have still got the best to come," he said. "I don't think we are playing our best, but when we are all on form I think we are going to be a scary team to face."
Reuse content