Manchester City manager Manuel Pellegrini offered no guarantees to Vincent Kompany tonight that he will be restored to the team for the club's next match, after dropping him for the first time in his seven-year career with the Premier league champions.
Asked if Kompany, who compounded an indifferent season with a flawed display at Liverpool on Sunday, would be back to face Burnley at Turf Moor a week on Saturday, Pellegrini remained non-committal. "Tomorrow we will work. Thursday and Friday, we will have the weekend free. On Monday we are going to start working for the next game," was all he would say. Asked if time out would affect Kompany's mental aspect, the Chilean said: "I don't want to talk about one player."
Pellegrini said Kompany's relegation to the bench was necessary to "refresh" City after the poor performance in Sunday's 2-1 defeat to Liverpool.
He was left out "for the same reason as Pablo Zabaleta, Fernandinho, Samir Nasri and Edin Dzeko [who would] normally [play]," he said. "I think it was important to refresh the team mentally and physically after two difficult games. We have the squad we want so it was a good moment to refresh the team."
Pellegrini said company had taken his exclusion "very well, without any problems."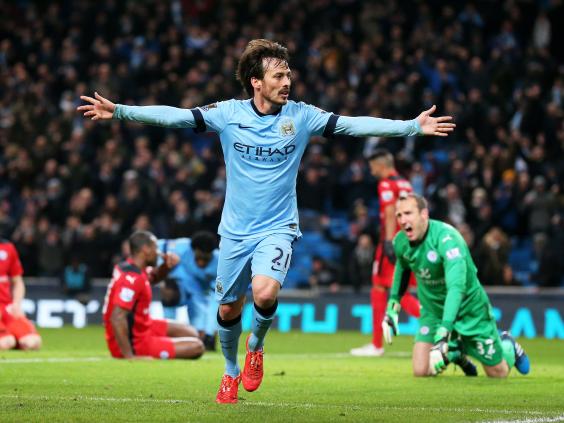 City looked sluggish and never hit top gear against a Leicester side who had lost ten of their 14 away games before tonight. But Pellegrini insisted that winning at all costs was the requirement.
"I think always when you don't have the result you need the next game is very difficult," he said. "That is why today the most important thing was to win the three points. After that we did a normal game. We dominate the game and had a good possession of the ball. Maybe Leicester is at the bottom but if you see their last three results, they drew 2-2 against Liverpool, against Everton and were very unlucky not to draw against Arsenal. It was important for our team to keep a clean sheet and try and dominate the game from the beginning. Maybe we scored too late the second goal but I think it was a normal game."
Nigel Pearson, whose side frustrated City for most of the match with a disciplined performance before James Milner secured the 2-0 win, said that his side had been denied three penalties which should have been awarded. They were a challenge on Andrej Kramaric by Wilfried Bony, the more marginal challenge by Joe Hart on Kramaric and Fernando's challenge on the same player in the second half – which looked the strongest call. Pearson refused to discuss the referee, Robert Madley, but revealed he had exchanged looks of exasperation with Leicester director of football operations, Andrew Neville, after one of the incidents. "We've discussed a few aspects surrounding officials so there you are. It is frustrating us, there's no doubt about that," he said.
"It's 'move on' now," Pearson said. "In the 11 games we've got left we've got to get enough points to overtake three sides. That's the bottom line. To persistently moan about aspects you can't affect is counter effective. There is no mileage in being overly critical."
Reuse content