Some triumphs are experienced in the white heat of a last-minute goal, like the one scored by Sergio Aguero two years ago and others, like this final step to winning the league title, can be savoured like the proverbial bottle of fine wine, safe in the knowledge that the outcome is assured.
At Manchester City, where calamity was once only a heartbeat away, this was as close to a stroll to the title that they could have imagined on the day Liverpool were undone by Chelsea and City assumed the pole position in the title race. Manuel Pellegrini's team controlled the game from beginning to end against a West Ham team so bereft of ambition and drive, one wonders where it was a struggle for them to get off the team bus.
Nevertheless, this City team have shown maturity and composure to close the deal. This is undoubtedly the best squad in the Premier League, but in a season when old certainties have splintered, nowhere more so than across town, they have not been allowed to cruise to the title until the last day. It has been a triumph that they have had to carve out game by game.
From Samir Nasri's 39th-minute goal, and with Liverpool then trailing to Newcastle, the stadium calmed down and enjoyed the ride. Four minutes after half-time, Vincent Kompany scored the second and there was a margin for error that not even an attack of that condition formerly known as "Cityitis" could erode. Yet it is a measure of how relatively new to this kind of success the club is in the modern era that the final whistle precipitated a full-blown pitch invasion.
Manchester City 2 West Ham 0 - Player ratings
Manchester City 2 West Ham 0 - Player ratings
1/12 Aleksandar Kolarov – 7

Forceful first-half with a long distance strike that worried Adrian. Solid display from a reliable player.

Getty Images

2/12 Javi Garcia – 7

Always provided an outlet as a defensive pivot, and never overcomplicating matters when a simple pass would suffice.

Getty Images

3/12 Samir Nasri – 8

His willingness to drop deep to receive the ball when required was key. Showed good vision when making the vital breakthrough with his low right-footed strike from outside the box that surprised Adrian for City's first goal.

Getty Images

4/12 Yaya Toure – 7:

Bossed the midfield. Continually looked to prompt his team and credited with an assist for Nasir's goal. Another who deserved his standing ovation on being substituted with the game and title won.

Getty Images

5/12 Alvaro Negredo – 5

On for the influential Toure. Not enough time to make his presence felt.

Getty Images

6/12 James Tomkins – 6

Kept his shape and composure under pressure. Cleared his lines well, showing good anticipation in blocks and tackles under constant City attacks. Never gave up in his commitment to the cause.

GETTY IMAGES

7/12 Winston Reid – 6

Stuck to his task manfully on a tiring day to be a West Ham defender. Looked weary by the end but can be proud of his determination and unstinting work. The fact he did not hide was testament to his strength of character on a difficult day.

GETTY IMAGES

8/12 George McCartney – 6

A calm presence. Showed bravery and nous in executing last-ditch tackles and clearances under trying circumstances. Another who deserves praise and recognition for his defensive resolution and the grit he presented in the claret and blue.

GETTY IMAGES

9/12 Matthew Taylor – 4

The intensity and determination of Manchester City in their desire to be champions meant his efforts to shape the game were left largely unrewarded.

GETTY IMAGES

10/12 Andy Carroll – 5

More effective in supplementing his side's defensive work when deflecting a Silva shot onto the post late in the first half than in threatening offensively. Unfortunately failed to offer such solidity in the second half when missing a header moments before Kompany netted.

GETTY IMAGES

11/12 Joe Cole – 5

On for Diame on what could be his left appearance as a West Ham United player.

Getty Images

12/12 Carlton Cole – 5

On for Carroll as a 72nd minute substation. Made little impact.

GETTY IMAGES
They never invaded the pitch at Old Trafford in those salad days when the Premier League trophy came back season after season, but there is still the mild sense of disbelief, six years after Sheikh Mansour took over, that this is really happening to City. If Pellegrini hits the club's target of five trophies in five years, and he is two up already, then perhaps an air of complacency will set in. As things stand, it feels a long way off.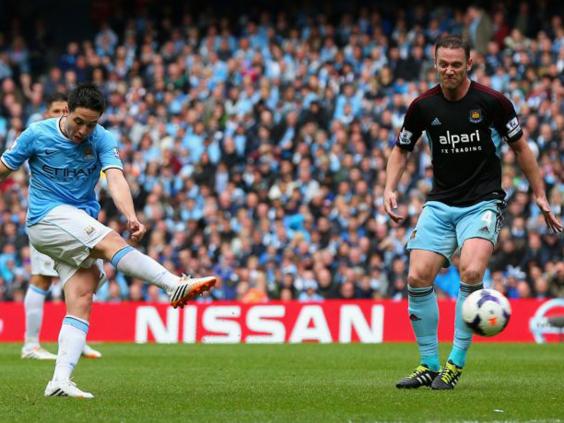 This was only the second trophy of his career, but the City manager kept it low-key, as one would expect of him, edging away from the champagne spraying lest it wreck his club suit. Anointed as City's charming man by the fans, he did not want to end up without a stitch to wear. In the end, Kompany and Yaya Toure had to drag their manager away from a Sky Sports interview to give him the traditional celebratory bumps.
This must be what the City hierarchy had in mind when they launched the "holistic" approach in the wake of Roberto Mancini's departure last summer, an admittedly brave sortie into the contemporary lexicon in a sport wedded to older values. If they meant a manager who did not wish to fight his own players in training then they picked the right man, and his popularity was reflected in the way his players sought him out at the end.
As against Aston Villa last week, this was another game in which it paid for City to be patient and await the inevitable crack in a West Ham defence that was too lightweight and way too under-incentivised to hold out all afternoon. Even so, the visitors had not done a bad job by the time that Nasri looked up from his umpteenth possession on the edge of the West Ham area and elected to sweep a shot past Adrian, who might have done better, and into the far corner.
In midfield Toure was superb, his dominance epitomised by the moment he chased down Mohamed Diame and heaved the Senegalese midfielder off the ball. David Silva, the lock-picker of opposition defences, hit the post in time added on at the end of the first half with a shot that bounced off Andy Carroll.
That second goal was coming and it arrived from a City corner that Carroll got into a muddle trying to clear and ended up sending back towards his own goal where Kompany could pick his spot. From then on it was simple. Sergio Aguero, quiet by his high standards, kicked out at Mark Noble off the ball which precipitated more indignation from the West Ham players than we had seen all afternoon.
One more City goal would have equalled the Premier League record for goals scored in a season, set by Carlo Ancelotti's Chelsea in 2009-2010 but even so 102 for the season is not a bad total. In defence of Carroll, he needs a cross to head from time-to-time and it was hard to remember a single one being launched in his direction. Up against the second most famous ponytail in the Premier League, sported by Martin Demichelis, he encountered an opponent who was up for a scrap.
If this is to be Sam Allardyce's last game in charge of the Hammers then it was not a fond farewell. They finish 13th, seven points clear of relegation, in a season when the clean sheets they have kept have been their manager's greatest source of pride. When there is no clean sheet then one finds oneself struggling to count the alternative qualities. When a long ball on 69 minutes failed to stick to Carroll's toe on 69 minutes, and rolled out of play all hope was lost.
He brought on Joe Cole at the end of the game, more than likely his last game in a West Ham shirt for the second time around. News of the goals from Liverpool came through but by then, the away team had shut down for the season and City were on their way to the second league title in three years. After the celebrations, some of the players and their families were still on the pitch long after 6pm having pictures taken with the trophy as the groundsmen began clearing the streamers off the pitch
Joe Hart was one of the last off before the trophy finally disappeared down the tunnel and the last few supporters went home. It has not always been a straightforward season for the City goalkeeper but when you win league titles, a lot gets forgotten. City have won it now under two managers and they will be part of the elite for a long time to come. It felt like the wrong time to mention that Uefa's sanctions over financial fair play are delivered tomorrow, which is a challenge al lot more formidable than that presented by West Ham.
Manchester City (4-4-2): Hart; Zabaleta, Kompany, Demichelis, Kolarov; Nasri, Toure (Negredo, 86), Garcia, Silva (Milner, 75); Aguero, Dzeko (Fernandinho, 69).
Substitutes not used: Pantilimon (gk), Lescott, Clichy, Jovetic.
West Ham (4-5-1): Adrian; McCartney, Reid, Tomkins, O'Brien; Downing, Noble, Nolan (Jarvis, 64), Taylor, Diame  (J Cole, 81); Carroll  (C Cole, 72).
Substitutes not used: Armero, Vaz Te, Collins, Jaaskelainen (gk).
Referee: M Atkinson
Man of the match: Nasri
Booked: Manchester City Demichelis, Aguero West Ham Nolan, Noble
Rating: 6/10
Reuse content