As the Premier League nears it's conclusion, knowing which sides will finish in the top-four looks further away than ever.
Following the latest round of fixtures, in which Manchester City and Tottenham slipped and Liverpool, Manchester United and Arsenal won, it became clear that there are no guarantees for Manuel Pellegrini's side.
After the 3-0 win over Tottenham at Old Trafford on Sunday, Manchester United manager Louis van Gaal insisted that his nearest rivals in geographical terms were also among the "rat race" competing for Champions League qualification.
By most peoples reckoning, Chelsea (who are six points clear after drawing with Southampton at Stamford Bridge with a game in hand on their rivals) will finish in the top four. That leaves City, Arsenal, United, Liverpool, Southampton and Tottenham battling for the final three places. But six won't fit into three, so which trio look most likely to be sitting at Europe's top table next season?
MANCHESTER CITY - 58 points
After a shock defeat to Burnley, Manchester City have had to turn their focus on the top of the table to the teams scrambling up the league below them. According to Van Gaal, "Whether they want that or don't want that, that is the position," he said. "It is a rat race. They are in it." Not only do the reigning champions now sit just a point ahead of Arsenal, they're also experiencing patchy form. Across their last 11 games in all competitions, Manuel Pellegrini's side have won just three and if there isn't improvement soon they are in danger of losing the second position in the league they've held since the end of November.
Current form: WDLDD WWLWL (15 points from 10 games)
Remaining fixtures (against top seven teams in bold): West Brom (H), Crystal Palace (A), Manchester United (A), West Ham (H), Aston Villa (H), Tottenham (A), QPR (H), Swansea (A), Southampton (H)
Assessment: Manchester City should have the quality to see them through - after all they did add a £28m striker in the shape of Wilfried Bony in January. However, with a disappointing Champions League exit on the cards, there is a real threat of that rubbing off on their league form, as the loss to Burnley showed. Add to that speculation over the future of Pellegrini and there is the a real chance things could go horribly wrong in the final weeks of the season. Manchester United and Tottenham matches away from home could prove crucial.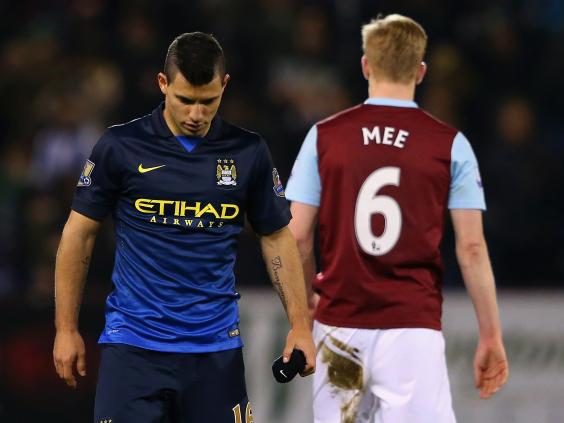 ARSENAL - 57 points
Arsenal remain on course following the latest round of fixtures. While their talisman for the first half of the season, Alexis Sanchez, appears to be tiring a little they've been boosted by the return of key players Mesut Özil, Theo Walcott and Danny Welbeck at just the right time. Striker Olivier Giroud is also firing again with six goals in his last seven outings. This is a team with form for clinching a place in the top four - another one this season would be their 17th in a row.
Current form: LWWWL WWWWW (24 points from 10 games)
Remaining fixtures (against top seven teams in bold): Newcastle (A), Liverpool (H), Burnley (A), Sunderland - postponed (H), Chelsea (H), Hull (A), Swansea (H), Manchester United (A), West Brom (H)
Assessment: With a tough away game to come against Manchester United, plus home games against Chelsea and Liverpool, Arsene Wenger's side face a few hurdles. Plus they remain in the Champions League (at least for today) and the FA Cup which could have an impact on their league form. Despite that, Arsenal are a team in form and with big players back and some 'bankable' games at the Emirates they should finish in the top four. The penultimate match of the season at Old Trafford looks key though.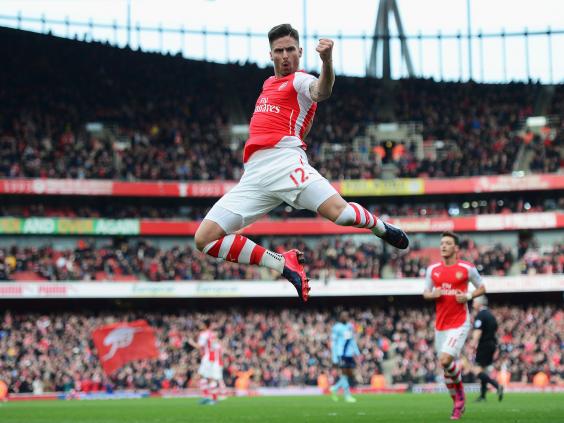 MANCHESTER UNITED - 56 points
Manchester United's season has made little sense. They played some decent football at times at the start of the campaign but didn't get the results. Their style then worsened but the results improved. It's little wonder Louis van Gaal admits he's not sure what his best side is and that has only been confused by the most recent win over Tottenham when they looked better without Angel Di Maria. There's the old cliché that good teams play poorly and still win. That doesn't sit quite right with this Manchester United side but with results being produced and room for improvement the Red Devils could be in for a return to the Champions League.
Current form: DLWWD WLWWW (20 points from 10 games)
Remaining fixtures: Liverpool (A), Aston Villa (H), Manchester City (H), Chelsea (A), Everton (A), West Brom (H), Crystal Palace (A), Arsenal (H), Hull (A)
Assessment: The raw materials in terms of players are there to secure a top four place, and a manager of Van Gaal's experience ought to be able to use them to achieve their goals. But barring the most recent performance, they've consistently failed to convince a return to the Champions League is guaranteed and United have arguably the toughest run-in.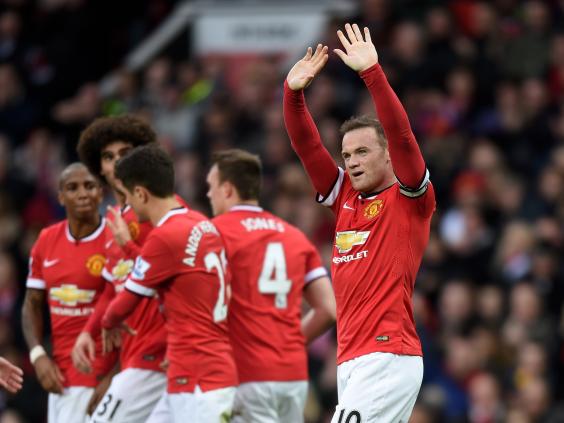 LIVERPOOL - 54 points
The shock of losing Luis Suarez unsurprisingly took time for Liverpool to adjust to. But since being beaten 3-0 by Manchester United at Old Trafford, Liverpool have gone unbeaten in the league. It makes them the form team and they are now in touching distance of the top four - a place they can be by the end of the week with a win over Manchester United at Anfield.
Current form: DWWWD WWWWW (26 points from 10 games)
Remaining fixtures: Manchester United (H), Arsenal (A), Newcastle (H), Hull (A), West Brom (A), QPR (H), Chelsea (A), Crystal Palace (H), Stoke (A)
Assessment: Liverpool have looked unstoppable since the turn of the year and it's difficult to see who will stop them. But the visit of Manchester United to Anfield this Sunday could be key - a win for either side should put them in control and give them the confidence to remain so. Based on current form, it's difficult to bet against Brendan Rodgers securing Liverpool a place in the Champions League for a second year running and after the win at Swansea, Rodgers is even looking at finishing the season in second place.
SOUTHAMPTON - 50 points
Southampton are the wild card. They are the only team never to have played in the Champions League and last finished in the top four of the top flight in 1984. But despite all that Ronald Koeman has kept them in contention, even if they have fallen out of the top four positions which they occupied for so much of the season.
Current form: WWWLW DLLWD (16 points from 10 games)
Remaining fixtures: Burnley (H), Everton (A), Hull (H), Stoke (A), Tottenham (H), Sunderland (A), Leicester (A), Aston Villa (H), Manchester City (A)
Assessment: Southampton have struggled to keep up the pace in recent weeks and slipped down the table. But of the teams battling for the top four, they have arguably the simplest run in. Now Chelsea are out the way, where they collected a useful point, every game looks like a potential three points. They play Manchester City on the last day in a game that could be crucial to both sides. The Saints are outsiders but can't be ruled out.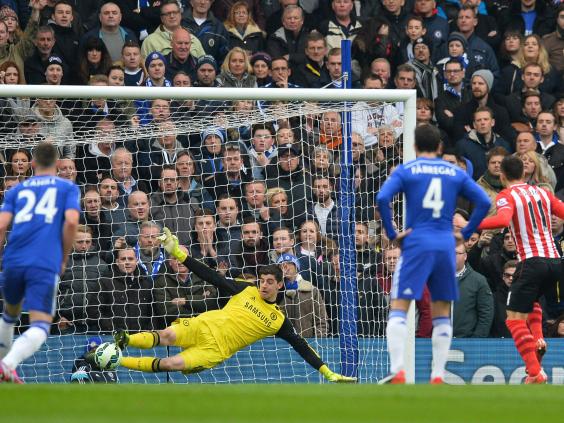 TOTTENHAM - 50 points
The Europa League and a run to the final of the Capital One Cup has seen Spurs look like a spent force recently - particularly in the 3-0 defeat to Manchester United at the weekend. But if they can pick themselves up for one final push there is the quality at White Hart Lane to merit a place in next season's Champions League - something that would be an incredible achievement for Mauricio Pochettino in his first season as manager.
Current form: WLWWW LDWWL (19 points from 10 games)
Remaining fixtures: Leicester (H), Burnley (A), Aston Villa (H), Newcastle (A), Southampton (A), Manchester City (H), Stoke (A), Hull (H), Everton (A)
Manchester United 3 Tottenham 0 player ratings
Manchester United 3 Tottenham 0 player ratings
1/23 David de Gea

A quiet afternoon for the Spaniard. 6

GETTY IMAGES

2/23 Antonio Valencia

United had less joy down the right than the left, Valencia had a solid game and was rarely troubled in defence. 6

GETTY IMAGES

3/23 Ander Herrera

Passed the ball well, if a little conservatively. The chances didn't fall to him on the day. 6

GETTY IMAGES

4/23 Michael Carrick

Provided the assist for Fellaini's goal with a perfectly weighted pass before blasting a header into the bottom corner for United's second. 8

GETTY IMAGES

5/23 Chris Smalling

Outmuscled Harry Kane on the odd occasion when Tottenham looked to build an attack. His passing was improved. 7

GETTY IMAGES

6/23 Phil Jones

Played well as Tottenham tried to advance in the second half. Distributed the ball well enough. 7

GETTY IMAGES

7/23 Daley Blind

Made some good progress down the left and works well pushing forward in attack. 7

GETTY IMAGES

8/23 Marouane Fellaini

Cool, calm and collected for his goal. His physical presence led to the second goal. A really impressive performance. 7

GETTY IMAGES

9/23 Juan Mata

Came into the game with the purpose to stake a claim for first-team football. Pressed the ball hard and was very energetic but is not suited to a role on the wing. 7

GETTY IMAGES

10/23 Wayne Rooney

Seized upon a loose pass from Eric Dier and sythed through the Tottenham defence before finishing well. Probably the goal celebration of the season to boot. 8

GETTY IMAGES

11/23 Ashley Young

Ran riot down the left and caused a number of good chances. 7

GETTY IMAGES

12/23 Hugo Lloris

It's hard to work out his performance considering the shambolic defending in front of him and some clinical finishing from United. Made no glaring errors. 5

GETTY IMAGES

13/23 Kyle Walker

Played some risky passes in front of his own goal and showed some sloppy ball control. A day to forget. 5

GETTY IMAGES

14/23 Eric Dier

Didn't track the run of Fellaini for the first goal and left Hugo Lloris exposed. Appalling back-pass that let Rooney in for United's third. 5

GETTY IMAGES

15/23 Jan Vertonghen

Beaten at all ends by Rooney as the striker slotted home United's third. Poor, poor performance. 4

GETTY IMAGES

16/23 Danny Rose

Probably Tottenham's best defender on the day as United exploited the opposite flank relentlessly. Looked to get forward well but didn't have a lot of joy. 6

GETTY IMAGES

17/23 Nabil Bentaleb

Failed to pressure the United attack as they had their way in the Tottenham half. 5

GETTY IMAGES

18/23 Ryan Mason

Had an abject first half before being subbed in the second. Couldn't influence the game. 4

GETTY IMAGES

19/23 Andros Townsend

Taken off on 32' and looked furious. He was having a woeful time before he was subbed as United repeatedly flew down the Tottenham left. 4

GETTY IMAGES

20/23 Christian Eriksen

Is not suited to a game where his team are under siege for the majority of the match. 5

GETTY IMAGES

21/23 Nacer Chadli

So much negative passing. Part of a Tottenham midfield that made a poor United defence look very strong. 4

GETTY IMAGES

22/23 Harry Kane

Found himself outnumbered on the rare occasions that Tottenham got the ball in United's half. Spurs had no use for a striker on a day like this. 5

GETTY IMAGES

23/23 Off the Bench: Mousa Dembele

Didn't provide Tottenham with anything more following his introduction. 5

GETTY IMAGES
Assessment: They grasped a top four finish in 2010 and 2012 only to be denied Champions League football by Chelsea's European Cup win – and just missed out on the final day in 2013. Yet again they are in the mix but it could be another near miss.
Follow @IndyFootball on Twitter
Reuse content