England No 1 Joe Hart has murmured his unhappiness at missing both of Manchester City's last two matches, while Manuel Pellegrini suggested that a new deal for Hart is not a priority at the moment.
Manuel Pellegrini played Willy Caballero in the Capital One Cup victory against Sheffield Wednesday last week, not a radical move by any stretch, but shocked Hart and the Premier League by keeping Caballero in the team for the match against Hull City.
Hart, 27, will be back in the starting line-up for the key Champions League match against Roma on Tuesday night, but speaking at a pre-match press conference, where he was sitting next to Pellegrini, made it clear that he was not happy with the move.
"I want to play every game, that's my nature, my professionalism," said Hart.
"I'm not the manager, he makes the decisions. I think he knows I want to play. When I return from football I'll see the positives but at the moment I don't."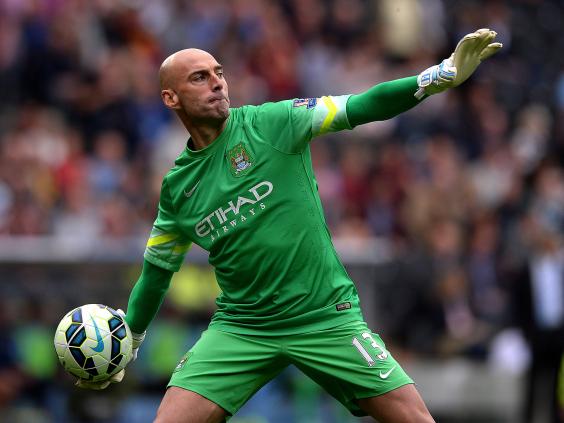 Hart has seen City team-mates Vincent Kompany, David Silva, Edin Dzeko and Samir Nasri sign new long-term deals in recent weeks, but is yet to put pen to paper on his own deal.
Pellegrini said a new deal for Hart, who has two years left on his current contract, is not the "most important thing" at the moment.
He said: "Me and Joe know what [will] happen. It is important but not the most important thing now."
City face a Roma side who have won all five of their matches in Serie A so far this season. Rudi Garcia's team dominated CSKA Moscow in the first round of matches 5-1 and Hart is expecting a tough clash at the Etihad.
City ended up losing to Bayern Munich thanks to a late goal from their former defender Jerome Boateng.
"It was obviously a disappointing start for us and this is a huge game for us. Luckily it isn't the knock-out stages straight away and we have time to put things right but we need to start the home fixtures with a win.
"Roma have been doing very well and obviously we've been more aware of them since we drew them in our group and they had a great result as well. Every game is hard in this competition but we are more than capable of winning and we are all up for it.
"We seem to have had tough draws throughout our brief Champions League history and these are special nights, but have to set your standards high and make sure you win your home games."
Reuse content