Mauricio Pochettino is a decisive man but here he was caught in two minds. His good friend, Watford manager Quique Sanchez Flores, had said last Saturday that Spurs played "like animals" in their ferocious attempts to win the ball back, when they battered the Hornets at White Hart Lane.
So there was only one question to ask Pochettino at Friday's press conference: which animal would he like Spurs to imitate? 
Pochettino couldn't decide. He started with lions, moved on to horses, and finished with tigers. But the point was clear: his Tottenham team is quick, strong and aggressive. They are chasing hard, and you would be well advised to get out of their way.
It was Watford who had the misfortune to run into them last Saturday. Flores has a good, competitive team but they were rendered irrelevant by the intensity of Spurs' play. Every time Spurs lost the ball, they won it straight back. The 1-0 scoreline was unflattering in the extreme to the victors.
Spurs go to the Etihad Stadium on Sunday knowing that if they play like that – or as they played against Manchester City at White Hart Lane in September – they will take another step towards their first title since 1961. There is no way that City, so sluggish and complacent against Leicester last week, will be able to live with them – because Spurs are the finest running and pressing machine in the country, and they are just getting into their stride.
This is clear to anyone who watches them, but the data proves it too. In the Premier League, only Eddie Howe's Bournemouth have covered a greater distance per game, their 118.1km average just ahead of Spurs' 115.3km. Similarly, Bournemouth are the only team who sprint more than Spurs: Bournemouth average 536.9 sprints per 90 minutes, ahead of Tottenham's 535.4. But Spurs have better players, so their physical effort wins them more points.
Because the whole Spurs team buy into what Pochettino is trying to do, they would all run through brick walls for him. Harry Kane, their leader from the front, has covered more ground than any other forward in the Premier League, 267.25km so far. Dele Alli, their midfield engine, has completed more sprints – 1,480 – than any other player in the Premier League apart from Liverpool full-back Nathaniel Clyne and Jason Puncheon of Crystal Palace. Spurs, in short, are running opponents into the ground.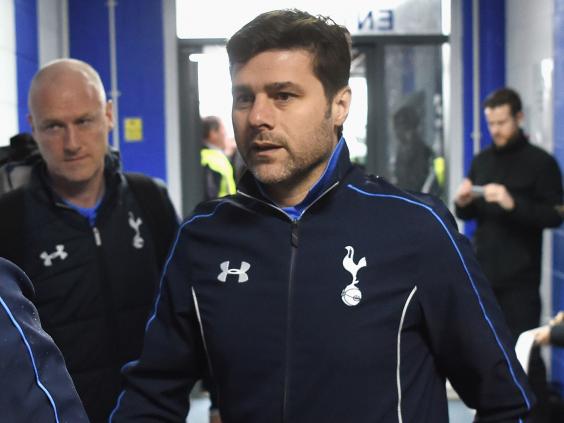 This has not come about by chance. It is the result of 18 months of ferociously hard work behind the scenes, ever since Pochettino replaced Tim Sherwood at the helm and transformed the culture of the club. The Argentine is a workaholic and he demands that his players are too.
The starting point for all this is the infamous Pochettino pre-season, of which Spurs have now had two. It is a brutal experience, with double and sometimes triple sessions building up the fitness the players need to get through the season. 
"There hasn't been a good moment in pre-season," Kane said when the players returned from their first one. "Let's just say you get your trainers out," joked Eric Dier.
This might sound old-fashioned but it is anything but. Everything is intense but it is all meticulously measured by the conditioning and sports-science team. All the players are tracked by GPS in training, knowing they cannot cut corners, with Pochettino and assistant Jesus Perez always wearing their Polar GPS watches. Any player whose level drops in training can expect to be on the bench for the next match. "Suffer in training," Pochettino says, "so you don't suffer in the game."
The conditioning regime extends beyond the training ground too. It also takes in the canteen. Imports from abroad are given cooking courses to make sure they know how to prepare healthy food, as Son Heung-min and Kevin Wimmer discovered last summer. 
Wimmer was also urged to take the health food from the Spurs canteen home with him. If the Austrian was overweight when he arrived from FC Koln, he certainly is not now. "My body shape is much better than when I came here," Wimmer said last month. "My body fat has gone down a lot because of the hard training, and because I now take care of what I eat all the time."
Tottenham injury list
Tottenham injury list
1/4 Dele Alli (midfielder)

Came off in the win against Norwich City because of illness and dizziness but has been cleared after tests. Should play against Watford

2016 Getty Images

2/4 Ryan Mason (midfielder)

Not played since November because of a serious ankle injury. Will face a late fitness test - rated at 50/50 to return

3/4 Jan Vertonghen (defender)

Belgian defender suffered a serious knee injury - medial ligament damage. Not yet known when he will return

4/4 Clinton N'Jie (forward)

Has the same injury as Jan Vertonghen but is expected to return in early March
Wimmer is now in excellent shape and has slotted in perfectly alongside Toby Alderweireld at centre-back since Jan Vertongen injured knee ligaments in January. And he is not the only Spurs player who has sharpened up since Pochettino's arrival. Mousa Dembélé is quicker and nimbler than ever before; Christian Eriksen and Erik Lamela are stronger and fitter; Nacer Chadli is sharper, having sent himself to an Italian diet clinic and gone dairy-free when Pochettino arrived. The players know they have to shape up or get out.
All this work is why Spurs have been able to carry out Pochettino's instructions, pressing the opponent directly within the first three seconds of losing the ball. It is also why his players have, more often than not, been strong enough to resist injury, especially in key positions.
If there is one doubt, it is whether they can keep this up. Last season they were excellent in January and February before being knocked out of the Europa League in the last 32, losing the Capital One Cup final and then tailing off in the Premier League to finish fifth. This invited accusations that Pochettino had only developed short-term fitness in his players, rather than long-term fitness, by working them so hard so early.
The coach insisted yesterday how important it was that his players keep playing with the power they have shown recently. "This is our challenge," he said, "to try to keep the same intensity in every game, and the same level of our fitness. This is one of the challenges for the next period, for the next three months."
Only then it will become clear whether or not Pochettino's methods have worked, whether his two years of planning and running have built a side which can peak at the right time. 
"We have tried, in our plan from the beginning of pre-season, to provide the tools to the players to be consistent during the whole season," Pochettino said. "That is not only our objective, all the staff are concerned about that, trying to give the better condition to keep the level through the whole season."
Whether Spurs will keep this level through the final part of the season, only time will tell. If they do, they could well win the Premier League.
The last time Pochettino was part of a side this successful was in Argentina in the early 1990s, with Newell's Old Boys, where his hero, Marcelo Bielsa, was in charge. The way that team were described sounds like this modern  Tottenham.
"The main difference was fitness," says Boca Juniors' Juan Simon in Jonathan Wilson's forthcoming history of Argentine football, Angels with Dirty Faces. "Newell's were like a tractor that would shatter all opposition. That team would suffocate you. After facing them, you would go back to the dressing room feeling that you were going to pass out, that they had made you run as never before." 
Watford know the feeling.
Data courtesy of the EA SPORTS Player Performance Index, the Official Player Rating Index of the Barclays Premier League
Reuse content