The Manchester United fans kept singing through Luis Suarez's third goal for Liverpool, through the final painful moments, and the last decision of the day by David Moyes, to replace Juan Mata with Rio Ferdinand with three minutes remaining. The worse it got for the home team the louder the noise, like the last hymn at a funeral when even the non-believers decide they need something to cling to.
By the end, their loyalty and the club's history was all that was left, because out on the pitch everything that could conceivably have gone wrong, had gone wrong. Defeat to Liverpool itself is not so improbable, it happened during the Sir Alex Ferguson era, even post-1993, but it was the manner of this loss, and then the context. United were 29 points ahead of Liverpool at this stage of last season and 12 months on they find themselves 14 behind.
It is the kind of swing that ends careers in politics. For Moyes, the damage, yet again, feels huge. The leader of an institution under permanent siege has no alternative but to go on promising improvement and change while behind him the whole edifice smoulders. In the directors' box, Ferguson and David Gill have become expert in adopting an expression that denotes stoic dissatisfaction without straying into anything that could be construed as anger or panic.
Manchester United 0 Liverpool 3 player ratings
Manchester United 0 Liverpool 3 player ratings
1/24 David de Gea 6/10

Nowhere near any of the three penalties. Slightly made amends with a late stop from Suarez from close range, but then beaten again minutes after

2/24 Rafael 5/10

Lucky to remain on the pitch for the second period after an ugly tackle on Gerrard and then handball for the first penalty. Offered little in attack, too

3/24 Phil Jones 4/10

Confused by the movement of Sturridge, who ran rings around him. Recklessly charged out like a bull in a china shop to concede the second penalty.

4/24 Nemanja Vidic 3/10

Unlucky for second yellow for lunge at Sturridge, but, like most of his team-mates, looked well off the pace. His Italian retirement home awaits

5/24 Patrice Evra 4.10

Endured a painful afternoon. Could not cope with the pace of Sterling and Sturridge – and had to deal with pair on his own with little help from Mata

6/24 Juan Mata 4/10

Alienated on the wing, and did not track back to help Evra at all, constantly leaving space for Liverpool to exploit – which they did.

7/24 Marouane Fellaini 3/10

Had some success with interceptions early on, but, like Carrick alongside him, was run ragged as the game wore on. Another lacklustre display.

8/24 Michael Carrick 4/10

Pulled apart by the movement of Liverpool's midfield. Could have conceded a fourth penalty with clumsy foul on Sturridge late on as well.

9/24 Adnan Januzaj 5/10

A couple of bursts forward made it look like he could provide the spark for United, but grew more and more anonymous, and timid.

10/24 Wayne Rooney 6/10

Had United's only real chance, when his powerful effort was saved by Mignolet.

11/24 Robin van Persie 5/10

Cut a frustrated figure. Struggled to get in the game and kept turning away from goal into blind alleys whenever he got a sniff of the ball.

12/24 Best of the bench: Danny Welbeck 4/10

Replaced the ineffective Januzaj with 15 minutes remaining, and although a willing runner, he chased shadows like his demoralised team-mates.

13/24 Simon Mignolet 7/10

Impressive stop from Rooney's driven effort was the only time he was called upon. Then just watched the masterclass like everyone else

14/24 Glen Johnson 7/10

The right-back put in a solid shift, although was hardly in the thick of it such was United's tame attacking. Did everything that was asked of him well

15/24 Martin Skrtel 7/10

The busier of Liverpool's centre-back pairing, sticking close to Van Persie. But he struggled at times when Rooney decided to power into the box.

16/24 Daniel Agger 7/10

Beaten too easily by some early breaks from Rooney, but the Danish defender was comfortable for the majority of the match.

17/24 Jon Flanagan 7/10

Clattered about early on in the match but did not give Januzaj or Rafael any joy at all in a no-nonsense performance from the 21-year-old.

18/24 Steven Gerrard 9/10

Ended the match with a nose bleed as Liverpool entered nose-bleed territory in deserved fashion. A quite brilliant performance from the captain

19/24 Joe Allen 8/10

Usual great distribution of the ball, but was also happy to do the dirty work, putting in important blocks to launch his team on the attack.

20/24 Jordan Henderson 8/10

Sharp as a tack and always on the move. Has added incisiveness to his game this season. Something Carrick and Fellaini sorely lacked.

21/24 Raheem Sterling 7/10

Looked to get involved in every Liverpool attack, buzzing around the pitch. Neat and tidy with his passing in a more central midfield position

22/24 Luis Suarez 8/10

Put the icing on the cake with astute finish past De Gea in the final stages. Dropped a little bit deeper for maximum impact and terrorised poor Jones.

23/24 Daniel Sturridge 8/10

His pace and movement constantly troubled the United defence but was wasteful in front of goal. Unfair tumble to win the third penalty.

24/24 Philippe Coutinho 7/10

Came on for Sterling with 18 minutes remaining and nearly helped himself to a goal in closing stages but dragged a long-range effort wide.
As these two and the rest of the club's grandees in the cushioned seats took their leave – among them famous former players, board members, one of the Glazers – no-one knew where to look or what to say. The club's in-house TV channel MUTV is running out of the kind of upbeat, take-the-positive questions it feels it is appropriate to ask.  The modern leviathan that is United is trying to run as normal, but cannot compute what is happening to it.
This was an aggressive, confident Liverpool that United faced, but it was hard to escape the thought that Brendan Rodgers' team have played better this season. When one factors in the rivalry between the two teams, and what was at stake for both, you could make a case for saying that there has been no bigger occasion for them. Yet, had they needed to it always felt that Liverpool had another level.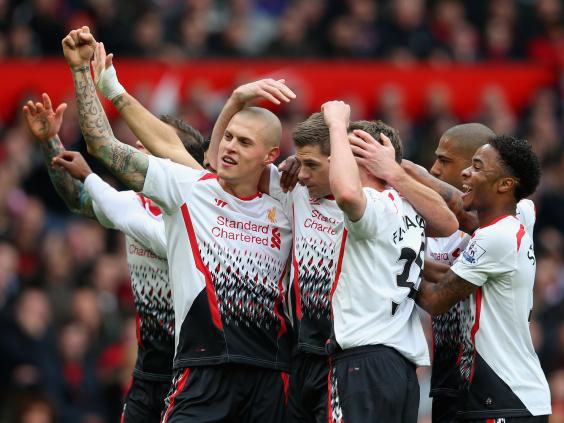 As for United, their best player was Rafael Da Silva, which is saying something given that the Brazilian gave away the first of three penalties conceded by United and should really have been sent off for a second yellow card. He is a liability at times, but at least he was a liability who remembered that on days such as these United players have an obligation to keep battling and to win the game.
As for the big names, there was so little of note. Mata improved in the second half, but he was so ineffective before the break that it would have been staggering had he not.  Robin van Persie was woeful, his volley that was struck wide with eight minutes indicative of his form. It only became rebellious when Marouane Fellaini was substituted in the second half and some of the home fans cheered.
Their win makes Liverpool serious contenders for the league title, with Manchester City and Chelsea still to play at Anfield. Rodgers was reluctant even to entertain the idea but his team are now in second place with a game in hand over leaders Chelsea. City and Chelsea are marginally better-placed to win it, but there is something irresistible about Liverpool.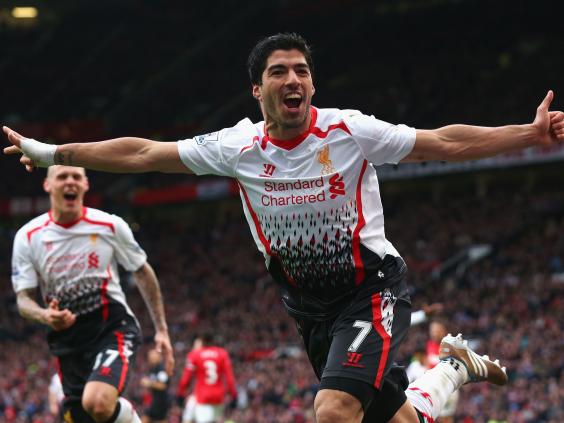 It was a game made for Steven Gerrard, who controlled it from the base of a midfield diamond. He was at different times, the creator, the organiser, the passer extraordinaire, the destroyer and, above all, the man who held his nerve two times out of three from the penalty spot. He has been in the game far too long not to grasp an opportunity like this to destroy an opponent. United once had that kind of seasoned, experienced player, but no longer.
Rafael might have picked up a second yellow for his handball on 33 minutes, just shortly after he had fouled Gerrard and been booked. The Liverpool captain put the penalty away, the first that referee Mark Clattenburg has given to an opponent of United in 20 games in charge of them. By the end of the match he had given two more. Moyes is a rational man but presented with those kind of outcomes, he must wonder about his luck.
Had United taken chances that fell to Van Persie and Wayne Rooney in the last five minutes of the first half it might have been different. As it was, Phil Jones leaned into Joe Allen in the first minute of the new half and the second penalty, scored by Gerrard, put the game beyond United's reach. Clattenburg might have sent off Jon Flanagan with 25 minutes left, for a foul on Rafael that looked like a second booking but, as with Rafael's earlier transgression, he was reluctant to do so.
The red card for Nemanja Vidic that earned Liverpool a third penalty – no club had ever got more than one in a Premier League game at Old Trafford before – was, as Rodgers himself said, "harsh". There was no contact with Sturridge. Rodgers' mitigation that the striker felt the contact coming and tried to "hurdle" Vidic's challenge felt weak. The United captain was enraged, initially throwing his armband down on the touchline before he realised that even that was a step too far.
It was eventually passed on to Patrice Evra. In the meantime, Gerrard struck the post with his penalty. It was the replacement United captain who played Suarez onside in the 84th minute when Sturridge's scuffed shot found its way to his strike partner who beat David De Gea for the third time that afternoon. Liverpool should have had a fourth penalty, when Michael Carrick tripped Sturridge, but by then the afternoon's quota had already been well and truly exceeded.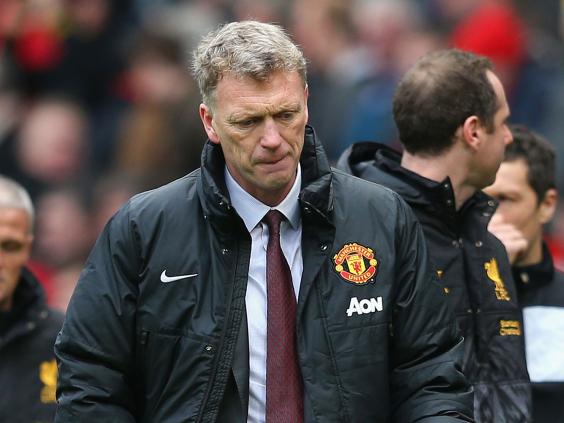 Rooney called the afternoon "a nightmare", but even that implies an irrational aspect to events or a sense of the unreal. But it is as bad as this most weeks for Moyes. This is really happening to United and they appear unable to stop it.
Manchester United (4-2-3-1): De Gea; Rafael, Jones, Vidic, Evra; Fellaini (Cleverley, 75), Carrick; Mata  (Ferdinand, 87), Rooney, Januzaj  (Welbeck, 75); Van Persie.
Substitutes not used: Lindegaard (gk), Young, Valencia, Kagawa.
Liverpool (4-3-1-2): Mignolet; Johnson, Agger, Skrtel, Flanagan ; Henderson, Gerrard  (Lucas, 86), Allen ; Sterling  (Coutinho, 72); Sturridge (Aspas, 90), Suarez.
Substitutes not used: Jones (gk), Moses, Sakho, Cissokho.
Booked: Manchester United Rafael, Vidic Liverpool Flanagan, Gerrard, Skrtel
Referee: M Clattenburg (Tyne and Wear).
Man of the match: Gerrard
Rating: 7
Reuse content