Senior Manchester United executives have visited Celtic's ground to examine its safe standing area as supporters' representatives seek to push for it to be introduced to a section of Old Trafford.
The Manchester United Supporters' Trust helped organise the visit to Parkhead's 2,975-capacity standing section, opened this season, and there are hopes that the prospect of an Old Trafford equivalent by way of rail seating will be discussed at the next fans' forum next month.
United chief executive, Ed Woodward, has always been willing to explore the idea, with his  experience of standing at Chelmsford City, in his native Essex, being a contributory factor. But the club's willingness to discuss rail seating has always been tempered by a realisation that it would require new legislation overturning the parameters of the 1989 Football Spectators Act, which decreed that stadia in the two top divisions must be all-seater. Clubs would need to get Premier League guidance on whether legislation would be required.
A key development is that Liverpool supporters' groups are now showing signs of support. Members of the Liverpool supporters' union Spirit of Shankly were asked at last month's AGM whether the organisation should adopt a position on rail seating. A total of 93 per cent voted in favour, 4.7 per cent were against and 2.3 per cent abstained.
 All-seat regulations were introduced into English football by Lord Justice Taylor's report into the Hillsborough disaster, when 96 Liverpool fans were unlawfully killed. The prospect of standing returning to Premier League and Championship grounds in any form – it is allowed at League One and Two levels – is an emotive issue for those affected by Hillsborough.
The illegality of introducing a standing area is spelt out in a letter to the Football Supporters' Federation chairman Malcolm Clarke in 2007 from the Department for Culture, Media and Sport, stating the Government cannot "repeal" orders directing the Football Licensing Authority without a change in legislation. The legislation does not apply in Scotland, thus allowing Celtic to open their own area.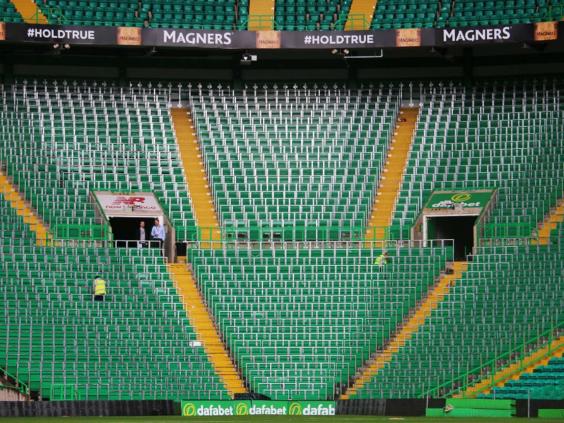 A survey by the Stretford End Flags (SEF) organisation has underlined support for the idea among United supporters. A 93 per cent vote in favour – identically mirroring the support in Liverpool has been followed up by SEF canvassing supporters on where they would like a safe standing area to be.
Fans' representatives from all 20 Premier League clubs left a meeting with the league's chief executive Richard Scudamore in July encouraged that new legislation may not be needed. The official Premier League stance has been that the requirement for legislation would make the change prohibitive. But there is a growing sense that a groundswell of requests from individual clubs could result in the league approaching Government for clarification that rail seats do meet existing regulations. 
Reuse content