Manchester United defender Jonny Evans maintains he did not wilfully spit at Newcastle striker Papiss Cisse.
The 27-year-old reacted angrily during Manchester United's 1-0 win at St James' Park earlier this month with television replays appearing to show him spitting at the Magpies striker.
Evans denied the charge but the Football Association decided his actions warranted a six-match ban. Cisse was banned for seven games after a clearer spit in the aftermath of the clash between the two players, with the extra game due to an earlier suspension for violent conduct.
Liverpool vs Manchester United combined XI
Liverpool vs Manchester United combined XI
1/10 David De Gea

Simon Mignolet is hugely improved in recent weeks but David De Gea is arguably the best goalkeeper in the Premier League and easily Manchester United's most important player.

2/10 Emre Can

The versatile German is a true box-to-box threat, even when deployed as one of three centre-backs in Rodgers' back three. United have huge problems at the back, with Antonio Valencia beating Rafael to the right-back spot. Can, only 21, is a crucial piece in allowing Liverpool to play their 3-4-2-1.

3/10 Chris Smalling

As previously stated, United have defensive problems but the England defender has been a rare bright spot for Van Gaal, playing some of the best football of his United career. Phil Jones still seems erratic, while Marcos Rojo is not fully fit and Jonny Evans still suspended. Mamadou Sakho is a good defender but prone to mistakes.

Getty Images

4/10 Martin Skrtel

Skrtel has his critics but he has overcome poor form early in the season to become a real leader for Liverpool. He isn't always the best when in possession but he is an old-fashioned stopper, and a fierce competitor.

5/10 Jordan Henderson

With Steven Gerrard heading closer and closer to the exit, Henderson has really filled his role as captain and leader with a string of inspirational performances. The England man, whether playing wider right or in the middle, is a brilliant threat from all over the pitch, great in possession, ferocious in the tackle and has an eye for goal.

EPA

6/10 Michael Carrick

Divides opinion everywhere but surely proved against Tottenham just how important he is (and has been in the past) to United's success. Carrick was absolutely superb in possession, dictating the game and giving the inexperienced Ryan Mason and Nabil Bentaleb the run-around. Created the first and scored the second, United played their best football of the season because of a masterclass by their veteran midfielder.

GETTY IMAGES

7/10 Ander Herrera

Adds the legs and bite, as well as a touch of class, to the United midfield, even if he has been under-utilised by Van Gaal. Daley Blind is clearly a favourite of the Dutchman but Herrera's engine and tenacity give United a pace in their play that is sorely missing when he doesn't play.

GETTY IMAGES

8/10 Philippe Coutinho

Since being given the freedom of the park in Rodgers' new formation the Brazilian has excelled, scoring wonderful goals and seeing his relationship with Daniel Sturridge and Raheem Sterling flourish. A real match-winner, United will have to keep a keen eye on Coutinho. Ashley Young has been fantastic for United this season and deserves a mention but he is not quite playing at Coutinho's level.

9/10 Wayne Rooney

What a surprise, Wayne Rooney has been sensational playing as a striker. He may well be extremely capable of playing in midfield but United lose much more than they gain by deploying their captain deeper; he was brilliant against Spurs and Liverpool will view him as the main threat.

GETTY IMAGES

10/10 Daniel Sturridge

Hasn't exactly set the world alight since returning from injury, with only three goals from 12 matches, but he loves big matches and has starred in previous games against Liverpool's biggest rivals. Marouane Fellaini was excellent against Spurs but he has been very up and down this season.

Getty Images
However, Evans still does not accept his part in the incident and says his family would have been "disgusted" with him if the allegations were true.
"I did not have the intent to spit at an opponent, so when the FA charged me with that I could never accept it," Evans told The Times.
"To spit at anyone is one of the most disgusting things you can do; it's low and cheap. I would never think to spit at someone. You just look like an idiot.
"So I can totally understand there is an image around that, and in the British game and our society it's not something that is accepted, and rightly so.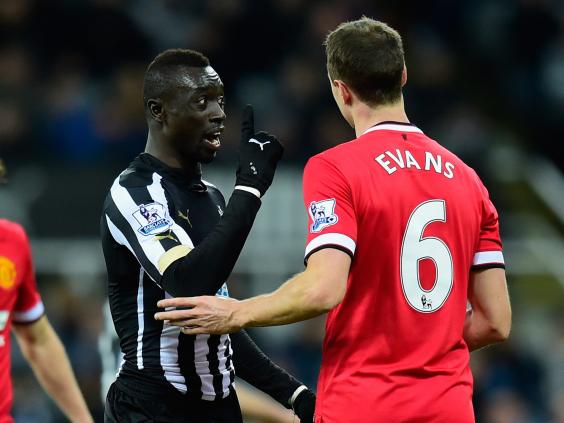 "But I was able to go home and look my mum and dad in the eye because if I'd genuinely spat at someone I think they would have been disgusted in me.
"It's not the background I come from in Northern Ireland. My mum and dad would have given me a rollicking if I had done that."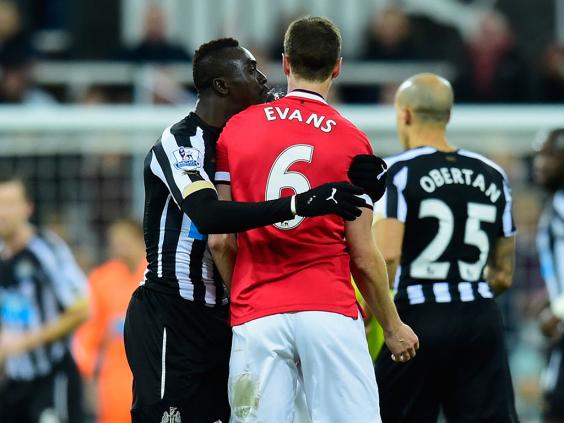 Evans admitted that he is a 'habitual' spitter and has been pulled up on it by his wife Helen several times.
He is now working to cut it out of his game and believes it could be a nervous habit.
Evans added: "In training this week I turned to spit and thought, 'No, I can't spit' and tried to stop myself. So that's something I'm trying to work on."
Evans has still to serve part of his ban and will miss the Premier League games against Liverpool, Aston Villa, Manchester City and Chelsea.
PA
Reuse content