Manchester United may just have spent £150million in a record transfer window, but they are still the team with the most homegrown players in the top flight of English football.
Despite Danny Welbeck and Tom Cleverley leaving the club on deadline day Louis van Gaal still boasts seven homegrown players in his squad, ahead of Arsenal who are second with six players, according to a report by Prime Time Sport.
Non-English players can be counted as homegrown if they have spent a minimum of three years with their club before the age of 21. For example, Belgian Adnan Januzaj and Brazilian right-back Rafael are both counted as homegrown players for Manchester United.
Three clubs, Hull City, Sunderland and Queens Park Rangers do not have any homegrown players in the squad, while two more, Burnley and Stoke City, have just a single player that has come through their ranks - the stats were based on first-team players.
Chelsea, often-criticised for having no youth policy, currently have three players – John Terry, Nathan Ake and Andreas Christensen – among their first-team number, more than 11 other clubs.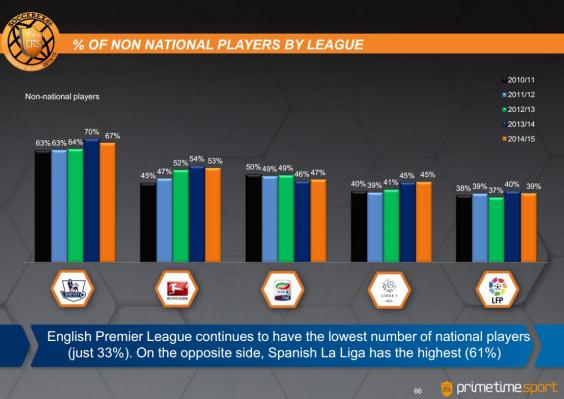 The report also found that Manchester City had the oldest squad in the Premier League, aged 28, with Newcastle the youngest at 25.1.
The Premier League has less foreign players plying their trade in 2014-15 than they did in 2013-14, down from 70 per cent to 67 per cent, but still far ahead the Bundesliga who is second with 53 per cent. Just 39 per cent of players in Spain's Primera Division are not Spanish.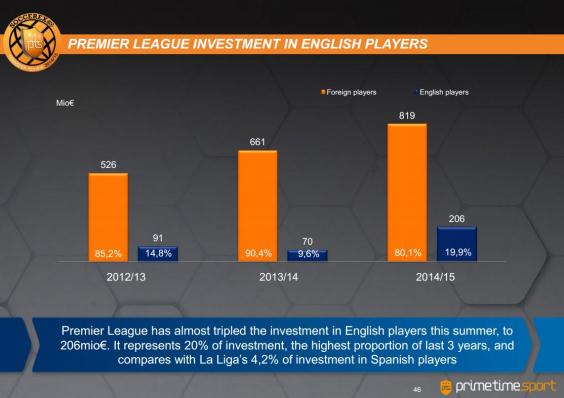 However, the report also found that Premier League clubs are actively trying to buy English talent as spending tripled to £162m this summer, led by the signings of Adam Lallana and Luke Shaw.
Reuse content