Some rare good news this week for David Moyes amid the travails of trying to find new players to operate in his Manchester United midfield. Darren Fletcher, limited to seven starts in nearly two years, finally  returned to training on Thursday – thin and weakened, certainly, by his debilitating ulcerative colitis, but back nevertheless, which is more than has seemed likely during some dark days of recuperation. "We'll give him little bits of football and just pick him up over the coming months and see how he goes," Moyes said. "There's weight to come back but the big thing is that he's back in."
There will be more controversy around the corner in the unlikely event of Wayne Rooney playing any part for United against Crystal Palace at Old Trafford  today so soon after England were denied his services in Ukraine. The gaping forehead wound inflicted by Phil Jones in training two weeks ago has healed well and Moyes was not ruling out putting a "big Fozzie" on it, last night, recalling the memorable headbands Steve Foster wore for Brighton and Luton. But for now Moyes is just seeking some calm; a fresh start  after an intensely difficult first month in which he admitted he had delivered fewer points (four), goals (four) and new players (one) than he had anticipated.
Marouane Fellaini was sitting to his right as he spoke, hearing the manager defend a transfer United could have completed for £23.5m before the Belgian's buy-out clause expired, rather than leave Everton £27.5m  better off. United had waited simply because they wanted to buy Fellaini and Leighton Baines in a joint deal, Moyes insisted. "That was the way we decided to do it. Only at the last minute did we split the deal."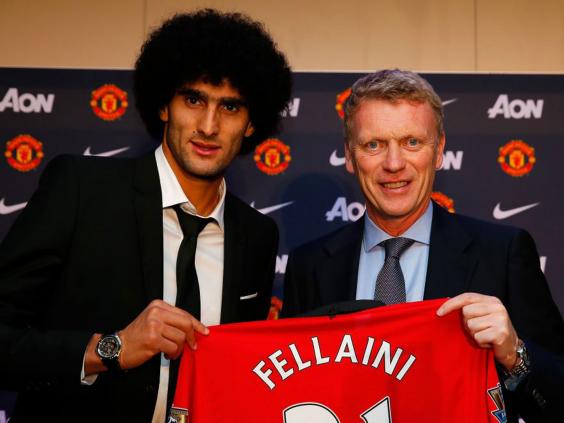 Fellaini, whom Moyes does not envisage deploying up the pitch with United's abundance of No 10s, is seen as a key component for Europe, with the campaign beginning against Bayer Leverkusen on Tuesday. The midfielder boldly listed Roy Keane, Eric Cantona and David Beckham as those whose boots he aspired to fill and Moyes said Fellaini really did have the potential to be that good.
That may raise eyebrows, though Moyes could hardly dismiss his new player's aspiration. His height might create prejudice, Moyes insisted – "where do you often see great players who are 6ft 5in?" – but the manager believes that his overlooked defensive midfield technique will release others to do their creative business more. "Hopefully he'll help our great players get better by giving them a bit more freedom on the pitch."
There may be some collateral damage for Moyes to deal with in the weeks ahead. Patrice Evra's attitude will be interesting, since when the Baines deal fell through – Moyes said he does not see it being resurrected in the future – United also tried and failed to buy Real Madrid left-back Fabio Coentrao. Moyes cited Evra's workload. "I just wanted something there. Patrice has played a lot of games and I wanted to make sure that I had enough cover."
Shinji Kagawa, not even on the bench at Anfield in the last league game, has recently seemed to be unhappy, too. Moyes again cited the international workload of a player, who may be out today because of mild flu. "We've just not seen him," he said.
Moyes' new No 31, meanwhile, would give opposition sides something different to worry about: "It might not be Felli that's scoring. It's what he can do to affect the opposition. He has an effect on the football field and managers of the opposition undoubtedly have to think about him and what he can do. You have to look after him on the field."
The manager said that he would give Fellaini "the time and the room" to adapt, though neither is ever in great supply here. The prospect of facing Manchester City lies eight days away. The manager could use something immediately emphatic from his Belgian and team to get them on their way.
Reuse content