Former Chelsea midfielder Deco has told the Manchester United players to "deal" with public criticism from Jose Mourinho because "he knows better".
England defender Luke Shaw has already felt the wrath of Mourinho after he was singled out by the United manager for underperforming in the 3-1 loss at Watford, while both Jesse Lingard and Henrikh Mkhitaryan also bore the brunt following the 2-1 derby defeat by Manchester City last month.
Mourinho has shown in the past though that he has no problem with giving critical assessments of his players to the media, with the Portuguese sometimes looking to try and trigger a response and other times signalling the end of a player's spell with his club.
But the former Portugal international, Deco, has revealed that the United squad need to get on with it and deal with Mourinho's words if they want to succeed at a club that holds the stature of United.
"If you are playing at a club like Chelsea, United, Barcelona, Madrid — the big clubs — you need to be prepared to do your best. If you want to play at a high level you need to be able deal with everything," Deco said at the launch of the Star Sixes indoor football tournament at Stamford Bridge on Wednesday.
Manchester United vs Stoke player ratings
Manchester United vs Stoke player ratings
1/22 David de Gea

Didn't have much to do but fluffed his lines when called upon and let Stoke equalise. 5

2/22 Antonio Valencia

Not overly busy and managed to keep his shirt rigorously tucked in all game. 6

3/22 Eric Bailly

A solid game, continues to impress. 6

4/22 Chris Smalling

Not much to do but reliable enough. 6

5/22 Daley Blind

Give us this day our Daley Blind. The versatile Dutchman was reliable as ever. 6

6/22 Ander Herrera

Should he have been sent off? Let Robbie Savage debate that. As it was he had a decent game. 6

7/22 Paul Pogba

What does £100m get you these days? A decent if largely uninspiring game against Stoke, that's what. 6 Jesse Lingard: An encouraging performance before being subbed in the second half. 6

8/22 Jesse Lingard

An encouraging performance before being subbed in the second half. 6

9/22 Juan Mata

Subbed for Rooney in the second half, but solid enough before that. 6

10/22 Marcus Rashford

Oh he's quite good isn't he? Always lively but couldn't get on the scoresheet. 6

11/22 Zlatan Ibrahimovic

Denied on multiple occasions, a frustrating afternoon, particularly for anyone who made him their Fantasy Football captain. 6

12/22 Lee Grant

He might have a name straight out of a 90s boyband but he had a stormer in goal. 8

13/22 Glen Johnson

Lively going forward, occasionally suspect in defence - I feel like we know this about Glen Johnson by now. 6

14/22 Ryan Shawcross

Largely kept United at bay, solid enough. 6

15/22 Bruno Martins Indi

Continues to look a good signing for Stoke. 6

16/22 Erik Pieters

Reliable if a little uninspiring. 6

17/22 Geoff Cameron

Unlucky that his great tackle provided the assist for United's goal. 6

18/22 Glenn Whelan

Played to the best of his abilities but wasn't exactly superlative. 6

19/22 Xherdan Shaqiri

The Alpine Messi? Not on the basis of this. Could do better. 6

20/22 Joe Allen

Smashed it in from a yard out to equalise, got fouled a lot. Solid game. 7

21/22 Marko Arnautovic

Sulked quite a lot and got subbed in the second half. Not his best game. 6

22/22 Wilfried Bony

Where is the striker who terrified defences at Swansea? Not here today. 6
Having played under Mourinho's guidance at Porto, 39-year-old Deco is fully aware of how Mourinho goes about trying to produce the best from his players. Having been on the end of a Mourinho tongue-lashing himself, he admitted that while it's not nice to hear, it's something that can have beneficial results.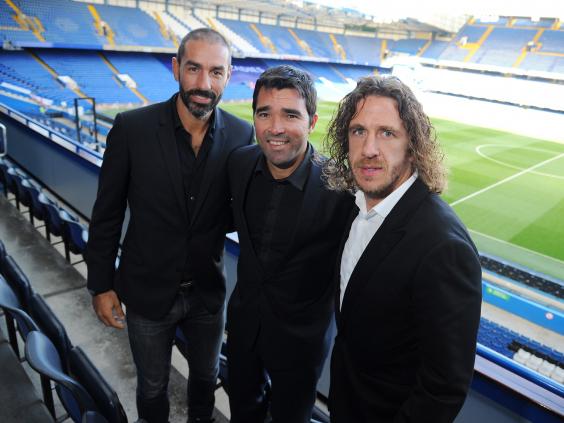 "I don't like the coach criticising me, but he knows better than us players and sometimes he does that not to pressure players but to give something different," Deco added. "He knows better than us, he's with them every day and of course the players don't like it but sometimes it works.
"At Porto sometimes publicly he did the same thing. It is part of his work, he knows sometimes the player reactions will be different. When you lose and when you are not playing very well you need to improve.

"Whether the coach says it on the media or in the dressing room it is the same thing, when the team is not playing well everyone knows that they need to do better. Maybe Jose knows that when they have lost a few games they need to improve. I don't think it's a problem."
Reuse content