Former Manchester United striker Dwight Yorke has hit out at England manager Gareth Southgate for his decision to drop Wayne Rooney in the recent draw with Slovenia, and claimed that the caretaker manager had bowed to pressure from the media to leave him out.
Rooney was named as a substitute for England's 0-0 draw in Ljuljana, with the 30-year-old coming on in the second half for Dele Alli for the final 20 minutes. Rooney has also had to contend with being dropped from the Manchester United first-team by Jose Mourinho, with the captain being left out of the starting line-up for the 1-1 draw with Stoke two weeks ago.
Former United forward Yorke feels that Rooney does not deserve to be dropped and is simply going through a rough patch with his form deserting him this season, and he was critical of Southgate's decision to leave Rooney out of the squad this week.
"People forget he's the greatest English player and the goals he has scored," Yorke said speaking to 888sport. "We've all gone through spells where you're not playing well and it's a real battle but the way people have talked about him is really disrespectful.
"It's a real difficult time because he's asked to play all these different positions and gets all the flak he does yet he tries his hardest every single game. Then you get people like Gareth Southgate taking him out of the team because of the pressure from the media and I think that's wrong especially coming off the back of a positive result. Sometimes you have to show people a little faith and for Gareth Southgate to make that call, well I thought that was a little strange.
He added: "It's a different situation at club level. His England performances have been stronger than his performances for Manchester United. Anyone can see that he's struggled there this season and sometimes it's not a bad thing to take a back seat. But where England are concerned he has not been the worst player on the pitch by any standards and you have a young manager like Southgate trying to make an impression but you need someone like Wazza around to keep things in check."
Manchester United vs Stoke player ratings
Manchester United vs Stoke player ratings
1/22 David de Gea

Didn't have much to do but fluffed his lines when called upon and let Stoke equalise. 5

2/22 Antonio Valencia

Not overly busy and managed to keep his shirt rigorously tucked in all game. 6

3/22 Eric Bailly

A solid game, continues to impress. 6

4/22 Chris Smalling

Not much to do but reliable enough. 6

5/22 Daley Blind

Give us this day our Daley Blind. The versatile Dutchman was reliable as ever. 6

6/22 Ander Herrera

Should he have been sent off? Let Robbie Savage debate that. As it was he had a decent game. 6

7/22 Paul Pogba

What does £100m get you these days? A decent if largely uninspiring game against Stoke, that's what. 6 Jesse Lingard: An encouraging performance before being subbed in the second half. 6

8/22 Jesse Lingard

An encouraging performance before being subbed in the second half. 6

9/22 Juan Mata

Subbed for Rooney in the second half, but solid enough before that. 6

10/22 Marcus Rashford

Oh he's quite good isn't he? Always lively but couldn't get on the scoresheet. 6

11/22 Zlatan Ibrahimovic

Denied on multiple occasions, a frustrating afternoon, particularly for anyone who made him their Fantasy Football captain. 6

12/22 Lee Grant

He might have a name straight out of a 90s boyband but he had a stormer in goal. 8

13/22 Glen Johnson

Lively going forward, occasionally suspect in defence - I feel like we know this about Glen Johnson by now. 6

14/22 Ryan Shawcross

Largely kept United at bay, solid enough. 6

15/22 Bruno Martins Indi

Continues to look a good signing for Stoke. 6

16/22 Erik Pieters

Reliable if a little uninspiring. 6

17/22 Geoff Cameron

Unlucky that his great tackle provided the assist for United's goal. 6

18/22 Glenn Whelan

Played to the best of his abilities but wasn't exactly superlative. 6

19/22 Xherdan Shaqiri

The Alpine Messi? Not on the basis of this. Could do better. 6

20/22 Joe Allen

Smashed it in from a yard out to equalise, got fouled a lot. Solid game. 7

21/22 Marko Arnautovic

Sulked quite a lot and got subbed in the second half. Not his best game. 6

22/22 Wilfried Bony

Where is the striker who terrified defences at Swansea? Not here today. 6
Much of Rooney's troubles this season have been caused by him being deployed in different positions, having turned out as a striker, a No 10 and a deep midfielder already this campaign. Mourinho insisted when he took the United job that Rooney will be a forward during his reign, but he has already seen Southgate switch him back to midfield when he was named alongside Jordan Henderson in England's 2-0 win over Malta last weekend.
Yorke believes that it is the inconsistency of his position that is behind his slump in form, but added that he does not see Rooney as a natural midfielder.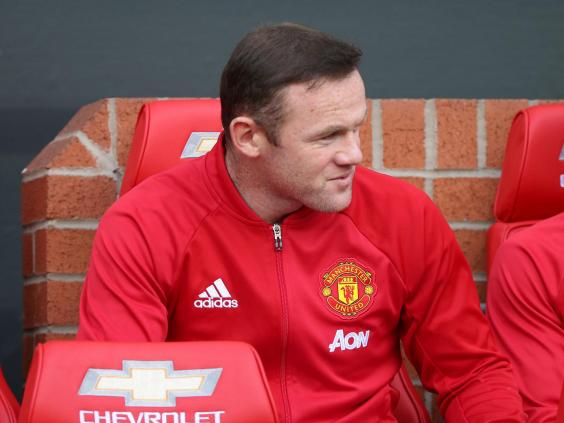 "I really think of him as a number ten or nine and a half," he explained. "He can see the pass and get on the end of things. He still has that in his locker. I went from a striker to a midfielder but he has to be persistent in one position and just play in that role. That's his best position and that's where he should play.

"People in football have such bloody short memories. He just has to get his confidence back and play in the manner we're used to banging in goals. Then everyone will be singing his praises again. People are suggesting he should leave but that wouldn't be a good call for him. If you leave Manchester United you'll never find another club like that. He has to fight his way through this season and we know he's good enough to do that. He has never had to do this before – convince himself that he is still good. We've all been there and know what that feels like. You're tempted to take the easy option but that's never a good thing. He needs to fight and show people."
Read the full 888sport interview with Dwight Yorke, including his thoughts that Liverpool can win the league this year
Reuse content