Manchester United are in need of one of the best coaches in the world to return the club to the upper echelons of the game, goes the argument. So why wouldn't they appoint Tim Sherwood?
That's the bizarre choice of coach mooted by former Manchester United defender Paul Parker, who thinks the twice sacked Tottenham and Aston Villa manager could arrive at Old Tafford and give the players "a bit of a cuddle".
The current favourite to replace Louis van Gaal, who is expected to leave at the end of the season if not before due to Manchester United's poor form this season, is Jose Mourinho. 
The former Chelsea manager is keen on the role and talks are understood to have been held. But Parker, who played for the club from 1991-96, explained why Sherwood is a better option than the Special One. 
"Bringing in Jose Mourinho? That is absolutely not the answer," Parker wrote in his Eurosport column. "To suggest that he could walk into a crisis situation at United and turn it around is absurd. That's something he's never done in his career, and this really wouldn't be the time to start. He's lost a huge amount of respect in the game, and I suspect the players at United hate the idea of him taking over.
"Frankly, given how unhappy the players are right now, they'd be better off bringing in Tim Sherwood between now and the end of the season: someone to soft soap the players, give them a bit of a cuddle, get them feeling good about themselves once again."
Parker had some more advice for the club.
"United need to start thinking about the long term as soon as possible, because if not they face the ultimate danger: turning into the new Liverpool."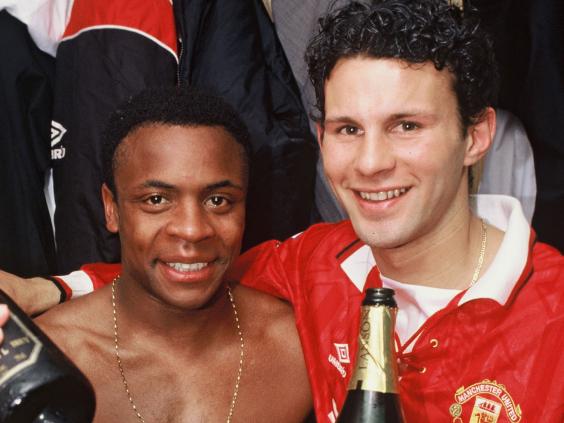 He added: "None of the other available big name managers currently out of work would fit the bill either. You could give someone like Fabio Capello a call, but he'd have all the same problems that Van Gaal has faced. He's too old school, he doesn't understand the modern game and how players need to be handled today. 
"There are plenty of guys out there who do - Diego Simeone, say, or Mauricio Pochettino - but none of them are going to leave at this stage of the season. There is just nobody out there who could come in, lift the dressing room, and then go on to build a brighter future for United."
10 most tweeted about Premier League moments
10 most tweeted about Premier League moments
1/10 Danny Welbeck scores to give Arsenal a 2-1 victory over Leicester - 51,000 TPM (14 Feb, 2016)

Welbeck returns from nearly 10 months out injured to head in the winning goal in Arsenal's 2-1 win over Premier League leaders Leicester last weekend.

2016 The Arsenal Football Club Plc

2/10 Alexis Sanchez scores to put Arsenal 3-0 up against Manchester United - 47,000 TPM (4 Oct, 2015)

Arsenal surge into a 3-0 lead over Manchester United inside the first 20 minutes at the Emirates Stadium, sending their fans into a frenzy.

2015 The Arsenal Football Club Plc

3/10 Mezut Ozil scores to give Arsenal a 2-0 lead against United - 41,000 TPM (4 Oct, 2015)

After Alexis Sanchez gives Arsenal the lead at the Emirates, Mesut Özil immediately doubles it to pave the way to victory, and giving the match a second most-tweeted –about moment of the season.

2015 Getty Images

4/10 Gabriel Paulista is sent-off following an altercation with Diego Costa - 38,000 TPM (19 Sept, 2015)

It's not all good for Arsenal on this list though, as Gabriel Paulista's red card at Stamford Bridge during the 2-0 defeat by Chelsea saw Arsenal fans fume on Twitter after the defender was adjudged to have stamped on the Blues' striker.

2015 Getty Images

5/10 Christian Benteke scores wonder goal to bring Liverpool back to 2-1 against United - 35,000 TPM (12 Sept, 2015)

He may be having a nightmare time at Liverpool this season, but it's worth remembering that striker Christian Benteke is capable of moments of magic such as this, launching a stunning bicycle kick past David De Gea at Old Trafford – in a losing cause though as United would triumph 3-1.

2015 Getty Images

6/10 Fernandinho makes it 3-0 to Manchester City as they dominate Chelsea - 34,000 TPM (16 Aug, 2015)

Manchester City's early-season domination of Chelsea saw defensive midfielder Fernandinho get in on the act and score the third and final goal at the Etihad to signal how far Chelsea had fallen since the end of last season.

2015 Getty Images

7/10 Olivier Giroud puts Arsenal 2-0 up against City - 33,000 TPM (21 Dec, 2015)

Arsenal's victory over Manchester City in late 2015 prompted fans to crown the Gunners' Premier League champions in waiting, with their French striker Olivier Giroud powering an effort between Joe Hart's legs to double the lead. Arsenal would hold on to win 2-1.

2015 The Arsenal Football Club Plc

8/10 Jamie Vardy breaks the PL record as he scores in his 11th consecutive game against United - 32,700 TPM (28 Nov, 2015)

The sensation of the season scored for an 11th-straight Premier League match in the 1-1 draw with Manchester United to break Ruud van Nistelrooy's existing record of 10 matches. Coincidentally, Vardy's feat came against the side Van Nistelrooy set the record for.

2015 Getty Images

9/10 Robert Huth gets his second as Leicester take a 3-0 lead against City - 31,000 TPM (6 Feb, 2016)

Leicester looked to be on their way to the Premier League title less than a fortnight ago when a Robert Huth double helped secure an incredible 3-0 victory over Manchester City.

2016 Getty Images

10/10 Anthony Martial scores on his United debut against Liverpool - 30,700 TPM (12 Sept, 2015)

The teenager arrived in the Premier League with a £36m price tag to live up to, but he didn't fail to disappoint in his first appearance for Manchester United as he came off the substitutes' bench to jink his way through the Liverpool defence and score the third goal in the 3-1 victory at Old Trafford.

2015 Getty Images
Manchester United are in action on Thursday when they play Danish minnows Midtjylland in the Europa League.
Reuse content