It was June and Rickie Lambert was living the dream. In the previous 12 months many things had happened. He had become an established Premier League forward. He had been called up by England on the day his daughter, Bella Rose, was born. He had celebrated by scoring against Scotland with his first touch of an international football. 
He was preparing for a World Cup and he had just been signed by Liverpool, the club he had grown up supporting, the club that had rejected him as a 15-year-old, the club he had never stopped loving.
The years slogging around the lower leagues at Macclesfield, Stockport County and Rochdale, the £20 a day he earned in the beetroot- bottling factory; all would have seemed very far away.
Dreams, however, rarely travel in straight lines and on Tuesday night, as the rain sluiced down over Anfield in a game Liverpool had to win to cling on to their place in the Champions League, Lambert was substituted during the interval.
Manchester United vs Liverpool: Combined XI
Manchester United vs Liverpool: Combined XI
1/8 David De Gea (Man United 1 Liverpool 0)

Has arguably been United's best player this season, with a number of impressive performances and great saves that have earned his side crucial points. Simon Mignolet, on the other hand, looks like he could be replaced in January, with Liverpool linked to numerous goalkeepers.

GETTY IMAGES

2/8 Antonio Valencia (Man United 2 Liverpool 0)

A problem position with the two sides playing very different formations, Valencia gets in ahead of Glen Johnson because he is a bigger attacking threat - both are terrible defenders.

Getty Images

3/8 Kolo Toure (Man United 2 Liverpool 1)

Kolo Toure's presence in this team shows just how far these two sides have fallen, as well as the defensive injury crisis currently engulfing United. His opposite number Paddy McNair has potential but was so bad against Southampton he was replaced after 37 minutes, with Michael Carrick dropping into defence.

GETTY IMAGES

4/8 Martin Skrtel (Man United 2 Liverpool 2)

Again, Skrtel has been far from impressive this season, though he is the best of a bad bunch. Jonny Evans is arguably his equal but will be starting his first match since September; the Slovakian just shades it.

Getty

5/8 Marcos Rojo (Man United 3 Liverpool 2)

Rojo not enjoyed the greatest of starts at Old Trafford but Albert Moreno, though impressive at times, has also struggled and lapses in concentration have cost Liverpool goals.

GETTY IMAGES

6/8 Steven Gerrard (Man United 4 Liverpool 3)

Gerrard has endured a poor season and is lucky to be in this team - the man opposite him is Marouane Fellaini, one of the worst signings of the last couple of years. Gerrard's sparkling form from a year ago has deserted him and he's badly in need of a rest - despite his wonderful free-kick against Basel. Liverpool are so bad without him Brendan Rodgers can't afford him one.

Getty

7/8 Juan Mata (Man United 5 Liverpool 3)

Choosing between Mata and Jordan Henderson is probably the toughest decision to make in this team. It is a matter of opinion and tactical preference whether you go for the crafty, attacking talents of the Spaniard or the high-energy Englishman. Henderson, like Gerrard, has not been as good as last year and Mata just shades it on current form.

Getty Images

8/8 Raheem Sterling (Man United 5 Liverpool 4)

Another Liverpool player who has failed to hit the heights of last season. However, Sterling remains the side's most potent attacker with Daniel Sturridge out and Luis Suarez departed. Ashley Young has done a good job at wing-back for Louis van Gaal, but Sterling is a potential match-winner.

Getty
Statistics revealed that Liverpool's goalkeeper, Simon Mignolet, had managed more touches of the ball than him, while the link-up play between Lambert and the midfield behind him had been zero.
"There is not a lot I want to say about that game, to be honest with you," he reflected after the draw which brought elimination from the competition and relegation to the Europa League. "I think everyone in that dressing room was hurting just as much as me.  It wasn't nice but I really don't want to go into too much detail.
"All those cliches and thoughts of living the dream were quickly eradicated a few months after I joined," he said.
It had been three days since the failure against Basel but the pain was still raw. Throughout the interview the words Lambert mentions more than any other are "hurt" and "hurting".
"Just because I am a Liverpool fan doesn't mean it's nice when we are not playing well or we aren't winning," he said. "It's probably worse. Those thoughts [of living the dream] very quickly went out of my mind and I am trying to eradicate it from everyone else's. I want them just to let me be a player. It hurt just as much at Southampton when we weren't doing well."
He agrees that the flak is flying all over Merseyside. Liverpool supporters accepted that Luis Suarez's position was untenable at Anfield. What they cannot accept was that Liverpool's unwieldy transfer committee should have made such a mess of spending the money his sale generated. Of the £120m-worth of summer signings, only two took the field against Basel and, had Kolo Touré and Daniel Sturridge been fit, it would have  been none.
"The criticism is something you can't get away from as a Liverpool player," said Lambert. "It is something you have to accept. We were expecting it after Tuesday. There is not much we can say, not much the fans will listen to. The performance against Manchester United is all  that matters."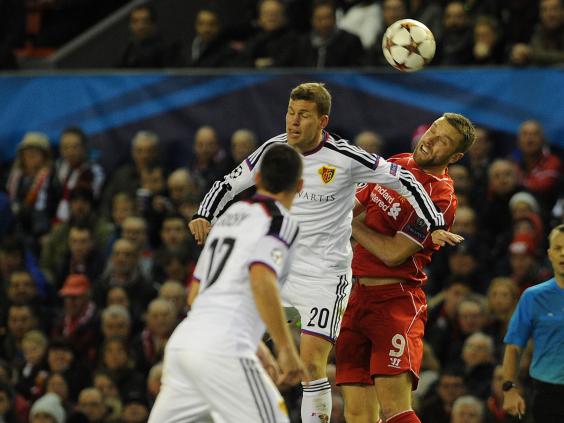 In retrospect, the worst decision Lambert made on joining Liverpool was accepting the prognosis from his new manager, Brendan Rodgers, that he was being hired as a back-up striker. It was one he felt he should have challenged.
The increasingly desperate attempts to justify the acquisition of Mario Balotelli meant Lambert had started one Premier League game before Liverpool went to Crystal Palace on 23 November. Within two minutes Lambert scored, something he had dreamed of since his boyhood in Kirkby. Liverpool celebrated by delivering their most abject 88 minutes of this or any other season.
Two days later, Lambert found himself on a stage with Rodgers in the faded post-Communist grandeur of the Vasil Levski Stadium discussing the game against Ludogorets Razgrad.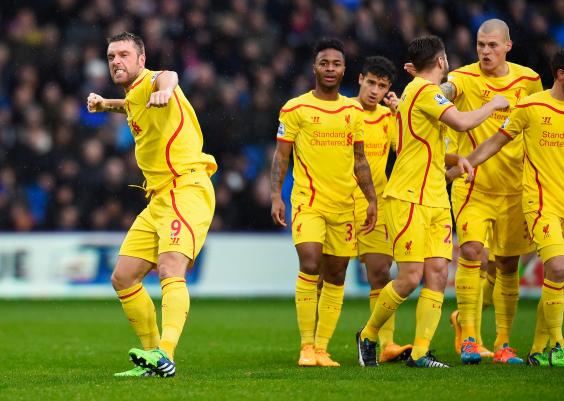 Champions League press conferences are rarely occasions for observations other than "we hope to do well" but Lambert seemed genuinely angry. He was 32 and, unless Liverpool upped their game, this would be his one and only tilt at the European Cup. Rodgers is usually a master of these kinds of media events but he looked strangely uncomfortable.
Liverpool did up their game. Lambert scored again but what his captain, Steven Gerrard, described as a "stupid late goal" cost them two points.
"The way I feel now is the way I felt then," said Lambert the other day. "We are hurting a lot. I have kept my head down. I haven't looked at any media because it is hurting me personally. I have to get it out of my system now and the best way to do that is have a brilliant game on Sunday."
It is nine months since Liverpool last played at Old Trafford. Then, they were shimmeringly quick, dancing towards the title. They routed Manchester United 3-0, a scoreline that frankly flattered David Moyes's disintegrating side. Lambert was watching at home, "a little bit animated, obviously".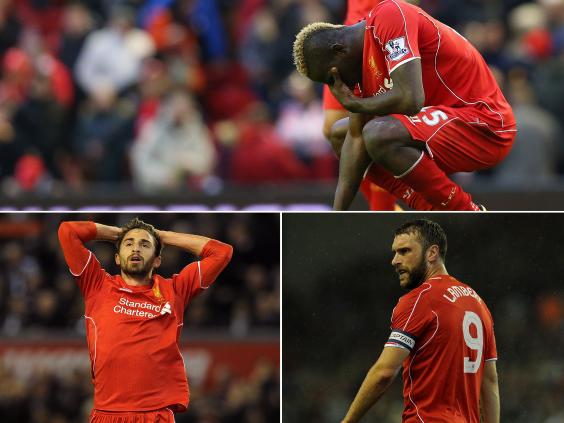 He was 14 when he travelled to Wembley to see the 1996 FA Cup final decided by Eric Cantona, a goal that set the tone for Liverpool-Manchester United encounters for a generation. Last season, with Sir Alex Ferguson's long shadow lifted, the balance of power along the East Lancs Road appeared to have tilted. The tilt does not seems to have lasted very long.
"It is very easy to get carried away," said Lambert. "Last year United were not doing so well and at the moment nor are we. It's easy to say the same old thing has been restored but I wouldn't judge us too quickly. Just give us a little more time, wait until Danny Sturridge is back and all  our signings have gelled. Then  judge us."
Reuse content