Anthony Martial wasted no time writing himself into Manchester United folklore as he stepped off the bench to score a stunning winner on debut against Liverpool.
The mood in the Manchester United dressing room was no longer flat – the word that Wayne Rooney and Michael Carrick had used to describe it to Louis van Gaal in the run-up to the nearest thing English football has to a clasico. The dark, wood-panelled walls would have reverberated to the easy talk and laughter that comes with decisive victory and a fabulous debut. After Anthony Martial's wonderfully-athletic goal, his transfer from Monaco appears better value than Radamel Falcao's.
There are several things that mark Van Gaal out from his predecessor, David Moyes, and not least of it is the ability to win the big game. This was a third straight victory over Liverpool and, despite the deficiencies in the squad exposed in a painful first half, it was reasonably straightforward until the last few minutes. Once Ander Herrera had converted the penalty he had won, the contest seemed beyond Liverpool's powers of recovery.
Bar a clearance off the line by the superlative Daley Blind, David De Gea's comeback had been utterly unremarkable, until a one-handed save from Jordon Ibe sparked a brief flurry that culminated in a jaw-dropping bicycle kick from Christian Benteke.  The hope flickered among the Liverpool support for two minutes – time enough for Martial, arriving to a standing ovation on his debut, to skip through their defence and score with the kind of composure a teenager is supposed to lack.
"He doesn't speak any English," said Ashley Young. "We have to use Marouane Fellaini as his translator, but if he talks like that on the pitch he doesnt need to say anything." There were two questions before this game. Were Liverpool as "bang average" as Harry Redknapp claimed and did Manchester United possess a specialist centre-forward? The answers are yes.
If you wanted an indictment of Manchester United's transfer policy since the departure of David Gill as chief executive, the team sheet would be exhibit A. The vast flow of money in and out of Old Trafford had produced Marouane Fellaini as centre forward. It was the sort of makeshift solution a United manager would employ in the final 20 minutes when a goal was desperately needed. Faced with the sight of Fellaini's vast mop of hair lumbering towards them, rather than the crewcut sported by the injured Rooney, Liverpool's defence might have been expected to relax and control the game. Instead, still carrying the livid scars from their capitulation to West Ham, they were, to use some Redknapp terminology, bang dreadful.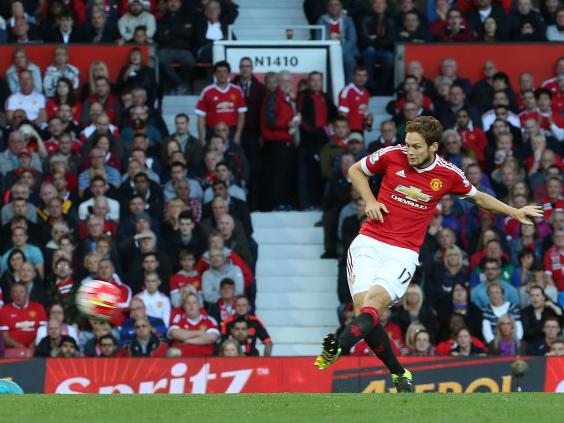 The warning signs appeared early. Simon Mignolet's attempt to play the ball out to Joe Gomez merely presented it, via Juan Mata's boot, to Fellaini who produced a vague, looping and unthreatening shot. In between, Mignolet attempted something similar to Nathanial Clyne and saw the ball coming back at him via Memphis Depay's instep.
In between, Matteo Darmian, fed beautifully by Carrick, muscled past Gomez on the Liverpool left and his low cross found Fellaini, whose first two touches carried the weight of an articulated truck. Not for the first time, you wondered what Rooney might have done in similar circumstances. Had Rooney started, had Manchester United possessed more pace up front than Depay, who was replaced at half time by Young, they might have inflicted some grievous damage before the interval. Instead, they did not direct a single shot on Mignolet's goal.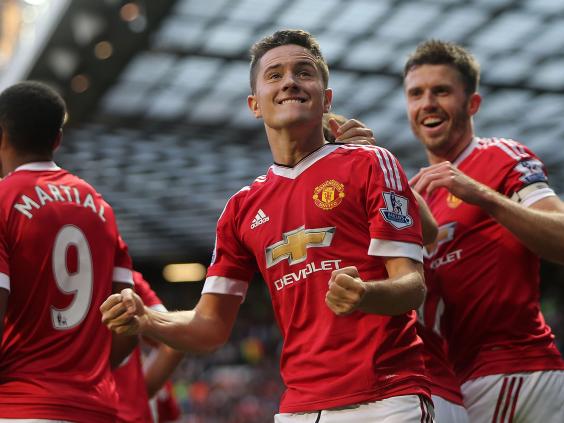 Curiously, Manchester United broke through once Depay had left the field. The finish was the sort Rooney would have admired, a drive from the edge of the area that finished in the top corner of the net beneath the Stretford End.
The shot, after a very cleverly taken free-kick, was from Blind, who was supposed to have been stretched to the limit dealing with Benteke, but who in the event coped effortlessly. With Holland, managed by his father Danny, making a dreadful, ham-fisted hash of qualifying for the European Championship, this has not been a good couple of weeks for the Blind family. This would have raised their spirits.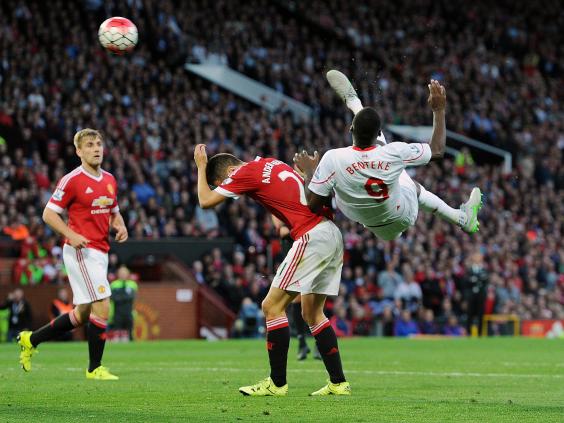 There was rather less put De Gea's way. Van Gaal had refused to select him while Real Madrid were making their clumsy attempt to bring him back to Spain because his mind was not "properly focused".
His mind could have been anywhere for an opening 45 minutes in which Liverpool contrived to give the ball away at virtually every available opportunity. Until a one-handed save from Danny Ings three minutes short of the hour mark, he could have been selecting his 10 favourite Beatles tracks or wondering why nobody makes a decent musical these days. The football would have been the least of his concerns.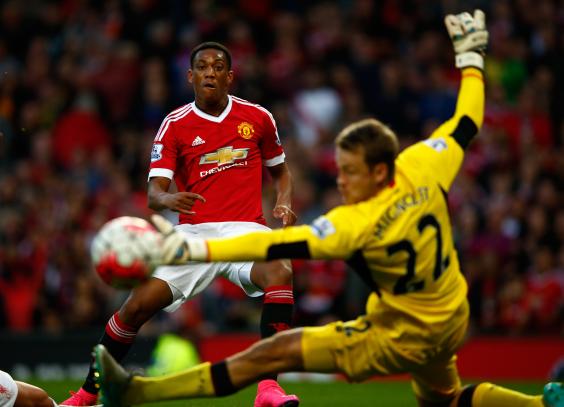 Manchester United: (4-2-3-1) De Gea; Darmian, Smalling, Blind, Shaw; Schweinsteiger, Carrick (Schneiderlin, 72); Depay (Young, h-t), Herrera, Mata (Martial, 65); Fellaini. 
Liverpool: (4-3-3) Mignolet; Clyne, Skrtel, Lovren, Gomez; Can, Lucas Leiva, Milner; Benteke, Firmino (Ibe, 65), Ings (Origi, 74).
Referee: Michael Oliver
Man of the match: Blind (Manchester United)
Match rating: 6/10
The Independent has launched a new football app! Live scores, in-game stats, breaking news, videos and push notifications are just some of the many features. Use the links below to download and get more from Indy Football...
iPhone
http://ind.pn/iphonefootball
iPad
http://ind.pn/ipadfootball
Android
http://ind.pn/androidfootball
Reuse content