The transitory nature of football was most dramatically evident at Melwood where, 271 days after the 3-0 Old Trafford victory which defined the esprit de corps of Brendan Rodgers' fearless young Liverpool team, the Northern Irishman found himself answering suggestions that he might be relieved of his duties. "I think the message for me is clear. I don't think there would be anyone better to do the job here," he said yesterday, the kind of observation which might have sounded like bragging, had he come out with it after his players had overwhelmed Manchester United and left David Moyes looking extremely diminished by questioning the way he had suggested Liverpool were favourites.
How Liverpool have fallen. This weekend's game is "The Dog and Duck against The Red Lion", to quote Gary Neville's definition of the match-up – which is contested by the two scrappiest sides the fixture has known in years. You need to go right back to 1980-81 to find a season when both sides finished way adrift – Liverpool fifth and United eighth, with the 0-0 Old Trafford stalemate on Boxing Day encapsulating the season when Bob Paisley's team's 17 draws denied them all hope of a third successive title.
At that time, Paisley had a joke clock on his Anfield office wall which went backwards, though Liverpool were hardly in the kind of reverse gear we have seen from them in the past four months. They lifted the European Cup and League Cup in 1981, by way of compensation.
The old ghosts which have stalked many a Liverpool manager since Paisley amid the club's frustrating drive to make it back to the top were out in force this week – Mark Lawrenson and Phil Thompson just two of what Roy Hodgson once described as a "Greek chorus" during his own, unhappy Anfield tenure. Rodgers, who is expected to have Adam Lallana starting and Mario Balotelli on the bench, was sanguine about the barbs, though you could tell how he felt about them. People criticising and calling for a new manager "comes with the territory", he said. "When you don't win games, football is very short term. The same people, maybe six or seven months ago, I couldn't do anything wrong. That is the way football works. You have to accept that as a manager and fight even harder to bring success, something that this period has ensured I will do for sure. Listen, command is lonely whenever you are at the top end, the leading edge of the game. That's the job from within. I know exactly where we are at."
Liverpool 1 Basel 1 player ratings
Liverpool 1 Basel 1 player ratings
1/13 Simon Mignolet

Not much the Liverpool goalkeeper could do for Frei's brilliantly struck low drive. Made a decent save from a shot from range late on and stood up well at his front post as Basel threatened at the death. 6

GETTY IMAGES

2/13 Glen Johnson

Basel found most success down Johnson's side of the field with the England international over-committing to tackles on more than one occasion. Little end product going forward including a poor final ball when Lambert was ready to pounce. Also made a wayward pass at the death with Liverpool chasing the game. 4

GETTY IMAGES

3/13 Jose Enrique

Looked off the pace and was out-muscled at times. Replaced by Moreno at the break. 3

GETTY IMAGES

4/13 Dejan Lovren

Made some good clearances with his head and stood up well when a challenge was needed. Was booked and can feel fortunate not to have received another. 5

GETTY IMAGES

5/13 Martin Skrtel

Did enough at the back to keep Basel to one goal. His rasping shot from range came very close to finding the back of the net. 6

GETTY IMAGES

6/13 Lucas Leiva

Basel made progress through his area of the field far more often than the Brazilian would have liked. Gave possession away unnecessarily. 5

GETTY IMAGES

7/13 Joe Allen

Largely anonymous for much of the match as the Welshman failed to adequately cover his centre-backs. Offered nothing going forward. 4

GETTY IMAGES

8/13 Jordan Henderson

The best Liverpool player on the pitch, doing more to link up the midfield than anyone else. His energy was nearly rewarded with the winning goal when his deflected header almost rolled in. 7

GETTY IMAGES

9/13 Steven Gerrard

Was nowhere near his best with a few stray passes and at times caught in possession. Yet, as is so often the case, pulled his side back into it with an incredible free-kick. 6

GETTY IMAGES

10/13 Raheem Sterling

Showed his usual energy first down the right and then the left. Final ball wasn't always what it needed to be but the youngster's well weighted pass nearly played Gerrard through only for the goalkeeper to get there first. Just. 6

GETTY IMAGES

11/13 Rickie Lambert

Failed to link up play adequately and some of his passing was nothing better than cumbersome. Replaced by Markovic at the break. 4

GETTY IMAGES

12/13 Off the bench: Lazar Markovic

Replaced Rickie Lambert at half time. Showed a willingness to run at the Basel defence and have a shot. That was before he was sent off after 61 minutes for throwing his arm out at Safari and making contact with his finger tips. 4

GETTY IMAGES

13/13 Off the bench: Alberto Moreno

Replaced Enrique at half-time and managed to get forward better. However his final delivery wasn't always up to scratch. 5

GETTY IMAGES
He characterises Liverpool post-Luis Suarez as a club starting out all over again and thus – though he did not make the connection – in the same place as Louis van Gaal at Old Trafford. He said yesterday that his side had scored and conceded pretty much the same goals as in his first four months in charge in the autumn of 2012. "It is similar to that period when we were back in transition, trying to find a way of working," Rodgers said.
It was a pretty slim attempt at self-justification. The whole world could see that Liverpool's defence was vulnerable as they swept so many aside last season, but they have not purchased reinforcements who have proved immediately capable of changing that. Liverpool conceded seven more goals last year than the season before and are currently on track to ship an even greater figure this year. The Liverpool academy is simply not nurturing a culture of defensive rigour any more than the first team. The result is such a paucity of personnel that the return of Kolo Touré – surplus to requirements at Manchester City years ago – is seen as salvation this weekend.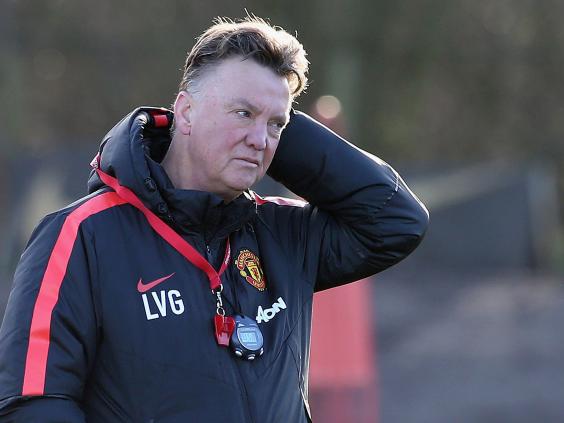 The timing of Rodgers' encounter with Van Gaal is significant in a number of ways. Liverpool courted Van Gaal in the summer of 2012. He visited the home of the club's then managing director, Ian Ayre, though their hopes that he would become their director of football evaporated – in part because Rodgers wanted autonomy to run his own team and buy his own players, and in part because Van Gaal wanted to be the manager. "Yeah, but it is better not to speak about Liverpool now and about that matter. You have to speak about now and the present," Van Gaal said when asked about Liverpool's approach to him yesterday.
It worked out for the best, from his perspective, as the money at his disposal has been vastly greater than Liverpool's. It was Neville who made the point this week that Liverpool's £40m net spend hardly "touched the sides" compared with United, whose five straight wins seem to have put their manager's rocky start behind them, sending them to third place.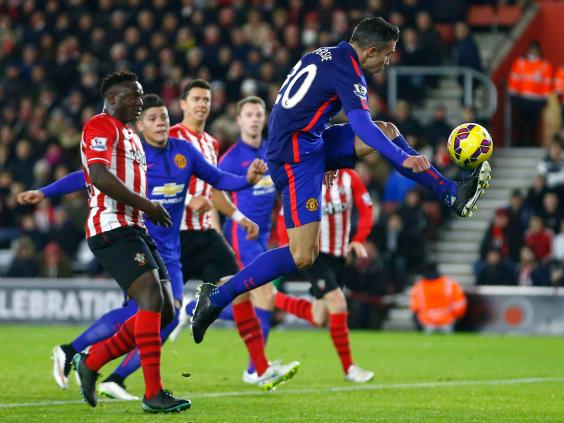 The lesser spending has not entirely been Liverpool's intention. Alexis Sanchez simply could not be persuaded that Liverpool was a better option than London, while Radamel Falcao could not be persuaded that Liverpool was a better option than Manchester. Rodgers' owners were willing to sanction the £18m outlay to take the Colombian on loan. The 25 years since Liverpool dominated United have not dimmed their appeal to fans, but have lessened it for the world's best players.
All that left Rodgers needing to revert to his familiar selling point yesterday: that he is the best manager for helping young players to grow – the same  pitch that Van Gaal will always make for himself. "I'm at a club where the model is based on buying players to create them to be world class," Rodgers said. "You will see, from the players that have come in, with the majority of them that is what it is about. The club have employed someone who, without being arrogant, believes he can get the best out of a senior player or youth player. He will always maximise talents that he has and I think last year proved that."
More politically calculating managers than Van Gaal would have seized this moment as the chance to throw back in Rodgers' face his claims in pre-season that the Dutchman might struggle. "I think what he'll find is the competition in this league will be different from any other league that he's worked in," Rodgers said in July, after United had beaten his team in the United States.
"Yeah, yeah, I think he said at that moment the truth and I have experienced that, that way also," Van Gaal said of those words. These two sides may have the look of pub teams about them but there are no prizes for guessing which manager is the more relaxed.
Reuse content