Summer's third most keenly-anticipated sporting event after the Ashes and The Great British Bake Off – the start of the Premier League – had less significance than one and considerably less drama than the other.
Were it a cake, it would not have passed Mary Berry's technical challenge. It was settled by an own-goal and contained 10 minutes of excitement at either end.
For Louis van Gaal, who might have expected some kind of iced Victoria sponge when he celebrated his 64th birthday at his favourite Manchester restaurant, Wings, after the match, the important thing was that, in contrast to the opening game of last season, it had been won.
"Yes I am 64," the Manchester United manager said with a smile. "The Beatles wrote a song about it and, if you listen to the words, then all my wishes are fulfilled," he added, just able to hold himself back from singing the line about: "Will you still need me, will you still feed me, when I'm 64."
Nobody in the home dressing room pretended it had been won well. The season may have been opening beneath deep blue skies on a perfectly and expensively relaid pitch, but there was too much rust to be kicked off too many boots for it ever to have been a great contest.
Sometimes, it felt like pre-season. Even the decisive goal, which began with Nabil Bentaleb surrendering possession and finished with the ball at Wayne Rooney's feet on the penalty spot, betrayed a lack of sharpness.
Ordinarily, Rooney would have shot instantly but he hesitated for a fraction – time enough for Kyle Walker to take the ball off the tip of the England captain's boots and push it past his own goalkeeper. The Tottenham manager, Mauricio Pochettino, who had seen his side begin brightly, threw his water bottle to the ground in disgust.
"Why did you not ask me about the result?" said Van Gaal when the first question of his press conference asked him to assess the performance. "The most important thing is we have won and there was a lot of pressure on us because last year our start was very bad.
"Maybe I put too much pressure on the team before the match but neither team could cope with the pressure – not Manchester United and not Tottenham. They made our goal because they lost the ball under pressure and shot it into their own net. Tottenham had the first chance and, had they scored from it, this would have been a different game. We were lucky."
Manchester United 1 Tottenham 0 player ratings
Manchester United 1 Tottenham 0 player ratings
1/23 Sergio Romero

He's no David de Gea. The Argentinian had a mixed bag of an afternoon. Impressive in some aspects, but poor in others. He is yet to fully convince. 6

GETTY IMAGES

2/23 Matteo Darmian

The majority of United's play focused on the opposite flank, but Darmian was solid enough, pushing forward and proving that he is a capable crosser of the ball. 6

GETTY IMAGES

3/23 Chris Smalling

Coped well against Kane. Led by example in the air and was a commanding presence. 7

GETTY IMAGES

4/23 Daley Blind

The Dutchman may be versatile, but it remains to be seen whether he should be seen as an option at centre back. 6

GETTY IMAGES

5/23 Luke Shaw

His link up play with Young was encouraging while Dembele got little joy out of the England international. 6

GETTY IMAGES

6/23 Morgan Schneiderlin

The Frenchman gave the ball away in his own third on one occasion, but was largely flawless. Composed and confident. 6

GETTY IMAGES

7/23 Michael Carrick

A quiet game from the midfielder. Much of his work goes unnoticed and his place could be under threat. 5

GETTY IMAGES

8/23 Juan Mata

A lively display from the Spaniard. He drifted into central areas and also hugged the touchline. Could have done better with a couple of efforts. 6

GETTY IMAGES

9/23 Memphis Depay

The boy is certainly confident. Although he didn't enjoy a blistering start, he grew into the game and was always a threat. Looked disappointed to be withdrawn. 6

GETTY IMAGES

10/23 Ashley Young

The midfielder was lively throughout. His attitude has endeared him to the Old Trafford crowd and he played as if it was his debut. 7

GETTY IMAGES

11/23 Wayne Rooney

Missed a glorious chance prior to Walker's own goal. Several nice touches, but not the rampaging display many had predicted now the striker has been installed as the side's attacking spearhead. 6

GETTY IMAGES

12/23 Bastian Schweinsteiger

Best off the bench: Superb passing. Looked sharp, disproving fitness doubts but also gave the ball away on a couple of occasions. Booked. 6

GETTY IMAGES

13/23 Michel Vorm

The Dutchman's handling and composure leaves little to be desired. 5

GETTY IMAGES

14/23 Kyle Walker

Walker was in the thick of the action. His own goal was comical, but he did reasonably well against Young and also broke forward impressively on a handful of occasions. 5

GETTY IMAGES

15/23 Toby Alderweireld

The new signing did not look assured. Although he produced some strong challenges, he was also guilty of needless errors. 5

GETTY IMAGES

16/23 Jan Vertonghen

The Belgian needs to step up to the leadership plate. Booked. 5

GETTY IMAGES

17/23 Ben Davies

A surprise inclusion due to Rose's injury, the Welshman often had his hands full against both Mata and Depay, but the latter rarely got the better of him. 6

GETTY IMAGES

18/23 Eric Dier

Guilty of conceding possession far too often. The midfield experiment has failed. 4

19/23 Nabil Bentaleb

Too many errors in possession. A torrid afternoon for the Algerian, who looked jaded. 4

GETTY IMAGES

20/23 Nacer Chadli

Struggled to impose himself against Darmian and provide support to Kane. 5

GETTY IMAGES

21/23 Christian Eriksen

Things could have been so different had the Dane tucked away an early chance. He created plenty of chances, and threatened himself but could not find a breakthrough. 7

GETTY IMAGES

22/23 Mousa Dembele

Some encouraging runs, but did not to enough to test Shaw. The Belgians best position does not seem to be on the right. 5

GETTY IMAGES

23/23 Harry Kane

Worked tirelessly, fed on scraps but could not convert the couple of sniffs of goal that he had. 7

GETTY IMAGES
Logically, Tottenham should have been in no shape to compete. They had spent most of the week in Munich, playing for the Audi Cup that Van Gaal said was part of "a nowadays world when a manager has to compete with the commercial activities of a club". Spurs had only returned to London on Thursday and yet they began and finished sharply – it was just the middle passage of play after Walker's own-goal that made Tottenham look listless.
"It is frustrating," Pochettino reflected. "After 95 minutes at Old Trafford, Manchester United managed only one chance. Our fitness levels were higher than Manchester United and we finished the game fresher but football is about scoring and we did not."
One of the Argentine's biggest frustrations would have been that Tottenham did not test his fellow countryman in Manchester United's goal. David De Gea watched this match from an executive box, his future at Old Trafford dribbling away with Real Madrid expected to make a £25m offer for the goalkeeper in the next few days. It had been thought United's third-choice keeper, Sam Johnstone, would have started on the grounds he had played four matches on the pre-season tour of America while Sergio Romero had not started a league match since December and had trained with his back four for just two days.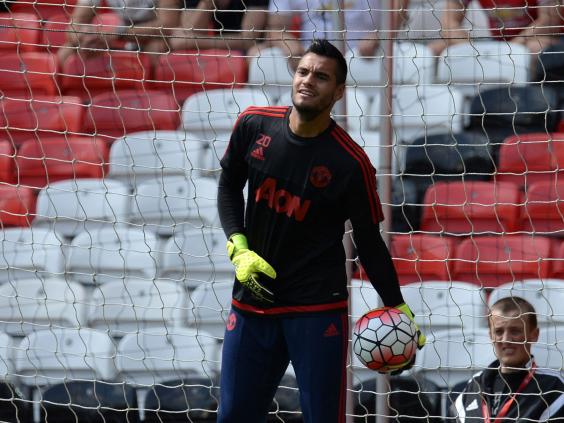 However, had Johnstone conceded early on – as Romero nearly did when a gorgeous flick from Harry Kane sent Christian Eriksen through – he might have disintegrated mentally. Romero, whose goalkicking was dreadful, had lost a World Cup and a Copa America final. He could cope with an early goal and, as the game climaxed, he saved well from both Eriksen and Kane. He was, however, fortunate that he was well protected by Chris Smalling playing alongside Daley Blind, since Phil Jones was absent with illness.
The other debutants had mixed afternoons. Van Gaal singled out Matteo Darmian at right back while Bastian Schweinsteiger, given an ovation merely for warming up, came on to the kind of reception reserved for the truly great and promptly got himself booked. He will improve and so too will the football season.
Reuse content