He was floored by a man in pink boxing gloves in the weekend's most celebrated film clip and as he crashed backwards on to the turf in the season's most watched goal celebration, Wayne Rooney could reflect on the fortune of encountering opposition who were incapable of immobilising him in any such way.
It was a stroke of luck almost beyond belief for him to have met a Tottenham Hotspur side of such featherweight proportions; pathetic in defence, ponderous in possession, turning up to deliver a retro first half performance belonging to the days when Old Trafford was a place to make teams quake.
United seized the opportunity fully and gratefully. The first-half performance – their best of the season – was engineered by Michael Carrick whose architecture revealed the rare and simple beauty of a player who can ship the ball forward, across the turf, with speed of movement and thought. How he has been missed these past seven weeks. It was accelerated by the jet heels of Ashley Young, whose sure but steady rehabilitation ought to have been the main point taken home tonight by Roy Hodgson. The England manager had rather been hoping that Kyle Walker would have looked a little more equal to that contest. Juan Mata, a less obvious choice than Adnan Januzaj to replace the suspended Angel di Maria on the right, was effective in a position which is not his most favoured.
But during the decisive 45 minutes, the overwhelming impression was of Tottenham playing a yellow shade of football; a side whose reputation for counter-attacking speed was sorely deconstructed in a way which came straight from hell for their manager, Mauricio Pochettino. Rooney's bam-bam, bam-bam, fall-over celebration, after he had threaded the ball through the ghostly presence of Eric Dier and collected it again to score, was delicious. The most excellent riposte to the video of him, published on Sunday morning, of him sparring in his own kitchen with his one-time United team-mate Phil Bardsley and falling precariously close to the best units that Prestbury money will buy before crashing to the tiles, beer cans littering the scene.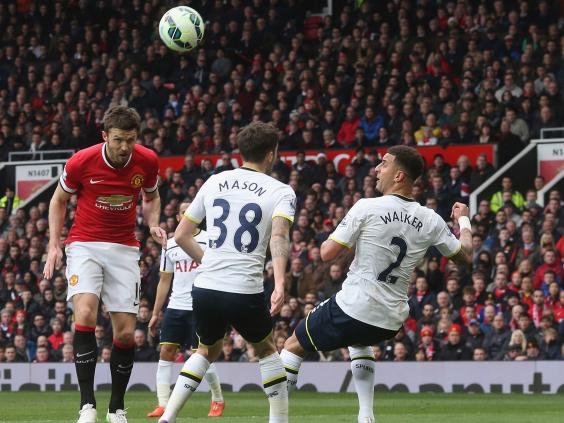 Half a smile seemed to play on Sir Alex Ferguson's face, in the directors' box, after that celebration. But his mind would have been filled with all those times he despaired of Rooney looking after his talents: like the Rooney Boxing Night blow-out with Jonny Evans and Darren Gibson two years ago which earned the player a fine and tested their relationship. How different this morning's headlines would have been, though, had United faced opponents displaying something like competence.
Manchester United 3 Tottenham 0 player ratings
Manchester United 3 Tottenham 0 player ratings
1/23 David de Gea

A quiet afternoon for the Spaniard. 6

GETTY IMAGES

2/23 Antonio Valencia

United had less joy down the right than the left, Valencia had a solid game and was rarely troubled in defence. 6

GETTY IMAGES

3/23 Ander Herrera

Passed the ball well, if a little conservatively. The chances didn't fall to him on the day. 6

GETTY IMAGES

4/23 Michael Carrick

Provided the assist for Fellaini's goal with a perfectly weighted pass before blasting a header into the bottom corner for United's second. 8

GETTY IMAGES

5/23 Chris Smalling

Outmuscled Harry Kane on the odd occasion when Tottenham looked to build an attack. His passing was improved. 7

GETTY IMAGES

6/23 Phil Jones

Played well as Tottenham tried to advance in the second half. Distributed the ball well enough. 7

GETTY IMAGES

7/23 Daley Blind

Made some good progress down the left and works well pushing forward in attack. 7

GETTY IMAGES

8/23 Marouane Fellaini

Cool, calm and collected for his goal. His physical presence led to the second goal. A really impressive performance. 7

GETTY IMAGES

9/23 Juan Mata

Came into the game with the purpose to stake a claim for first-team football. Pressed the ball hard and was very energetic but is not suited to a role on the wing. 7

GETTY IMAGES

10/23 Wayne Rooney

Seized upon a loose pass from Eric Dier and sythed through the Tottenham defence before finishing well. Probably the goal celebration of the season to boot. 8

GETTY IMAGES

11/23 Ashley Young

Ran riot down the left and caused a number of good chances. 7

GETTY IMAGES

12/23 Hugo Lloris

It's hard to work out his performance considering the shambolic defending in front of him and some clinical finishing from United. Made no glaring errors. 5

GETTY IMAGES

13/23 Kyle Walker

Played some risky passes in front of his own goal and showed some sloppy ball control. A day to forget. 5

GETTY IMAGES

14/23 Eric Dier

Didn't track the run of Fellaini for the first goal and left Hugo Lloris exposed. Appalling back-pass that let Rooney in for United's third. 5

GETTY IMAGES

15/23 Jan Vertonghen

Beaten at all ends by Rooney as the striker slotted home United's third. Poor, poor performance. 4

GETTY IMAGES

16/23 Danny Rose

Probably Tottenham's best defender on the day as United exploited the opposite flank relentlessly. Looked to get forward well but didn't have a lot of joy. 6

GETTY IMAGES

17/23 Nabil Bentaleb

Failed to pressure the United attack as they had their way in the Tottenham half. 5

GETTY IMAGES

18/23 Ryan Mason

Had an abject first half before being subbed in the second. Couldn't influence the game. 4

GETTY IMAGES

19/23 Andros Townsend

Taken off on 32' and looked furious. He was having a woeful time before he was subbed as United repeatedly flew down the Tottenham left. 4

GETTY IMAGES

20/23 Christian Eriksen

Is not suited to a game where his team are under siege for the majority of the match. 5

GETTY IMAGES

21/23 Nacer Chadli

So much negative passing. Part of a Tottenham midfield that made a poor United defence look very strong. 4

GETTY IMAGES

22/23 Harry Kane

Found himself outnumbered on the rare occasions that Tottenham got the ball in United's half. Spurs had no use for a striker on a day like this. 5

GETTY IMAGES

23/23 Off the Bench: Mousa Dembele

Didn't provide Tottenham with anything more following his introduction. 5

GETTY IMAGES
For 10 minutes, it looked like United would face a sober examination. "Never say die" was the headline on the front of the match programme and it had begun to feel like this season was a rescue mission. The way United began showed why: tentative, careless, with a central defensive pairing in Chris Smalling and Phil Jones who needed no time to look precarious.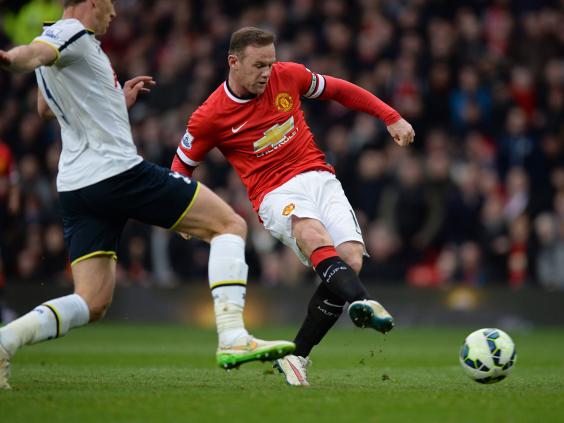 It was against every expectation that they picked up the pace. Carrick helped, navigating the passes which got the side moving. But a terrible fault line in the Spurs defence – down United's left – was the key. While Young tortured Walker, with Danny Blind supporting profitably on the overlap, Andros Townsend was incapable of tracking back to support. Townsend was substituted on the half hour though the damage had been done by then. Eric Dier was… well… dire, allowing Fellaini to dominate him. Ryan Mason was unable to provide any level of protection for the defence he was supposed to be shielding.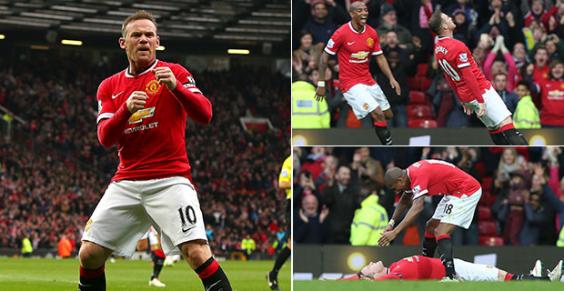 It took nine minutes for Fellaini, for whom the first half was his high point in a United shirt, to stride on to the pass Carrick laid into the left hand channel and despatch the ball left-footed beyond Hugo Lloris. The failure to deal with a corner allowed United to double their lead before 20 minutes. Rooney's placement found Fellaini's head and Nacer Chadli's decision to head out a ball that Lloris would have gathered comfortably sent it straight to Carrick. He wrapped up the phase of head tennis by sending it straight back into the net. From a distance of 18 yards, it was a feat of some accuracy from him.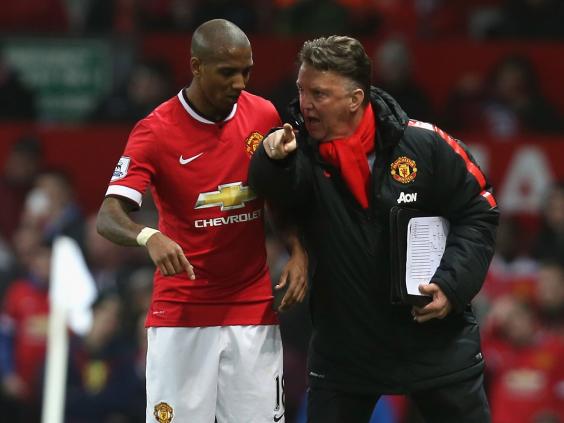 Pochettino's decision to send on Mousa Dembélé was immaterial in the face of defending which was no way short of pathetic, ahead of United's third. Nabil Bentaleb surrendered up a pass to Rooney before the Spurs defence parted like a tide. As usual, the suicidally high defensive line Spurs play contributed to the problem, lending Carrick's passes a particular menace.
Louis van Gaal glowed when fielding a question suggesting he had isolated Harry Kane. "When I answer this question, I am again arrogant and like that so I cannot answer that. You have seen it. Write it down," he advised. But Spurs had not advanced enough for the concern about the forwards to exist, before or after Pochettino had switched Kane to No 10 behind substitute Emmanuel Adebayor, playing his first league football in two months. "Tottenham are a team that want to play football so you have more time and space," Van Gaal also suggested.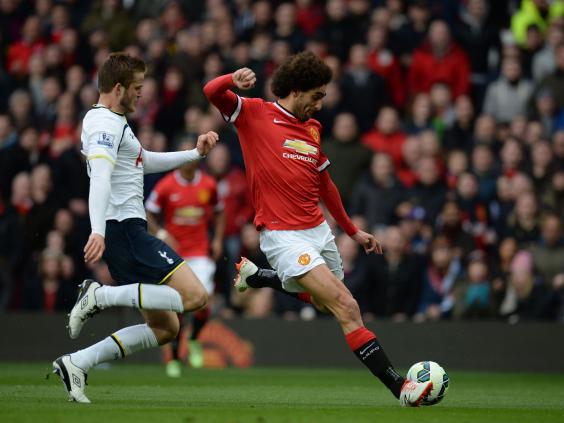 A few crumbs fell for them after the break. Mason arrived in front of the box with a well-timed run and feinted around Carrick but could only put the ball wide. Dembélé fired six feet over for a side who were six feet under. For United Ander Herrera hit the side netting just beyond the hour when he had freedom of expression on the right side of Lloris' box.
The result delivers United to within two points of Manchester City, an unthinkable proposition before the past few weeks, and a mere point behind Arsenal. It does not reflect the football they have been playing. The weekends of City and Chelsea – catastrophic and stuttering in that order – has represented good fortune in proportions that the team, and their captain, can scarcely have imagined.
Line-ups:
Manchester United (4-2-3-1): De Gea 6; Valencia 6, Smalling 5, Jones 6, Blind 6; Herrera 6, Carrick 8 (Rafael 87); Mata 7 (Pereira 77), Fellaini 8 (Falcao 83), Young 8; Rooney 7.
Substitutes: Rafael, Falcao, Januzaj, Lindegaard, Blackett, Wilson.
Tottenham Hotspur (4-2-3-1): Lloris 5; Walker 4, Dier 4, Vertonghen 5, Rose 6; Bentaleb 6, Mason 6 (Lamela 64); Eriksen 5, Chadli 6 (Adebayor 79), Townsend 4 (Dembele 31); Kane 5.
Substitutes: Chiriches, Paulinho, Lamela, Vorm, Davies.
Reuse content