Zlatan Ibrahimovic celebrated his 35th birthday on Monday while later this month Wayne Rooney turns 31. They are linked by experience and ability but only one seems to have a future at Manchester United.
Both are street footballers from uncompromising neighbourhoods. Rosengard in Malmo and Croxteth in Liverpool were big, post-war housing developments where only the tough and the streetwise survived.
Both made their big moves in the same year, 2004, Rooney to Manchester United, Ibrahimovic to Juventus. Neither has translated their extraordinary ability to international tournaments.
However, despite the brashness of his opinions, his love of fast cars, Ibrahimovic has always taken his fitness extremely seriously. The son of a bricklayer and sometime singer who suffered problems with alcohol, Ibrahimovic is not a drinker.
"He is unbelievable," said his team mate, Ander Herrera. "He hasn't missed one training session. He trains every day and tries to get everyone to the highest level. He is very, very aggressive and demanding but in a good way because he wants to win every training session.
"If you watched a game and didn't know Zlatan's age, you would think he was only 28 or 29. I am not young and not old [Herrera is 27] but he is an example for me as well. If you behave like a professional, you can be at a top club when you are 35.
"You see the way he behaves, the way he trains even before the session starts. He is always stretching, taking care of his body."
Since becoming a client of the Italian physiotherapist, Dario Fort, Ibrahimovic has suffered only one significant injury in six years, missing a month and a half of the 2014-15 season. Fort, who first began treating him when Ibrahimovic played for Milan, has followed him to Paris and now Manchester.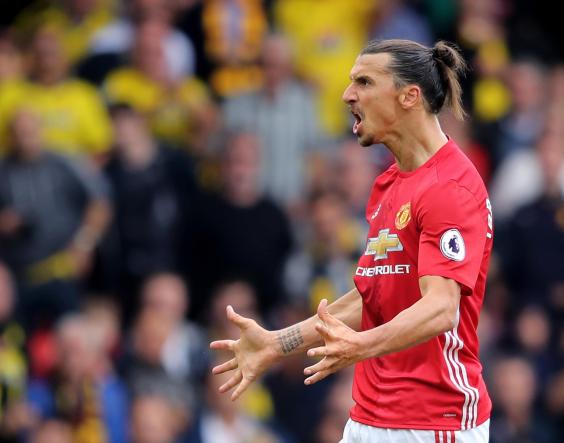 Interestingly, when his relationship with Pep Guardiola at Barcelona was breaking down, Ibrahimovic was offered a move to Manchester City. He turned it down because he thought he was too old for the kind of long-term project City were trying to sell him in 2010. He was 29 and felt time was not on his side. In this Zlatan was wrong.
Time is now Rooney's great enemy. Manchester United may have opened the scoring a few minutes after he came on as a substitute but the 24 minutes Rooney played against Stoke on Sunday were among the most dispiriting of his time at Old Trafford.
He was involved in the build-up to the United goal but only because he lingered too long on the ball. It was not down to him that Geoff Cameron's clearance landed at the feet of Anthony Martial. There were some ropey touches, a few directionless crosses and then off to the strains of 'Glory, Glory Man United.'
Rooney deserves his place in the Manchester United pantheon. He may not be counted in the same terms as Ryan Giggs or Paul Scholes but his contribution has been at least as great as David Beckham's.
Giggs played for Manchester United in his forties. Scholes and Beckham extended their top-flight careers until they were 38. It would be hard to imagine Rooney running at defenders beneath the Stretford End during the 2023-24 season. It is hard enough to imagine him doing it next year.
Rooney is not known as a big drinker but his attitude to fitness would not be very different from Fred Trueman's.
When asked if he fancied doing a few laps of Headingley before a game, the self-styled 'greatest fast bowler who ever drew breath' would snort that he 'got fit by bowling, sunshine'.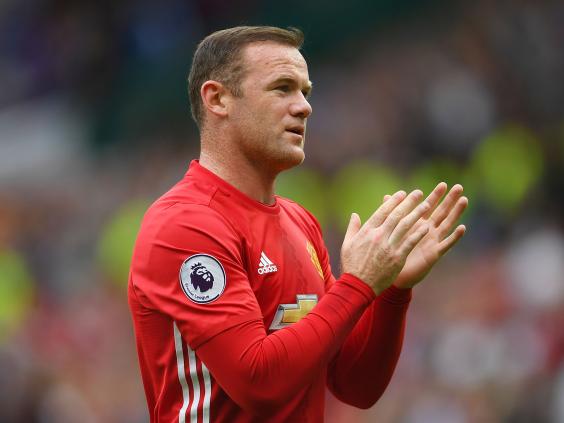 Rooney is the same. His fitness derives from playing, whether at Old Trafford or on the training pitches at Carrington. He is a great ball player rather than an athlete.
It would be interesting to know if Jose Mourinho talked to Sir Alex Ferguson about Rooney because Ferguson's final opinion on the forward, published in his second volume of autobiography, was damning. Rooney, said Ferguson, would not last.
"He had great qualities but they could be swallowed by a lack of fitness," he wrote. "Look at the way Cristiano Ronaldo or Ryan Giggs looked after themselves. If he missed a couple of weeks for United, it could take him four or five games to get his sharpness back."
Manchester United vs Stoke player ratings
Manchester United vs Stoke player ratings
1/22 David de Gea

Didn't have much to do but fluffed his lines when called upon and let Stoke equalise. 5

2/22 Antonio Valencia

Not overly busy and managed to keep his shirt rigorously tucked in all game. 6

3/22 Eric Bailly

A solid game, continues to impress. 6

4/22 Chris Smalling

Not much to do but reliable enough. 6

5/22 Daley Blind

Give us this day our Daley Blind. The versatile Dutchman was reliable as ever. 6

6/22 Ander Herrera

Should he have been sent off? Let Robbie Savage debate that. As it was he had a decent game. 6

7/22 Paul Pogba

What does £100m get you these days? A decent if largely uninspiring game against Stoke, that's what. 6 Jesse Lingard: An encouraging performance before being subbed in the second half. 6

8/22 Jesse Lingard

An encouraging performance before being subbed in the second half. 6

9/22 Juan Mata

Subbed for Rooney in the second half, but solid enough before that. 6

10/22 Marcus Rashford

Oh he's quite good isn't he? Always lively but couldn't get on the scoresheet. 6

11/22 Zlatan Ibrahimovic

Denied on multiple occasions, a frustrating afternoon, particularly for anyone who made him their Fantasy Football captain. 6

12/22 Lee Grant

He might have a name straight out of a 90s boyband but he had a stormer in goal. 8

13/22 Glen Johnson

Lively going forward, occasionally suspect in defence - I feel like we know this about Glen Johnson by now. 6

14/22 Ryan Shawcross

Largely kept United at bay, solid enough. 6

15/22 Bruno Martins Indi

Continues to look a good signing for Stoke. 6

16/22 Erik Pieters

Reliable if a little uninspiring. 6

17/22 Geoff Cameron

Unlucky that his great tackle provided the assist for United's goal. 6

18/22 Glenn Whelan

Played to the best of his abilities but wasn't exactly superlative. 6

19/22 Xherdan Shaqiri

The Alpine Messi? Not on the basis of this. Could do better. 6

20/22 Joe Allen

Smashed it in from a yard out to equalise, got fouled a lot. Solid game. 7

21/22 Marko Arnautovic

Sulked quite a lot and got subbed in the second half. Not his best game. 6

22/22 Wilfried Bony

Where is the striker who terrified defences at Swansea? Not here today. 6
His peak, Ferguson thought, was around 26, in the seasons when Manchester United reached three European Cup finals in four years.
There would be moments, like the overhead kick against Manchester City and the gorgeous pass to Robin van Persie against Aston Villa that won Ferguson his final Premier League title, but the path would generally lead downhill.
"He struggled more and more to do it for 90 minutes," said Ferguson. He was struggling to do it for 24 on Sunday and it was perhaps not helpful for the Chinese FA's marketing director, Li Jiuquan, to remark how popular Rooney remains in China.
Last week, Ibrahimovic's agent, Mino Raiola, revealed how his player had turned down a 100m euro deal with the Chinese Super League in the summer because he felt his career had a distance to run. Whether you can say the same of Rooney is open to question.
Reuse content