Manchester United have known for several years that a suspicion of football agents can have unhappy consequences. Sir Alex Ferguson's distaste for Mino Raiola, Paul Pogba's representative, got to a stage where he would no longer entertain the contractual demands for the player. So Pogba took his services to Juventus for next to nothing and a sum of €90m was not enough to bring him back to England, when Manchester City tried last summer. 
But the financial consequences of crossing swords with Raiola are nothing compared with the dangers of a deepening dependency on the Portuguese Jorge Mendes. It will begin to feel like a Mendes annexation if United's drift towards signing the agent's prime managerial client – Jose Mourinho – results in him arriving at Old Trafford this summer. 
United's options are narrowing, with Ryan Giggs, championed by Ferguson, the only alternative candidate and time in short supply, now that their attempts to ascertain whether United's reputation might tempt Pep Guardiola have drawn a negative reply. Ferguson may have worked football's back corridors to establish the strength of Guardiola's resolve to join Manchester City. 
If Mourinho does arrive, with United not rejecting suggestions of contact on Friday night, then we will see two distinct power bases coming into sharper view at Old Trafford. Ed Woodward, the executive vice-chairman, will be aligning himself with Mendes – the man who has brought him Angel Di Maria, Radamel Falcao, Anthony Martial and kept David De Gea at the club. The Giggs advocates are those of the "old" United: Ferguson, his one-time chief executive David Gill and the Class of '92. The second group are becoming marginalised, with United's Football Club Board, including Ferguson, Gill, Mike Edelman and Sir Bobby Charlton, less influential now. Gill told BBC's Sportsweek last month that the Football Club Board "has much more of an ambassadorial role". 
If Woodward stakes United's future on the Mourinho/Mendes axis, we can expect to see a great deal more of the super-agent around Old Trafford. By the end of 2011, Mourinho's second year at Real Madrid, Mendes had Mourinho, Cristiano Ronaldo, Pepe, Ricardo Carvalho, Fabio Coentrao, Di Maria and Marcelo Vieira as clients at the Bernabeu. That's half a team: a huge power base that could potentially affect whether a manager gets the sack and who is signed.
We've already witnessed this danger in microcosm at Old Trafford. United were phlegmatic about the failure of Bebe, one of Ferguson's worst signings, in 2010, because of the knowledge that other clients might flow from the same well of the Mendes Gestifute agency. Sure enough, De Gea arrived from Atletico Madrid 12 months after Bebe. Make no mistake: Mendes' loyalties are with his clients, not United. 
His presence can permeate a club. One source tells of how Mendes virtually had an office in Real's Valdebebas base when Mourinho was there, and was free to wander everywhere bar the gym and dressing room, enjoying the free breakfast buffet with the coaching staff in the cafeteria every morning, joking with his own band of client players. 
That would be anathema to Ferguson, even though he has described Mendes as "the best agent I've dealt with, without a doubt". But that position of power is available because of the chronic lack of pure football experience among those controlling Old Trafford.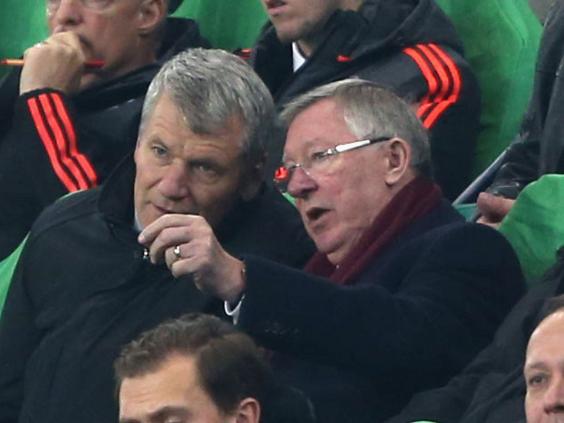 Gill's departure, concurrent with Ferguson's, compounded the problem. It was perhaps not fully appreciated at the time how much more than match-to-match management Ferguson, with his vast footprint and reputation, was making happen. His nod was all that United needed where signings were concerned. Planning for three years into the future was straightforward because Ferguson, the man who started something, was always going to be there to see it through. 
If United were to start from scratch and set up a football business today, there is no way they would put the responsibility to identify, evaluate, negotiate for and sign up players solely in the hands of an executive vice-chairman whose experience lies in the corporate world. "Who's the next manager?" may be the question on everyone's lips but what the club need most is an individual with a track record in football, not business, operating at the top of the club on football issues, particularly acquisitions. In the vacuum, it feels like a tract of the football side of the business is being outsourced to Mendes. 
Who might Mourinho try to sign at Man Utd?
Who might Mourinho try to sign at Man Utd?
1/11 John Stones

Mourinho's admiration for the Everton defender is well known with the Portuguese coach understood to have been behind Chelsea's bids for the England international last summer. Everton refused to relent back then but an offer of even more money from Manchester United might be too tempting to turn down.

Getty

2/11 Cesc Fabregas

Fabregas was understood to be on Manchester United's radar when he left Barcelona for Chelsea and the Spain international is of the quality that would improve United's current squad. Despite the reports that the former Arsenal player was among those who forced Mourinho out at Stamford Bridge, he was one of the few to speak publicly in glowing terms of Mourinho. "Thank you for all you have done for me," he wrote on Twitter. "I owe you a lot and we will all miss you. Good luck in the future."

Getty

3/11 Gareth Bale

Manchester United hold a long-term interest in Bale and Mourinho's arrival will only strengthen their determination to sign the Wales international. It's been suggested that the Real Madrid forward has been put off moving to Old Trafford due to the uncertainty surrounding the club, but the appointment of Mourinho would go a long way to dispelling fears that Manchester United are a club in flux.

Getty

4/11 Alvaro Morata

Alvaro Morata has caught the eye of Arsenal, Chelsea and United, but the appointment of Mourinho as manager could give the Manchester club the advantage. Any move for Morata is likely to involve Real Madrid, and Mourinho's good relationship with his former club would help smooth over negotiations.

Getty

5/11 Raphael Varane

Manchester United spent much of last summer pursuing Sergio Ramos, but a repeat attempt to sign the Real Madrid centre-back appears highly unlikely if Mourinho takes charge due to their tempestuous relationship during their shared time at the Bernabeu. A move for Ramos' fellow centre-back Varane does seem plausible though, with Mourinho signing the defender from Lens and giving him his opportunity at Real Madrid.

Getty

6/11 Paul Pogba

Who doesn't want Paul Pogba? Despite claims the midfielder will move to Barcelona in the summer, nothing has been confirmed and while that remains the case the France international will continue to be linked with big-money moves elsewhere, including a return to Manchester United. Chelsea reportedly made a huge bid for the 22-year-old last summer, confirming that Mourinho is a fan.

Getty

7/11 Andre Gomes

The Valencia midfielder emerged on United's radar before Mourinho was linked with the club, but he appears to be a fan of the 22-year-old. One problem will be Valencia's valuation, which currently sits in excess of £40m.

Getty

8/11 Luka Modric

Mourinho revealed that he tried to sign Modric for Chelsea in 2014, confirming that a reunion with the player he worked with at Real Madrid appeals. It was Mourinho who signed the Croatian from Tottenham in 2012 and with the 30-year-old still operating at the top level on a consistent basis, he would certainly have something to offer Manchester United.

Getty

9/11 Joao Mario

Joao Mario is wanted by Mourinho after the Sporting Lisbon midfielder impressed his compatriot. Valued at around £27m, the 23-year-old would be an expensive acquisition for United, but he could follow in the footsteps of Cristiano Ronaldo in heading to Old Trafford from the Portuguese club.

Getty

10/11 Ezequiel Garay

Garay worked under Mourinho at Real Madrid, but while he is being linked with a move to United, it's uncertain if he would be considered a first-team starter. Garay was sold by Mourinho to Benfica in 2011, having failed to impress the Portuguese, and he could be brought in to try and add the defensive depth that United are clearly lacking.

Getty

11/11 Mauro Icardi

The Inter Milan captain has reiterated his commitment to the Italian side, but offers are still expected to be made for the 23-year-old with both United and Arsenal linked with the striker as well as Chelsea.

Getty
Mendes will argue that he was the man who delivered Martial to Old Trafford when their search for a striker had come to nothing and that he kept De Gea in Manchester. But perhaps United should be interested in the bemusement felt by Real Madrid when they found that Mendes was in Monaco, seeing Martial on his way, rather than Madrid, helping the Real president, Florentino Perez, sign De Gea: a deal that ended in farce and acrimony. There are conflicts of interest all over the place with individuals like Mendes. He is smart, experienced, impressive and influential, but that's no reason to put United's destiny in his hands.
Clubs' mean attitude to away fans is scandalous
Is there a story to make your heart sink more than the dismal, avaricious, myopic unwillingness of our Premier League clubs to increase the sum that each of them commits to improving away travel for fans from £200,000 to £500,000? We've already seen some of them effectively fiddling the system, claiming that painting a few walls and brightening up the environment constitutes their part of the £200,000 annual spend, when that would have been done anyway. The request was that they increase their subsidy towards away match tickets from £5 apiece to £12. And they said no, ahead of the new TV deal which reaps a collective £5.1bn. "Scandal" does not seem an inappropriate term.
Will cricket's big three really share wealth with the rest? 
Credit where it's due. The International Cricket Council's new chairman, Shashank Manohar, who replaced the odious  N Srinivasan last year, said last week that he would address the imbalance of the sport's big three – Australia, England and India – and see that other nations have a say in the sport. He will discuss with India's cricket board his idea of sharing 6 per cent of that country's vast revenues from the sport with others outside the triumvirate. 
Yet that share-out is dependent on India saying "yes" – and why should they? Only when the ICC adheres to the 2012 Woolf Report into cricket governance and appoints five directors who are independent of member countries can we say the sport is on the way towards good governance. 
Is Manohar shining a light or emitting hot air? We wait to find out.
Reuse content