There is a photograph on Ed Woodward's desk at Manchester United of the scoreboard in Olympiakos's Karaiskakis Stadium, moments after David Moyes' team had fallen two goals behind in a Champions League last 16 first-leg tie in February 2014.
Woodward was also caught on camera as he took the picture on his mobile phone, looking in the opposite direction as Sir Bobby Charlton grimaced and fellow director Michael Edelson held his head in his hands.
It was an awkward image, but United's executive vice-chairman confessed to grabbing the picture in order to have a permanent reminder of the lowest point of his tenure, something to smile about once the good times began to roll and the faltering steps in the aftermath of Sir Alex Ferguson's retirement were nothing but a distant memory.
Who knows whether the photograph remains facing upwards on Woodward's desk, but as United prepare for the resumption of the Champions League this week with only a Europa League tie against FC Midtjylland to look forward to, it is safe to suggest that the man charged with running the club by the Glazer family is yet to find reason to chuckle at any reminder of that frozen moment in Piraeus.
This coming Saturday marks three years since the confirmation of Woodward's promotion to the top job at Old Trafford, with the former JP Morgan investment banker-turned-commercial guru handed the task of replacing the retiring chief executive, David Gill, by the Glazers.
But neither Woodward nor the Glazers would have anticipated the third anniversary being marked by a trip to a sleepy corner of Denmark in a competition best described as the Champions League's ugly sister.
Central Jutland, on a Thursday night, at the same time as United's expensively assembled squad languish in fifth position in the Premier League, is as much a nightmare scenario as was possible to imagine when Gill handed in his notice three years ago, but the alarming reality for Woodward and United is that life in the Twilight Zone is beginning to become the norm for England's biggest club.
The only significant achievement of Woodward's reign to date would seem to be that of making Manchester City a more attractive destination than United for the world's most sought after coach, Pep Guardiola.
When Gill and Ferguson vacated the stage in May 2013, United stood tall as Premier League champions, with Old Trafford still a place where opponents feared to tread.
But the last three years have been nothing short of disastrous and Woodward's inability to steer the club back on course now merits the same scrutiny as applied to the ill-fated Moyes and Louis van Gaal, whose failure to replicate the successes of his earlier career with Ajax, Barcelona and Bayern Munich has left the team drifting aimlessly in the doldrums, playing a brand of football enjoyed only by insomniacs.
Woodward has had to learn on the job, discovering that the world of transfers and recruitment is wholly different to selling shirt space to brands and companies desperate for a sprinkling of United's stardust.
Sunderland 2 Manchester United 1 player ratings
Sunderland 2 Manchester United 1 player ratings
1/22 Sunderland: Vito Mannone - 6 out of 10

Perhaps could have done better in build up to Martial goal, but made a couple of good saves.

2016 Getty Images

2/22 Deandre Yedlin - 6 out of 10

Lively going forward, less certain in defence.

2016 Getty Images

3/22 John O'Shea - 8 out of 10

A solid game at the back, doing well to stifle United.

2016 Getty Images

4/22 Lamine Kone - 8 out of 10

Combined well with O'Shea to keep United quiet mostly and scored winning goal.

2016 Manchester United FC

5/22 Patrick van Aanholt - 6 out of 10

Is quietly having quite a decent season, always posed problems going forward in attack.

2016 Getty Images

6/22 Jan Kirchhoff - 5 out of 10

Injured early on and replaced by Jack Rodwell.

2016 Getty Images

7/22 Lee Cattermole - 6 out of 10

A workmanlike performance that helped contribute to a crucial win.

2016 Getty Images

8/22 Yann M'Vila - 7 out of 10

Combined well at times with Khazri as Sunderland outplayed United in midfield.

2016 Getty IMages

9/22 Wahbi Khazri - 8 out of 10

Particularly bright in first half where he appeared to be absolutely everywhere, scoring one and coming close on several occasions.

2016 Getty Images

10/22 Dame N'Doye - 6 out of 10

A quiet-ish game up front, but cause United the occasional problem.

2016 Getty Images

11/22 Jermain Defoe - 6 out of 10

Not perhaps fully fit, and could probably have done better with a couple of good chances, but always looked dangerous.

2016 Getty Images

12/22 Manchester United: David De Gea - 7 out of 10

Could have been worse for United without some of his saves.

2016 Getty Images

13/22 Matteo Darmian - 6 out of 10

Looked quite good, particularly going forward, but then got injured in first half.

2016 Getty Images

14/22 Chris Smalling - 6 out of 10

Not at the same level as some of his other performances this season.

2016 Getty Images

15/22 Daley Blind - 6 out of 10

Made one excellent last ditch block, but seems wasted in central defence.

2016 Manchester United FC

16/22 Cameron Borthwick-Jackson - 5 out of 10

Was he even playing? Failed to have much influence on the game.

17/22 Morgan Schneiderlin - 5 out of 10

Outplayed by the opposition midfield.

2016 Manchester United FC

18/22 Michael Carrick

Didn't impose himself on the game at all. Disappointing.

2016 Getty Images

19/22 Jess Lingard - 5

Subbed in second half but had had a fairly quiet game until that point.

2016 Manchester United FC

20/22 Juan Mata - 6 out of 10

The only bright spot in United's midfield, particularly in the first half. Looked a threat in the middle, pulling the strings.

2016 Manchester United FC

21/22 Anthony Martial - 7 out of 10

The only bright spot in United's midfield, particularly in the first half. Looked a threat in the middle, pulling the strings.

2016 Manchester United FC

22/22 Wayne Rooney - 6 out of 10

A quiet game although was not given much service up front.

2016 Manchester United FC
If he was pushing at an open door when dealing with clients at United's commercial headquarters in Mayfair, Woodward has fumbled for his keys while trying to unlock those with superstar footballers or managers behind them.
On Woodward's watch, United have tried and failed to land Cristiano Ronaldo, Gareth Bale and Neymar, yet somehow managed to sign Marouane Fellaini for a fee greater than his Everton escape clause and pay over the odds for the likes of Juan Mata and Angel Di Maria – despite both players being unwanted by Chelsea and Real Madrid respectively.
Yes, the commercial deals have continued to stack up, but how long will the United gravy train continue to chug away with a team that now regards fourth place as the Promised Land and one which has not even threatened a trophy, never mind won one, since Ferguson walked away three years ago?
Chevrolet and Adidas pay a combined £128m a year to have their logos splashed across the United shirt, yet when the deals were signed they surely imagined those red jerseys being worn in the Nou Camp and Allianz Arena rather than the intimate surroundings of the 11,800-capacity MCH Arena this Thursday.
In many respects, Woodward has been the perfect boss for Moyes and Van Gaal, signing cheques to the tune of more than £300m in order to recruit the players demanded by his managers. But perhaps this generosity has been his greatest weakness.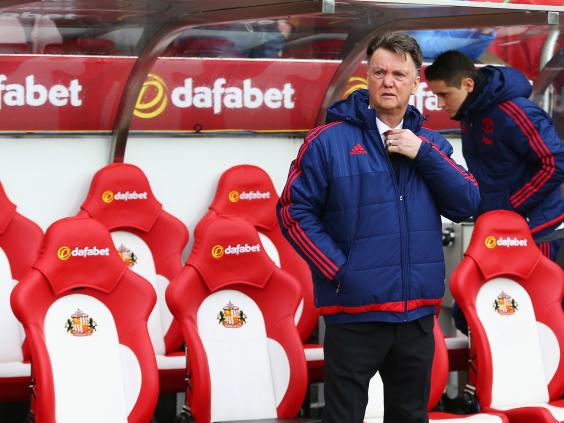 Woodward does not appear to be a man who readily says "no", with Van Gaal getting everything he has asked for, from new pitches and analysis equipment at the club's training ground to a succession of signings of dubious quality.
Van Gaal has also benefited from his superior's patience, with the Dutchman holding on to his job following a terrible December thanks solely to Woodward's determination to stand by his man.
Moyes was also given the benefit of the doubt by Woodward, with the Scot finally sacked in April 2014 when there had been strong calls from within the club to act two months earlier.
Woodward has so far failed to display the hard-headed ruthlessness required at the highest level of the game, however, and this inertia is contributing to United's decline.
Decisions are delayed or fudged and there is little sense of the certainty and vision shown across town at City, who have dealt neatly and swiftly with Guardiola's recruitment and left United in their wake.
Similarly, while Woodward talks of getting "elbows deep" into the job of restructuring United's academy and replacing Brian McClair, who left his post of academy director last May, City announced Simon Davies as Patrick Vieira's successor as their academy supremo within days of the Frenchman's move to New York City FC in December.
But perhaps the trip to Midtjylland will help focus minds at Old Trafford. When City played the Danes in the Uefa Cup back in August 2008, the club's then chief executive, Garry Cook, was busy briefing senior colleagues that "something big" was in the offing and that an attempt to hijack United's bid for Tottenham's Dimitar Berbatov was being plotted.
Four days later, Sheikh Mansour bin Zayed al-Nahyan swooped to buy the club before bidding for Berbatov and ending up with Robinho.
Midtjylland was the moment it all started to move for City and Woodward needs to find a way for the same trip to trigger something for United.
Premier League can learn from New York state of mind
I spent an evening watching the New York Knicks at Madison Square Garden during a trip to New York last week and, with the relationship between Premier League clubs and supporters brought into sharp focus by Liverpool's aborted ticket hike, the treatment of paying punters in the States was summed up by the stewards ushering fans away at the end of the game.
"Thank you for coming and have a nice night," they said, time after time. 
A simple show of appreciation goes a long way.
China move might not take the biscuit – just ask Gazza
With China now becoming a lucrative destination for the world's leading players, any British footballers considering a move to the Far East should recall Paul Gascoigne's brief spell with Gansu Tianma in 2003.
"I was so bored and restless in China that I used Jammie Dodgers to go fishing," Gascoigne said. Makes a change from 18 holes at the nearest golf club.
Reuse content