Tony Pulis's Crystal Palace miracle has been made up of lots of little changes and improvements, none of them more impressive than those involving Marouane Chamakh.
When Pulis took over at Selhurst Park in November, he was expected to drag the team back to basics in an attempt to avoid relegation from the Premier League. However, instead he has built a side to make the most of Chamkah's selfless intelligence. Trusted to play just behind Cameron Jerome up front, Chamakh, reinfused with the faith of his manager and fans, has started to play his best football since his first few months in England, after Arsène Wenger signed him for Arsenal from Bordeaux in 2010.
"I cannot explain how I feel," the Moroccan – buoyant and enjoying his football again – tells me when we meet at Canary Wharf. "I feel very, very good. Because I didn't play too much in Arsenal, I played the first six months and after, when Robin [van Persie] came back, I didn't play. And at West Ham too [where he went on loan], I played maybe two or three games, no more. I am very, very happy now."
It has been a memorable few months for Chamakh, and a testament to the transformative power of confidence, form and belief. For this he is very grateful to Pulis, whom he backed to win manager of the year for his remarkable rescue job. "It was not easy for him because he came in November and we were bottom," remembers Chamakh. "He maybe only knew one player, Cameron Jerome. He didn't have all of his staff either and it was very hard for him."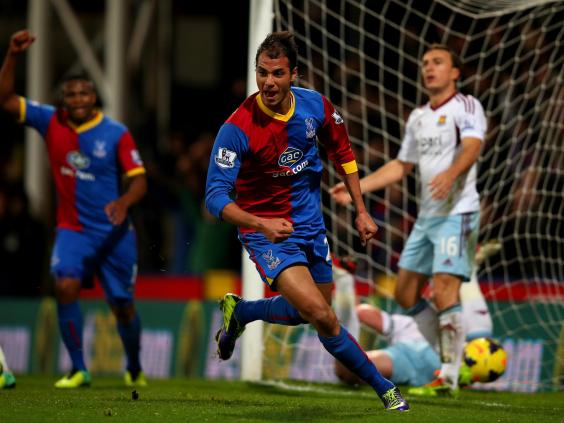 But Pulis, in one of the great managerial feats of recent years, shook Palace up and drove them up the table. "We really worked differently with the new manager," Chamakh explains. "We followed his rules. He didn't change a lot, just a little bit but it really worked for us."
Only Chelsea have conceded fewer goals since Pulis took over, and that is down to rigorous work on the training ground. "We defend really well under him, but when we have the ball, we can kill the opposition," Chamakh says.
"We worked much more without the ball. From Tuesday we were already working for the game on the Saturday. We would really focus on the game, it gave the confidence to all the players. It would be crazy before the game because we would all give 200 per cent. We'd give everything."
While Pulis's focus is on the collective, he is also fiercely supportive of individuals and brings the very best out of each of them. "The manager is fantastic," enthuses Chamakh. "He would talk differently to every player, he found something in every player. He is very good at managing the players. We don't have the same players as other clubs, that is why the gaffer takes 100 per cent from us."
Results and performances soon turned around, and Palace stayed up with almost surprising ease. There have been eye-catching displays against the big teams – not least the dramatic 3-3 draw with Liverpool on Monday – but for Chamakh the most important wins came when they were still involved in the relegation dog-fight.
"I think the best result was not against Chelsea, Liverpool, but the game against Norwich, West Brom, and Cardiff. They were really important because after we won these games, they were really good points."
Chamakh has scored five goals but his contribution within Pulis's unit has been excellent. Almost functioning as a withdrawn target man, he can dominate physically as well as linking up Palace's attacks.
"It is different for me," Chamakh says. "Now I have the ball in front of me. It is different but I like it." After two years on the fringes, the striker relishes the chance to be this heavily involved.
"If you say to play right-back, I am going to play right-back, because I want to play. I know I am not going to be good at right-back, but I want to play. If the gaffer says 'go and play here', I cannot say no, I really want to play, so wherever he tells me to play, I will play. Because I really like football, I really like playing."
That, ultimately, is the reason it did not work out for Chamakh at Arsenal. "That is why I had to leave Arsenal," he says. "It was too difficult to stay and play maybe five minutes every three games, or sometimes not playing. I think I made a really good decision, I am proud of that choice."
The fans at Selhurst Park, the loudest Chamakh has ever heard, have been impressed. "In England, the most important thing is to give everything," he adds, and his supporters appreciate that.
"It is crazy," adds Chamakh, recalling his encounters with Palace's away support on trains back from Manchester and Liverpool. "Sometimes when we play away I have travelled back by train with the fans. We were talking for, like, two hours and I can see how they love this team and this club. It is crazy how much they love the team – they are talking about the gaffer, the players, about everything and they don't stop. They even invited me for a drink."
The bond is such that Chamakh, out of contract this summer, would love to sign a new deal at Selhurst Park. "That is my priority," he says, "because I am at the end of my contract, and my priority is to stay at Crystal Palace for one or two more years. If not, it would be to stay in England."
Before the next season starts, Chamakh is going to spend some time in Agadir, working in his brother Yassin's restaurant, Amelou. "It is fun and I am happy there because there are now a lot of English people in the south of Morocco," Chamakh said. "It is nice because they are all happy to see me.
"The people sometimes cannot believe it is me and they have to ask. After that we take pictures and it is nice."
Reuse content