Tottenham Hotspur could be top of the Premier League on Saturday evening, but Mauricio Pochettino is only preparing for his difficult juggling act ahead. Spurs go to West Bromwich Albion on Saturday, the first of seven games in 23 days, before international football stops everyone's momentum again.
Spurs should be going into Saturday's game with the fresh buzz of having just given their best performance of the Pochettino era, a 2-0 dismantling of Pep Guardiola's Manchester City at White Hart Lane. But that was 12 days ago now, and football moves on so fast. Pochettino regrets the fact that his new priority is not to harness that positivity but to lift those of his players who have had a difficult international break.
"The City win was fantastic," Pochettino said at his press conference earlier. "If you compete [again] after three days, and Manchester City was the first game in a run of seven, fantastic because that is a big, big boost. But it was at the end. And then the players go away. And now they come, like Christian [Eriksen] is coming back very disappointed with the last result, or the England players. And now our job is to be more than coaches, to be psychologists too."
Pochettino needs to lift Spurs back to their peak level, not just for this game but for a run of games that could define their season. After West Brom, Spurs go to Germany to face Bayer Leverkusen. Then they played Bournemouth away in the league, Liverpool away in the EFL Cup, before facing Leicester, Leverkusen again and then the big one, Arsenal at the Emirates, before the next international break.
"Saturday we know is a very important game," Pochettino admitted, "but we have many issues in our head. Because it is not only that we have one game, that we need three points against West Bromwich and then it is the end of the season. We have seven games in 23 days. After the international break there are players who have played a lot, that are coming back from injury, players like Erik Lamela that arrived back yesterday, or Heung-Min Son. We need to be clever in how we prepare the game."
What this means is that Spurs have to keep rotating to make sure they go into every game at maximum strength. Those players who travelled the furthest, Lamela and Son, could be rested this weekend then brought back in Leverkusen on Tuesday night, with a possible return up front for Vincent Janssen, who was dropped for the City game.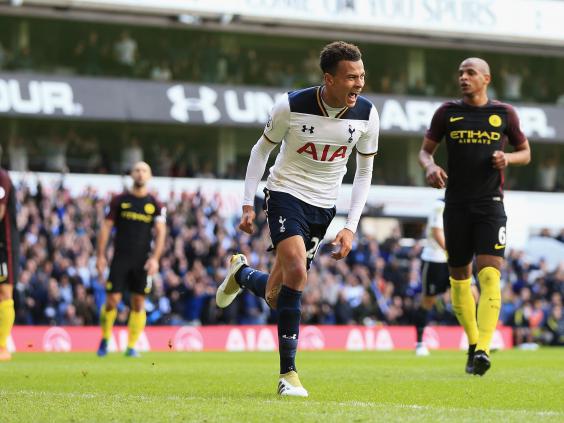 "We need to manage and handle all the players," Pochettino said. "We are working very hard to be right for Saturday, to take the best decisions, and not risk losing any players for the next six games. If you play one game every week, West Brom then after seven days Bournemouth, it is not a big issue. The problem is how you manage Germany, then Bournemouth, then Liverpool, it is very difficult."
With changes on the cards, Pochettino is not expecting an easy time at the Hawthorns. "You always need a few days to settle, to put it all together, and for that Saturday will be a very tough game. It is not only that we must win, we must be able to compete in every game."
Reuse content