Memphis Depay has revealed that his father leaving him when he was four years old is the reason why he does not want to be called Depay or have his surname on the back of his Manchester United shirt.
The 21-year-old arrived from PSV Eindhoven earlier this summer in a £23m deal that triggered the belief among United fans that a title challenge is on the cards, and the further additions made by the club have only gone to strengthen this idea.
However, when Depay was unveiled by the club it was quickly made apparent that he would not have his surname on the back of his shirt, and the Netherlands international has explained in an interview with the BBC why he made that decision.
"Those things are a part of my life. It is not a part of football. It is a different thing. I have a life next to football," said Depay in relation to his father leaving when he was a young child.
"I have been through little situations. That makes me strong. I enjoy my tattoos, as you can see. I am the person I am. Everybody has to respect that."
He also had high praise for United manager Louis van Gaal, having played under the Dutchman during his time as the Netherlands head coach. He stopped short of calling his new manager a "father figure", but did concede that the 63-year-old has been an influential figure in his development as a footballer.
"I don't want to say he is a father figure. But he is a great manager. He can make players better," Depay added.
"My experience when I went to the World Cup, and even before, was that I felt I was a better player every time I trained with him. I felt stronger. I felt fit.
"I am very hungry and I want to do everything better so I become a better player."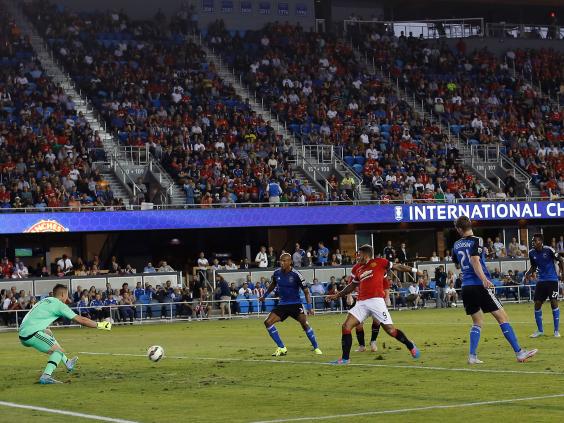 Signing the youngster showed a statement of intent from United as the acquired a player who has been tipped to have the potential to rival the world's best. However, they did face competition in their pursuit of Depay, who revealed that both Tottenham and Paris Saint-Germain were also interested in his services this summer.
But once again, Van Gaal can be credited with sealing the move.
"When United came, my decision was made. After they came, I spoke with the manager and it was very clear for me."
Reuse content