It is supposed to be football's dying art, but nobody told that to Muhamed Besic, the young midfielder whose crunching tackles are fast turning him into the latest cult hero at Goodison Park.
For all of Romelu Lukaku's goals and Gerard Deulofeu's assists, it is Besic who has forged the most striking connection with the Goodison gallery this season – and one moment illustrates why. It came in the first half of Everton's Capital One Cup semi-final first leg against Manchester City, when Besic halted a Yaya Touré advance with a superb slide tackle. With Touré laid out like a toppled tree, the little Bosnian skipped away with the ball and a subdued stadium came to life. 
"I think they like me because I like to tackle," says Besic, when asked to recall that moment – and a reaction, he reveals, that he has never experienced anywhere else. "The fans are different. [In Germany, where he began his career with Hamburg] they sing songs for 90 minutes, but here one minute they are a bit calmer, then when you tackle, the crowd are up [on their feet]. I like it more.
"In Germany I would get more yellow cards, that's for sure."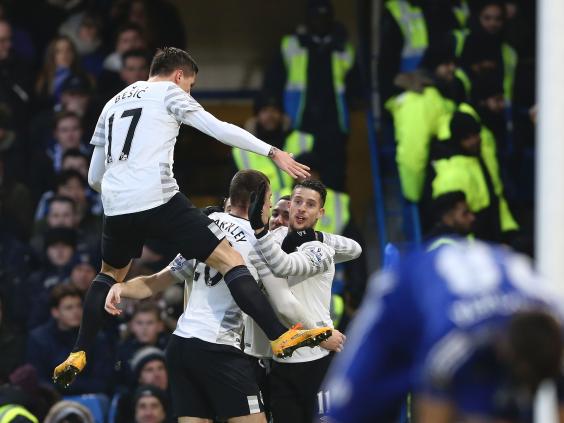 Besic ended that evening with six tackles to his name, and Everton with a 2-1 lead to defend in Wednesday's second leg at the Etihad. When the Merseyside club last reached a League Cup final, in 1984, Peter Reid was Howard Kendall's midfield anchor, opening his youthful team-mates' eyes to the dirty work needed to win things. When they last lifted a major trophy, the 1995 FA Cup under Joe Royle, they did so with a midfield dubbed "the dogs of war". 
Besic, who wears the No 17 shirt, as did Tim Cahill, another gutsy Goodison favourite, explains that the nitty-gritty comes naturally.
"I don't train it. It just comes out. I think defending is my first strength and after that my technical ability, because before I was a central defender."
When it comes to answering journalists' questions at Everton's Finch Farm training ground this week, the taciturn 23-year-old is the polar opposite of Roberto Martinez, his verbose manager. With his baby face and slicked side-parting, Besic has the air of a Bugsy Malone tough guy, and Martinez decided to sign him after seeing him shadow Lionel Messi during Bosnia's World Cup match against Argentina at the Maracana Stadium. He did a similarly eye-catching job on Gareth Bale when Bosnia frustrated Wales in a goalless Euro 2016 qualifier, and says big names do not bother him.
"When you think before the game that you are playing against Messi you can be worried a bit, so I just play. I don't think about who I will play against. I just play football."
It helps that Besic does not lack confidence. He offers a half-smile as he remembers how, at 14, he reacted to rejection by a boys' club by telling his father, Meho, "that I was going to be one of the best players in the world". Even if he has had limited opportunities since his £4.8 million transfer from Hungary's Ferencvaros – not helped by a hamstring injury suffered in September – he believes his midfield game is developing.
"I was a central defender, and for me, it was difficult to find the right position [in midfield]. When you say, 'Just stay with Bale', then it's easy for me, but I have learned a lot of things tactically, so I don't just have to follow one player. There are other small things, like having to watch over your shoulder, because it's not automatic for me. 
"I've said before that I came because of Martinez and [although] I have still got more to learn, I have developed a lot, and you can see it when I play now. He knows things that other coaches don't know and he gives me time."
Martinez is also helping him "be a bit calmer" and control his temper, which flared up in September when he earned a red card against Andorra in Euro 2016 qualifying for throwing chewing gum at an opponent.
"It is just emotion but I can't do that because I am a professional," he says. As a Bosnian born and raised in Berlin, Besic is also a role model. "When I was younger I didn't realise but now I realise that I have to change some things, like the red card in Bosnia. People are watching and kids see that, so you have to change."
When possible, he visits Falesici, his family's village in Bosnia, and has begun charity work in the country but prefers not to divulge the details "because it is private".
Today Besic will hope to retain his starting role alongside Gareth Barry for the visit of Swansea City, even though James McCarthy is fit again after a groin injury. "We've had five games and haven't lost," he says of Everton's results since he returned to the side.
That said, it is hard to know if the glass is half-full or half-empty ahead of the semi-final at City. Everton have lost just one of 14 away matches in 2015-16 yet, as Besic admits, their dressing room at Chelsea last Saturday was silent after yet another lost lead ensured they remained in the bottom half of the table.
Besic ran further (8.2 miles) in that 3-3 draw than any other Premier League player last weekend and even had the energy to jump into the away end to celebrate Everton's third goal with a fan. To get past City, Everton will need more of the same – along with better defensive concentration from the whole team.
"We have always a chance," adds Besic. "We won at home and drew 0-0 there in the League. I hope that we will go through."
Reuse content