Arsenal have resolve. Newcastle are not a Champions League team. It was hardly an afternoon of revelations at St James' Park on Sunday.
It would be too easy to jump on a 1-0 victory for Arsène Wenger's side as a return to the George Graham days. This game was not that. Newcastle only caught something approaching the right tempo at the death to add their supporters to the equation but by then there was a lead and just about enough to defend it.
There was also by then Mathieu Flamini at left-back and Nicolas Bendtner as centre-forward. That still gives reason to question whether this really is a side capable of holding on to the top spot their supporters gleefully sang about as they left the North. Arsenal did not have Mesut Özil because of a shoulder injury (back in a week) and Aaron Ramsey through a thigh problem. That weakened them, and there was perhaps surprise that Newcastle were so willing to play on the back foot for so long.
It is also worth remembering that Arsenal have now lost just once in their last 15 trips to St James'. It is not a ground that holds any great fears and it very rarely did yesterday. The game's only goal came after a silly foul on Santiago Cazorla from Cheick Tioté. From the free-kick Olivier Giroud lost his marker and got ahead of Mike Williamson to glance a neat header into the bottom corner of Tim Krul's goal. That was enough for victory. Neither side in truth created very much. Wenger praised his side's mental strength afterwards. Alan Pardew spoke of the frustration at losing an "interesting" game. That spoke volumes.
Only in the sparsity of Krul's and Wojciech Szczesny's involvement was there a true reflection of the nature of the actual game; more Arsenal-Chelsea than Manchester City-Liverpool.
The Arsenal goalkeeper excelled only once all afternoon, in first-half injury time, when he had to tip over a rising drive from Moussa Sissoko. Immediately afterwards he was saved by his woodwork when the excellent Mathieu Debuchy's header clipped the crossbar. Indeed, the nearest he would come to being beaten in the closing stages of the second half, when Newcastle finally took off some of their shackles, was when his own poor clearance crashed off Loïc Rémy and deflected narrowly wide of an open goal.
Krul was similarly afforded a quiet afternoon. There were comfortable saves from Jack Wilshere and Tomas Rosicky in the first half and then, in the 65th minute, he was left exposed by his defenders, diving to his left in vain as Giroud scored the winning goal. In the 69th minute he saved with his feet to deny Theo Walcott and was then indebted to Debuchy, who athletically headed Walcott's second effort on to the crossbar. Giroud missed the opportunity to double the lead on the rebound but there was still an admission from Wenger about the importance of the Arsenal centre-forward, more on his physical presence than the 11 goals he has contributed. "Every time I think we give him a rest we have a team that is a bit short and lightweight and more focused on mobility and technical movement, so one guy who has that strength, that structure and that fighting up front is very important for us," the manager said.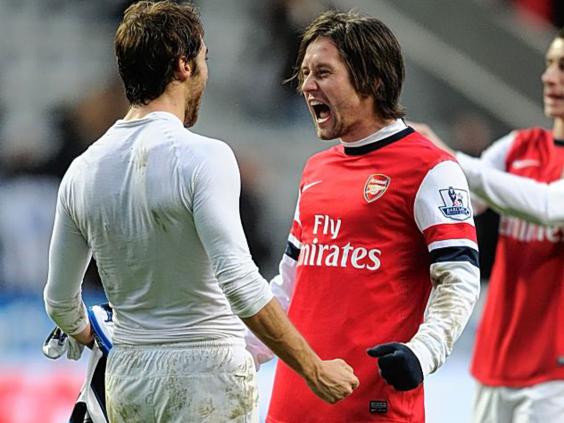 Wenger was more pleased with a form of resilience shown, but Newcastle were technical and tactical for the majority of the game. Even shooting towards the Gallowgate in the second half, as Pardew prefers, did not induce that rousing a finish. The gamble to be cautious had worked at home to Chelsea, when Newcastle had sat back for 45 minutes before winning 2-0, but Arsenal's away record has now yielded more points than their home form, and such caution took away a major strength of Newcastle, which is their crowd's involvement. Only during the final 10 minutes, when even Krul was sent forward for corners and Hatem Ben Arfa was trusted by his manager to use his mercurial talent to the team's advantage, was there a semblance of gusto to the home side. It was repelled with a degree of comfort and gave Wenger the opportunity to seize the achievement.
"In the last 15 minutes we showed another aspect of our team, resilience and fight and we threw our bodies in the box," he said. "We showed a lot of resilience. You have seen today a technical aspect of our team that was quite good and also a mental aspect that was needed in a game of that stature. There is something in the team that is special on that front. On the mental front, where we have been questioned many times, we have shown that at West Ham and again today, it was backs to the walls in the last 15 minutes. There is a great solidarity and a great spirit in the side."
Pardew thought there should have been a free-kick before Tioté was adjudged to have fouled Cazorla. "There was definitely a foul on Vurnon Anita before the goal," he said. "There was a foul on Moussa Sissoko. In terms of the breaks of the decisions, I don't want to say the referee had a poor game but sometimes he sees those calls and they go your way and sometimes they don't.
"At Stoke we had all the calls go our way and today perhaps we were on the other side of it. The margins are so fine. If we can stay like that against the top teams all year I will be relatively happy because I think we will win three or four of them."
Wenger also admitted he is unlikely to move for Yohan Cabaye in the transfer window. That was probably the best thing for Newcastle supporters all afternoon.
Newcastle (4-2-3-1): Krul 6; Debuchy 8, Williamson 6, Coloccini 6, Santon 6; Anita 7 (Ameobi 74, 4), Tiote 6; Sissoko 6 (Haidara 80, 4), Cabaye 7, Gouffran 6 (Ben Arfa 62, 6); Remy 6.
Arsenal (4-2-3-1): Szczesny 6; Sagna 7, Mertesacker 6, Koscielny 7, Gibbs 6 (Arteta 70, 3); Flamini 7, Wilshere 6; Walcott 6, Rosicky 7, Cazorla 6; Giroud 7 (Bendtner 86).
Ref: Lee Probert
Att: 52, 161
Star man: Debuchy
Match rating: 4/10
Reuse content