Row K, seat 15, the epicentre of St James' Park. Mike Ashley's seat, in the Newcastle United directors' box. Not cheap. Current estimate, around £250m. He plans to sit in it today, for the 150th Tyne-Wear derby. The eyes of Tyneside bore into this seat. Say what you like about Ashley – and just short of seven years into his reign he continues to stir the very soul of the club's supporters – but he has guts.
This week he sold Newcastle's best player, Yohan Cabaye, for £19m to Paris Saint-Germain. Cabaye and a delegation of senior players had expressed unease in the summer of 2012, after Newcastle finished fifth in the Premier League, about the lack of investment in the transfer market. Twelve months later, the club finished fifth bottom. There have been no domestic cup runs since Ashley bought the club for £134m in 2007.
Newcastle have looked a good team at times this season, but today there will be no Cabaye, no Loïc Rémy (suspended), no Fabricio Coloccini and no Yoan Gouffran (both injured). If he follows his plan to attend, Ashley will potentially sit at the eye of a storm.
From the back row of Level Seven at St James' Park, high up in the footballing gods, Tyneside opens before your eyes: from the iconic Tyne Bridge to the modern curves of the Sage arts centre in Gateshead, past the last few cranes at the Swan Hunter shipyard, all the way to where the Tyne meets the North Sea.You cannot see Wearside from up there. It adds to the tribalism that so affects this game. From every vantage point, the stadium casts an imposing shadow. Win here and Sunderland conquer Newcastle.
On 14 April last year, they danced at the back of this huge stand three times. It was Sunderland's biggest win against Newcastle for more than 30 years. Paolo Di Canio slid on his knees. The win kept Sunderland up but the manner of defeat caused chaos on Tyneside. There were 111 arrests, mostly of people who had not even been to the game.
"I'm conscious of what happened last season when we lost," says Alan Pardew, the Newcastle manager. "There were all sorts of disturbances in the town. As a manager I felt responsible for that. I don't want that to happen again. I want us to party on Saturday night. The best thing we can do is try and win the match."
At the Stadium of Light in October, Sunderland again beat Newcastle. Ashley and Joe Kinnear, his director of football, missed the defeat and the tentative beginnings of the Sunderland revival, under Gus Poyet.
From there, Poyet has slowly taken control to the point that on Monday he berated Mark Hughes of Stoke City for not contacting him over alleged interest in two of his players, Steven Fletcher and Lee Cattermole. "For a transfer he must call the manager," Poyet said. "He did not call me." That was huge.
For all the public rancour that surrounded Di Canio, he could not undermine Roberto De Fanti, the director of football unearthed in a restaurant in London. That was the new plan of Ellis Short, the Sunderland owner, a structure to encourage continuity and keep transfers away from the manager. Di Canio bit his tongue in the summer when Tom Huddlestone was offered less money by De Fanti than he was already on at Tottenham. The midfielder joined Hull. Di Canio ranted and raged. Nothing changed. Di Canio was sacked.
Earlier this month De Fanti, who signed 14 players for around £30m in the summer in another ill-advised Sunderland spending spree, was also sacked. He has yet to be replaced. Poyet returned to Brighton to sign the midfielder Liam Bridcutt yesterday. He was instrumental in the acquisition of the left-back Marcos Alonso from Fiorentina and the central defender Santiago Vergini.
To win a boardroom battle after the carnage of Di Canio is testament to Poyet's political skill. He is a manager Kinnear and Ashley are both believed to rate. Losing just once in the last 14 games has added to his rising star.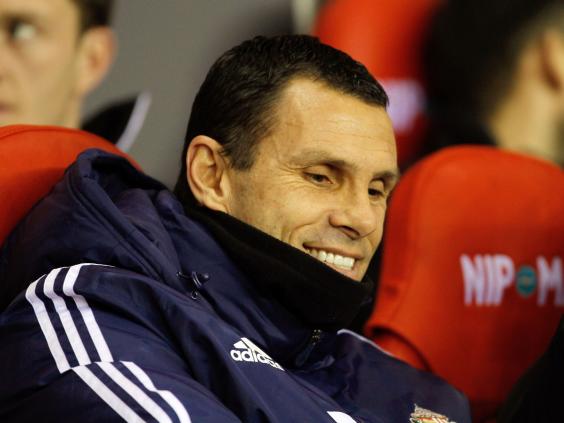 The Sunderland dressing room today will be small, hot and claustrophobic. There is little air, the ceiling is low. That is not accidental. It used to be the base for Newcastle, but they moved to a bigger, more luxurious changing area in 2007 and last summer the home dressing room was given the full treatment. Black-and-white pictures of club legends Bobby Moncur and Jackie Milburn adorn the walls. Each player has his own personal code to a safe in his own locker. Yohan Cabaye's is now vacant, a small man with great talent and a huge personality. How the French players react to his departure may well determine Pardew's own future. He must unlock Hatem Ben Arfa, a player he has not trusted this season.
"If you were to say his time is upon him you wouldn't be far wrong," adds Pardew. "Sometimes I think people look at him and assume he's super-confident the way he plays, that he has cast-iron confidence about what he can do, but I don't think he actually is like that. I think he does worry about the game and his responsibilities. That has to be taken into account. I don't want to heap too much pressure on him."
He has no choice. In his bid to avoid becoming the first Newcastle manager since 1924 to lose three successive Tyne-Wear derbies, Pardew is likely to turn to Ben Arfa and Sammy Ameobi, two players he has given 11 Premier League starts this season.
There was a dejected acceptance by Pardew on Thursday that he must now build his third team as Newcastle manager. He has been in charge for just over three years. Continuity is impossible with a club philosophy that a respected Newcastle fans' website compared on Tuesday to Crewe Alexandra. He adds: "I can't argue where we are in the table: eighth. That's our average position over all the years of the Premier League. How can we better it? That's what I want to try and do."
At the end of the tunnel to the St James' Park turf is a short flight of uphill steps. They will seem bigger today for the home side, who dare not stumble.
Reuse content