Manchester United have received more than £60m in TV and prize money for the 2012-13 season.
Having claimed their 20th league title in Sir Alex Ferguson's final season in charge, the champions lead the way ahead of their rivals Manchester City and Arsenal.
Interestingly, Tottenham also received more than Chelsea, who were given just under £55m compared to Arsenal's £57.1m. The lower fee is due to the Europa League winners appearing on TV live 16 times, compared to United's 25, Arsenal and Liverpool's 22, and Manchester City and Tottenham's 21 times.
At the opposite end of the table, basement club Queens Park Rangers received just over £39.7m while Reading and Wigan – who join QPR in relegation – were granted over £40m each.
In the on-going battle on Merseyside, Everton finished above Liverpool for a second consecutive season, yet still received over £3m less than Brendan Rodger's side.
And despite finishing down in 16th, Newcastle United still received £45.1m, earning more than Aston Villa, Stoke City and Southampton who all finished above the Magpies.
The huge sums once again demonstrate the financial importance of being in the top flight, and funding will increase next season when the new £5.5bn TV deal kicks in, highlighting the importance of Premier League survival this term.
This time next year, the title-winning club can expect to collect a fee closer to £100m, which may prompt clubs on the fringes of a strong title challenge to spend big this summer to reap the rewards next year.
Money comes into the club via three main revenue streams, with tickets and corporate dining providing match day income, media income – which provides the bulk of the payments – and commercial income, which includes kit deals, sponsorship, merchandise and tours.
Each position in the table was worth £755,881 in prize money – the amount given to the bottom club QPR, and the figure was multiplied for each place up the table, with United claiming 20 times that amount.
The Premier League have also announced the parachute payments paid to those clubs that were relegated in the last three seasons, with Blackburn Rovers, Bolton Wanderers and Wolverhampton Wanderers due to receive £15.6m.
For Wolves, it will provide a much needed injection of funding as they prepare to cope with life in League One having suffered their second consecutive relegation, and the money will go a long way if the club wish to secure an immediate return to the Championship next season.
Birmingham City and Blackpool will each receive £12.3m for their relegation in 2010-11, while Burnley, Hull City and Portsmouth will be given £5.75m each in their final payment after they departed the Premier League in 2010.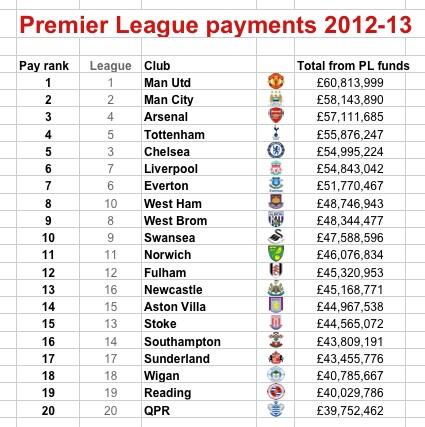 Table courtesy of @sportingintel
Reuse content